Best of the Premier League weekend: FFT's top team, player... and moan
FourFourTwo.com wraps up the top-flight action with our weekly round-up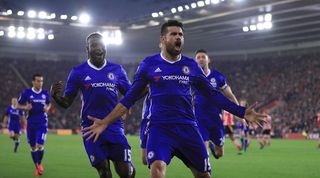 Performance of the Weekend – Chelsea (against Southampton)
Chelsea, again. Manchester City's brutal dismantling of West Brom was eye catching but, with due respect to Tony Pulis's army of centre-halves, Southampton are a more reliable barometer of power.
Antonio Conte, whose English is improving by the week, was liberal with his praise post-game, talking effusively of his front three's work rate in his press conference and singling out Victor Moses and Marcos Alonso for their individual displays. Rightly so, too, because this was arguably one of the best performances Chelsea have given under his direction.
The win over Manchester United was more comprehensive and provided more cause for celebration, but their 2-0 victory on the south coast was more complete. United created chances a week ago and could conceivably have scored a couple of goals, whereas Southampton were restricted to little beyond the occasional limp thrust.
N'Golo Kanté and Nemanja Matic were as cohesive as they ever have been in central midfield, and Chelsea's defensive structure appeared newly rigid; none of Claude Puel's playmakers left any impression on the game.
While Conte is now fielding a more balanced trio of centre-backs, the surrounding shell is perhaps at the root of this new resilience. While lining up in a nominal 3-4-3 at St Mary's, Chelsea collapsed effectively into a back five without the ball and, with Kante and Matic protecting the central areas, were able to divert all attacking traffic away from their penalty box.
It really was quite impressive: Gary Cahill has never regularly played as one of three centre-backs, Cesar Azpilicueta is a converted full-back, Moses is a repackaged winger and Alonso a new signing. Yet, together they are somehow stable. Everyone knows their job and, presumably through relentless, repetitive training-ground drilling, they surrender little space and even fewer opportunities.
Goals from Eden Hazard and Diego Costa terminally wounded Southampton on Sunday and both were impressive in their own way. Chelsea weren't notable for their individual moments this weekend but rather for what they were as a complete entity; it was another dominant performance and, since losing 3-0 at the Emirates Stadium in September, they have now won four league games in succession and scored 11 times without reply.
This Chelsea don't do fireworks, and they don't really win with any overwhelming sense of panache. They do win, though: efficiently, ruthlessly and with little fuss. It's chilling.
Player of the Weekend – Tom Heaton (for Burnley vs Man United)
When a heavily favoured side drops points at home to a newly promoted club, it's usually their own doing. Teams like Burnley are entitled to sit deep at grounds like Old Trafford and the onus is very much on the hosts to break them down – but Sean Dyche wasn't overtly negative at the weekend, and his players weren't content simply to block and defend.
Neither, really, were Manchester United that blunt. Jose Mourinho's agitation – and eventual expulsion – was illustrative of an impotence which was never really apparent; United didn't quite open Burnley up at will, but they created plenty of opportunities – and, whenever they did, Tom Heaton slammed the door shut.
Heaton was similarly excellent during a recent game at St Mary's, where he produced a series of a dazzling saves to keep Burnley competitive against Southampton. Unfortunately for the England goalkeeper, the dam would eventually burst and his fine individual performance was lost to what became an easy home win. This weekend was different: Heaton earned himself a man-of-the-match award and Burnley took home a valuable point.
His highlight moment may unquestionably have been the starfish save from Zlatan Ibrahimovic, an Old Trafford staple from the Peter Schmeichel years, but the breadth and range of his saves made it a very complete performance. In addition to the Ibrahimovic moment, Heaton flung himself to his right to paw away a goal-bound Jesse Lingard header, made two notable stops from Juan Mata, tipped a fizzing Paul Pogba drive over the bar, and all after smothering an early Ibrahimovic chance in the first half.
Together, those saves would comprise a watchable highlight reel – but cumulatively they showed the range of his goalkeeping. The referenced stops may have showcased his reflexes and his agility, but there were at least half a dozen instances during which his sharp positioning and reliable handling made potentially awkward moments look simple.
It was the perfect demonstration of good shot-stopping's key attributes: the obvious reaching, stretching and reacting qualities, but also the preparatory footwork and anticipation.
Heaton has already saved more shots than any other player in the league this season and the 11 stops he made at Old Trafford constituted a masterclass. While there should be no rush to exile Joe Hart into the international wilderness, his understudy is at least creating a conversation around the England starting position.
Goal of the Weekend – Gaston Ramirez (for Middlesbrough vs Bournemouth)
Yes, Sergio Aguero has been a little hard done by, and maybe the Argentine scores so many wonderful goals that we are all guilty of taking him slightly for granted. Aguero normalises the spectacular, and he did so again at The Hawthorns. But Gaston Ramirez ...
Separated into individual parts, his run, cut, and finish were not anything remarkable, but as a sequence they very much were.
To carry the ball for as long as Ramirez did was impressive, but to do so while out-pacing the pursuing defenders was more so; the Uruguayan isn't known for his speed across the ground, but Jack Wilshere wasn't able to get remotely near him over 50 yards; it was like watching a dog chase a car.
On second glance, Ramirez was fortunate that Artur Boruc committed himself as early as he did and the Bournemouth keeper probably made the finish easier than it might have been. However, considering that Ramirez had run 70 yards and reached the edge of the box with the ball on his stronger left foot, the temptation – given his likely heart-rate and burning lungs – must have been to trade precision for power and lash his shot at Boruc.
He didn't. He carved inside his marker and placed his shot into the net, adding a layer of composure and technique to a goal which was already physically special.
Moan of the Weekend – The state of Sunderland
The more things change, the more they stay the same. Perversely, it's incredible that a club who shifts its shape as much as Sunderland continues to find itself trapped within an identical struggle.
It's failure, obviously, and that's a consequence of years of short-termism, but it's always the same type of failure and their on-field weaknesses never really change. On Saturday, they were helpless. Having been bullied badly by Arsenal, Jermain Defoe's penalty equaliser flattered them and was actually their first shot on target.
But no sooner had they capitalised on that good fortune, they were ensuring it would count for nothing. A fortuitous point became a humbling defeat within the blink of an eye and Arsenal were able to walk three more goals in before full-time.
Arsene Wenger may have an enviable side full of glittering stars, but Sunderland used to be a "difficult place to go". A lack of financial weight and a stack of other comparative disadvantages aside, the Stadium of Light was a choppy Premier League sea whipped up by spirit, desire and that infectious noise; it was a place where ambition went to be wrecked.
Not now, though. Now, it's a day off for visiting teams – it represents the middle ground for opponents between a proper top-flight fixture and the training ground. As the table confirms, Sunderland are little more than a bowling pin waiting to be skittled each week.
The answer to why that is doesn't lie in the current first team or necessarily in how David Moyes chooses to use his available players. Realistically, although plenty of supporters disagree, Moyes is only really guilty of being incapable of an Allardyce miracle.
Instead, accusatory fingers should be pointed in the direction of the ownership, the years of flawed recruitment, and the clumsy asset management which have taken Sunderland to this point. Think of the players who have been bought, remember those who have been allowed to leave on free transfers or for paltry fees; this has been a mess for a long, long time and rarely has there been evidence of anything besides muddled thinking.
Ellis Short appointed Paolo Di Canio and Gus Poyet, he sanctioned a big-budget move for Jack Rodwell, and agreed to spend eight figures on Jozy Altidore and Ricardo Alvarez – and he thought all of those decisions represented progressive steps. Moyes may not be guiding the club in a positive direction, but he took the helm after the iceberg was struck.
Their fans in the north-east may sometimes be unjustly parodied by mythology, but on this evidence it's hard to contest their special status; other than religion or a bewitching cult, what other force could compel 40,000 people to involve themselves in this perpetual misery every two weeks?
Truly, this side is fortunate to retain the loyalty – and attendance – of its supporters.
Premier League reaction • New features you'd like on FourFourTwo.com
Thank you for reading 5 articles this month* Join now for unlimited access
Enjoy your first month for just £1 / $1 / €1
*Read 5 free articles per month without a subscription
Join now for unlimited access
Try first month for just £1 / $1 / €1
Get FourFourTwo Newsletter
The best features, fun and footballing quizzes, straight to your inbox every week.
Seb Stafford-Bloor is a football writer at Tifo Football and member of the Football Writers' Association. He was formerly a regularly columnist for the FourFourTwo website, covering all aspects of the game, including tactical analysis, reaction pieces, longer-term trends and critiquing the increasingly shady business of football's financial side and authorities' decision-making.