Bill Bailey: Sing When You're Winning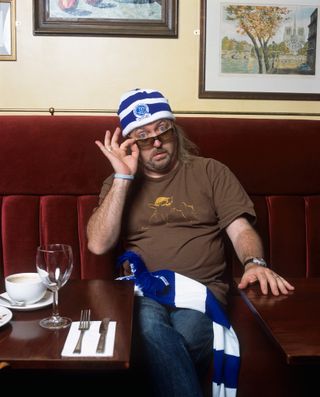 "Mmm, that's tricky," says comedian, musician and football fan, Bill Bailey, chewing on his croissant, momentarily perplexed by FourFourTwo's hypothetical query. In front of 100,000 adoring fans, would he rather tell the perfect gag, play the perfect gig or score the perfect winning goal?
He swallows his pastry, takes a swig of his latte and smiles. "I'd have to go for the goal," he says. "I visualise doing that all the time. It's the last minute of extra-time, the ball comes in from the left at the perfect height. I leap, catch it with the outside of the right boot and it curls into the top left-hand corner. In my head I've scored that goal a hundred times. It's a great goal. Think of Zidane's volley in the 2002 Champions League Final. Zidane. I bet he's crap at telling jokes."
Sitting in a bistro near his Shepherd's Bush home, Bailey talks animatedly and passionately about the beautiful game. Despite hailing from the West Country ("a footballing cul-de-sac") nowadays he regards himself as more West London and that means following his local team, Queens Park Rangers, a love affair that began more than 20 years ago... "Since moving from the West Country in 1984 I've always lived in West London, all my experiences have been around here so it had to be Rangers."
Walk the streets of Shepherd's Bush these days, however, and you'll spot plenty of Chelsea shirts. Does Bailey ever wish he'd opted for the Premiership champions from down the road? "Well, people say that and I suppose they are the best team but I have a natural inclination to go for the strugglers, the underdogs." Indeed, growing up just outside Bath, he ignored the relative razzmatazz of Bristol's Rovers and City and instead followed Bath FC. "They played in something like the Acme Wall-Cleaner Memorial League," he laughs. "It could be fun. Twerton Park was proper old-school. Crumbling walls, crap pies and disappointment. That sums it up really.
"My uncle was very keen and I would go with him a bit. I remember seeing one game in the middle of a wood. I only recall that day because I got bored, went for a walk, fell over and impaled myself on a rusty nail. That whole day was a series of concerned faces, Dettol and again, disappointment."
Bailey's short-lived tryst with 'the Romans' was abruptly ended by the budding comedian's move to London and his first flat in, you've guessed it, Queen's Park. It was the cause of some confusion. "What intrigued me was there was no sign of any football, there wasn't much of a park and as for the Queen she was never there. Where is this Queen's Park and where are the Rangers? – It was a little puzzle I had to solve."
QUICK QUESTIONS
Best moment?
Worst moment?
All-time QPR hero?
All-time QPR villain?
Stand up if you hate…
If QPR could sign any player in the world, who would you choose?
Settling nicely into his new home and becoming prolific on the comedy circuit, Bailey instead followed the team through the back pages of his local newspaper. As he moved closer to QPR's Shepherd's Bush base, however, he finally got his bearings and was lured into the club's Subbuteo box stadium. "My first game at was a Premiership fixture," he recalls. "It was the Premiership's second season we had a great team. Ray Wilkins was playing, so was Les Ferdinand, but we were playing Blackburn and I have memories of Alan Shearer giving us a hard time.
"It was great," he adds, glowing nostalgically, "and I was hooked. I love the ground. You're really on top of everything at Loftus Road. As soon as I got really into it though we started going downhill. Ferdinand left and that was that."
Rangers' decline hasn't dampened Bailey's enthusiasm. In fact, he thrives on life below the stairs of the Premiership's grand but troubled mansion. "What intrigues me is the relentless optimism among football fans and I think that is certainly more the case in the lower leagues. There is a tremendous loyalty, which is great to see up close. I realise that it suits me and I know that it's what I've always considered being a football fan is all about. I get turned off by the big corporate thing, the big executive boxes and all of that."
Instead, Bailey has opted for a season ticket in the from where he can keep a close eye on manager Ian Holloway, another Loftus Road regular with a West-Country lilt. Perhaps, suggests FourFourTwo, the team should run out to the sound of The Wurzels, in honour of gaffer and celebrity fan. Bailey chuckles, breaking into song with an exaggerated twang. "Up the Rangers!" he shrieks. "I played a through ball; I am the playmaker, not the haymaker!"
Vintage Holloway, you could say. Bailey must feel a special affiliation with his eccentric manager? "Yeah, I love him. He comes up with the strangest analogies. 'Sometimes you go out and pull but she isn't attractive, in fact she's a right old slapper, but you take her home anyway'!?! I think that means we played badly but we won. You can imagine the team-talk. 'Look lads, I want you to find her, get her in a taxi and just get her home.' The players would be sitting there going, 'What if there's no taxi boss, can we take a bus?''
With a gaga gaffer and an unpredictable team, there is never a dull moment in W12. Current chairman Gianni Paladini was even held at gunpoint by a masked gang before the Hoops' first home game of the season. "You don't get that at other clubs do you?" gloats Bailey, with a worrying sense of pride. "No, they just boo the board. At QPR, we storm the boardroom, hold the chairman at gunpoint and demand better results. That's more like it!"
But while Bailey loves keeping it real, surely he wouldn't turn down a trip to the Premiership Promised Land? "Of course not," he concedes. "We used to always do well against the big boys when we were there last time. But we have to make Loftus Road a harder place for visiting teams to come. It should be a really intimidating place to play, compact ground, good fans, good atmosphere, but we can't get a good run going here. If we sort that out then you never know. The play-offs, why not? Cardiff, why not? And then the Premiership. See, relentless optimism. That's what I'm talking about!"
Interview: Leo Moynihan. Portrait: Steffan Hill. From the January 2006 issue of FourFourTwo.
Quizzes, features and footballing fun
Get the best features, fun and footballing frolics straight to your inbox every week.
Thank you for signing up to Four Four Two. You will receive a verification email shortly.
There was a problem. Please refresh the page and try again.