Borussia Monchengladbach: Man City's Bundesliga opponents on the bounceback
By Michael Yokhin published
Five straight defeats led to Lucien Favre's exit, but two wins on the spin have injected a little joy back into Gladbach, writes Michael Yokhin...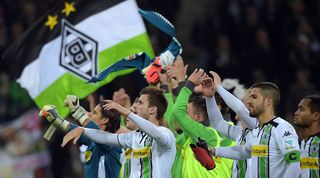 RECOMMENDED
Who are they?
For Borussia Monchengladbach fans, 2015 is a huge emotional rollercoaster. The second half of the 2014/15 season was too good to be true. Gladbach took 39 points from 17 matches, winning 12 of them and losing just twice. That was the best record in the whole of the Bundesliga, ahead of Bayern Munich, and it made sure that they finished third and qualified directly for the group stages of the Champions League for the first time in their history.
It was an outstanding achievement for veteran coach Lucien Favre, who took the reins in February 2011 when Gladbach seemed destined for painful relegation. The Swiss specialist rescued the team and transformed it into a very competitive outfit capable of beating any opponent. In 2012 they finished fourth, but lost out to Dynamo Kiev in the Champions League play-offs.
Now, three years later, they made it against all odds with a quite spectacular style of football – organised but adventurous nevertheless. The supporters were jubilant in the extreme and had very high hopes ahead of the 2015/16 campaign, but within a month the dream turned into a nightmare.
Gladbach lost their five fixtures in the Bundesliga, got thrashed 3-0 at Sevilla on matchday one of the Champions League, and Favre unexpectedly decided that he'd had enough. The management tried their utmost to persuade the coach to stay, but he chose to resign and left all of the fans broken-hearted.
In more than four years in the office, Favre made everyone dream of the good old days when Monchengladbach were one of the best teams in Europe. Borussia were the bitter rivals of Bayern in the '70s, winning five championship titles between 1970 and 1977. They lifted the UEFA Cup in 1975 and 1979 and reached the European Cup final in 1977, losing 3-1 to Liverpool in Rome.
ALSO ON FFT.COM
Nobody was under any illusion that they could break Bayern's domination this time, but the project seemed to be going in the right direction. The hefty bonuses from the Champions League were supposed to enable the team to keep its best players, and probably strengthen the squad. The sudden and bitter end was desperately painful for all involved.
The change makes Gladbach extremely unpredictable. They used to be hard to beat under Favre, but opponents knew exactly what to expect of them. Under interim coach Andre Schubert they've implemented a very different, gung-ho, style which has enabled them to win two games in a week, scoring seven goals in the process albeit against two teams in crisis, Augsburg and Stuttgart.
It's anyone's guess what approach they will choose when hosting superior opponents like Manchester City. Taking into account the Citizens' defensive problems and the fact that this is going to be the first-ever Champions League fixture at Borussia-Park, it's logical to assume that the new-look Gladbach will try to surprise the visitors with high pressing and an aggressive attitude.
Strengths
Under Favre, Borussia enjoyed phenomenal organisation. The players used to receive very specific instructions and the team managed to get the most out of somewhat limited resources. Their self-confidence was sky high against any opponents, and Gladbach managed to keep a clean sheet against Bayern twice last season, drawing 0-0 at home and deservedly winning 2-0 at the Allianz Arena.
All that is largely irrelevant now. Favre is gone, and his methods didn't seem to work in the beginning of the new season anyway. That self-confidence is rather low these days, but one thing remains unchanged – the dressing room is united and spirited. This is a team without stars, and they always fight for each other.
Weaknesses
One of the major reasons for the crisis was the inability to find adequate replacements for two stars who left in the summer. Christoph Kramer returned to Bayer Leverkusen after his loan spell ended, and the midfield is much less organised without him. Max Kruse was sold to Wolfsburg, and Gladbach are often forced to play with no strikers at all in his absence, especially because Josip Drmic is yet to find his form. The defence was hit by injury to Alvaro Dominguez, who only returned to the squad a week ago. Without him, centre-back pairings were constantly changed and no combination proved successful. Gladbach are fragile at the back, and the poor form of Timo Jantschke didn't help them in the slightest.
The game plan
In the two games under Schubert, Gladbach used a fluid 4-4-1-1 formation, with Raffael as the centre-forward even though the Brazilian has never been a pure striker and was described as a "number 9.5" by Favre. They made good use of the wings and tried to break forward as quickly as possible, but it remains to be seen how the interim coach will prepare for the toughest game of his career so far.
Key player
As the defence is simply not up to standards so far, goalkeeper Yann Sommer is key. The Swiss custodian was acquired from Basel as a replacement for Barcelona-bound Marc-Andre ter Stegen. Sommer proved to be even more consistent than his predecessor last term, but even his form has dipped this season.
Famous for…
Borussia will always be remembered for their great team in the '70s, but as far as recent times are concerned, they are the ones who raised Marco Reus. The superstar was discarded by Dortmund as a youngster, but flourished at Gladbach before returning to Signal Iduna Park in 2012.
STATS ZONE
Club legend
It's difficult to choose between Gunter Netzer and Jupp Heynckes – both were born in the small town of Monchengladbach. Netzer, one of the best passers in the history of the game, spent a decade at Gladbach before leaving for Real Madrid in 1973, and is largely responsible for defining the team's unique style in the glory days. Heynckes, the club's all-time top scorer, spent almost his entire career at Gladbach, scored five goals in his very last game in the 12-0 demolition of Dortmund in 1978, and began an illustrious coaching career straight after hanging up his boots. Both were crucial for West Germany when they were crowned European champions in 1972, but were left on the bench during the 1974 World Cup.
More features every day at FFT.com • FFT's greatest European goals
Thank you for reading 5 articles this month* Join now for unlimited access
Enjoy your first month for just £1 / $1 / €1
*Read 5 free articles per month without a subscription
Join now for unlimited access
Try first month for just £1 / $1 / €1