Chelsea's central midfield conundrum: what to do with N'Golo Kante?
By Daniel Storey published
Jorginho's arrival has pushed the all-action dynamo out of the position in which he became a global icon – but at what cost? Maurizio Sarri bends for no man, writes Daniel Storey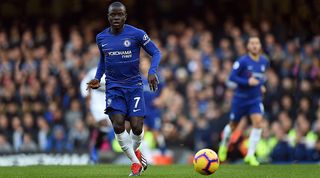 Eden Hazard could always reasonably affirm to be the star of Chelsea's team, but N'Golo Kante at least laid claim to be his club's most important player.
Having been signed from Leicester, Kante was asked by Antonio Conte to replicate his role and did so magnificently. For three seasons he was the Premier League's ultimate firefighter. Having been overlooked for the PFA Player of the Year award in 2016, the same mistake was not made a year later. Kante was the cornerstone of two different title-winning teams in two consecutive seasons. That was no coincidence.
Chelsea had a poor season in 2017/18, but Kante was absolved from all blame. It may seem odd for a top-six team to lead the way in tackles and interceptions, but that's the power of Kante. He ranked third for tackles and first for interceptions in the Premier League. Add them together – the Kante Index, if you will – and he led the way with 198.
New thinking
This season, after the arrival of Maurizio Sarri, Kante's role in Chelsea's teams has been dramatically altered. Sarri prefers a 4-3-3 to Conte's 3-4-3, and has long preferred a deep-lying playmaker at the base of his midfield.
Jorginho, who came so close to joining Saturday's opponents Manchester City, eventually rejoined his former Napoli coach at Stamford Bridge. With such a technical player in the deepest midfield role, Kante has had to fit in as a box-to-box midfielder to Jorginho's right.
The difference in Kante's game is astounding. Having managed only 19 touches in the opposition penalty area in the whole of last season, the Frenchman has already registered 25 in 2018/19. Having ranked third for tackles, first for interceptions and first for the two combined in 2017/18, he is currently ranked joint-40th, joint-44th and joint-40th by the same measures so far this season.
This is not simply the case that Kante is sharing the load or passing it on to a team-mate. If he has changed, so have Chelsea. Last season the Frenchman was their most regular tackler (every 26.5 minutes) and their second-most regular interceptor (every 35.3 minutes). This season, of Chelsea's regulars, Cesar Azpilicueta has tackled most frequently but only done so every 39.7 minutes. Kante still ranks first for interceptions, but at a rate of one every 70.4 minutes.
SEE ALSO 5 essential Fantasy Premier League tips to help you through the busy festive season
That isn't necessarily a problem in itself; it's merely evidence of Sarri's differing philosophy to Conte's rather than any grave issue with his style of play itself. Chelsea weren't expected to challenge for the title this season and Sarri's methods were predicted to take some time to implement – the manager himself said as much. Chelsea have only lost two league games.
Look at Chelsea's numbers for details of their sea change. Success is based far more on passing and pressing high up the pitch than inviting teams onto them, winning the ball – usually through Kante – and then counter-attacking. Chelsea ranked fifth in the league for successful passes last season, but have almost kept pace with Manchester City in 2018/19 by that measure.
Odd fit
But it does leave Kante in an awkward position, unwanted in the role he made himself famous, and left to adapt to his manager's demands.
One thing that is certain: Sarri will not bend to accommodate Kante in his preferred role. The Italian has been crystal clear on that point. If that seems a little tactically rigid, it's through this system that Sarri overachieved so notably at Napoli, and on such overperformance that Chelsea appointed him. Change that style now, and you lose what Sarri believes makes him great.
SEE ALSO
QUIZ! Can you name the 29 Spaniards with 5+ Premier League goals? (opens in new tab)
ANALYSIS Why Jose Mourinho should be MORE defensive at Manchester United (opens in new tab)
This isn't intended as a sorry lament to Kante's impending fall from grace. He remains one of the most capable all-action midfielders in Europe, but also one of the most enjoyable to manage. If any player can accept his new situation, role and squad status, knuckle down and make it work, it's him. His brand of Duracell bunny stamina and can-do attitude makes anything a possibility. The story of him going for long jogs after training sessions because he had excess energy to burn off became legendary for a reason.
But Kante is no longer guaranteed a starting place at Chelsea, should he prove incapable of becoming Sarri's teacher pet in the same way that Italians Claudio Ranieri and Conte grew to adore him. If that seems faintly ludicrous given his output over the last three years, therein lies the nature of joining a club that has committed itself to managerial short-termism. Each Chelsea coach arrives with their own ideas and their own transfer lists.
Being the best player under the previous regime counts for nothing, even when you've won league titles, the World Cup, individual honours and a long list of plaudits. Sarri is desperate for Kante to work in his new position, but not as desperate as he is for Chelsea to succeed under his stewardship. In that pursuit, collateral damage is inevitable.
Thank you for reading 5 articles this month* Join now for unlimited access
Enjoy your first month for just £1 / $1 / €1
*Read 5 free articles per month without a subscription
Join now for unlimited access
Try first month for just £1 / $1 / €1
Quizzes, features and footballing fun
Get the best features, fun and footballing frolics straight to your inbox every week.
Thank you for signing up to Four Four Two. You will receive a verification email shortly.
There was a problem. Please refresh the page and try again.