Clough on: Curbing Keane, over-rated Sheringham and babbling Brooklyn Beckham
Brian Clough's first FourFourTwo column appeared in the July 2001 issue - allowing Old Big 'Ead to pontificate on Player of the Year 'Edward' Sheringham, tabloid sensation Brooklyn Beckham and the Alf Inge Haaland-injuring Roy Keane...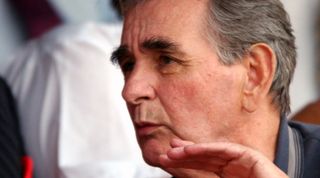 It's no surprise that Roy Keane looks fit to burst whenever he gets on the park these days. He gets a regular rest because he can't behave himself. All those bookings and red cards means he's never going to be burned out – he should have the best suntan in the Premiership.
He brings it on himself because he's always been fiercely committed as a player and person, but he needs guidance and discipline from his manager, and I'm not sure he's been getting that lately at Manchester United.
Roy Keane was never sent off when he played for me at Nottingham Forest, but he's copped it eight times for Manchester United since Alex Ferguson signed him. And I'm still waiting for a sign that Alex plans to do something about a player who, at times, looks seriously out of control.
Keane's a Jekyll and Hyde character. When he worked for me, he never used to say a word, but forced out a half smile whenever he saw me, because he knew I had his number. I rated him very highly as a player, but wouldn't stand any nonsense. In my last season as Forest's manager, I sent him home from Jersey because he poured a glass of lager over a woman's head when she made it quite clear she wasn't impressed by his antics in the hotel bar.
He tried to bluff me that the plane he'd missed was full, so I sent him back on the next one after telling him he must have been up all night dreaming up that daft excuse. I was the monkey on his back all the time, and that's how Alex should be treating him now.
It's difficult to talk about giving a last chance to a player of Keane's ability and influence, because he could easily blow up again a few months later, and you'll then have given yourself no elbow room. You don't get rid of your best players, but you can smooth out the self-destructive urges. With Keane, I'd operate by threats. I'd be on at him all the time, saying, 'If you let me down again like that, you'll wish you'd never seen my face'.
I also think that Keane should have been hammered twice in the pocket. The fine of two weeks' wages won't bother someone who earns so much money, but I believe the PFA should get involved in things like that tackle against Leeds United and throw the book at him. Double the existing fine and his suspension and he might think again when the red mists descend – and they will, because he isn't being reined in.
Fergie: culpable
But Alex Ferguson is almost as culpable as his captain. I'm still waiting for him to admit Keane was out of order with that awful tackle in the Leeds game. It was an insult to everyone when he said he hadn't seen it but the club secretary had said Keane deserved to be sent off.
Hell fire – the only thing a manager asks the secretary about is what the size of the gate was! Fergie is dipping out of his responsibilities here. He knows every cough and spit of what goes on at his club – that's one of the reasons why he's such a great manager – and copping out of the Keane disgrace is another way of making Manchester United unpopular with the neutrals.
I'm not sure that Alex has had his eye on the ball lately. There are a few bubbles coming to the surface at Old Trafford. Some of us were lucky enough to win the European Cup more times than Fergie and failure in Europe seem to be distracting him.
I reckon I could wind him up on match-day with a few remarks to the media if I was still in the game, and that shouldn't be happening, because he's too big to worry about it. But Alex is still too thin-skinned, too ready to defend his players against outsiders.
I'm surprised that he's allowed Keane to make such critical comments about his team-mates, because Keane is getting into an area where he's dodgy — talking about football, rather than playing it. All that may rebound on the captain — he might be losing respect in the dressing-room.
And David Beckham and his dear wife are turning their son into a media monster. Do we really care to read that their bairn is talking now? And isn't it simply amazing that young Brooklyn is teething? Alex should be addressing himself to how quiet Beckham was on the field towards the end of the season, rather than allowing him to be part of all this popstar rubbish.
Teddy: Needs support
So Edward Sheringham has got the treble – Football Writers' Player of the Year, the FourFourTwo Icon Award plus the award from the PFA. Now I never thought the press knew owt about the game, other than use it to show their imagination in claiming expenses, but I'm disappointed in Sheringham's fellow professionals.
I think he's done remarkably well at his age, but he has had fantastic service from Giggs and Beckham, and he's playing for the best club in the land, as well as being allowed to play where he's at his most productive. When he played for me at Forest, I sorted out his best position.
He was the slowest player in the first-team squad – perhaps due to all those night clubs he kept telling me he didn't frequent – but once we found him space on the park and some good passers of the ball, he scored 20 goals in his only season with me.
If you analyse Sheringham's goals, 90% of them come inside eight yards, and he's given the licence to ghost around the penalty area. But he's lost without the rest of his creative team-mates. My vote would have gone to Roy Keane – yes, even after that tackle.
I've felt for the group of football managers grappling with relegation worries lately, and also their own insecurities over their jobs. My passport still says 'Football League Manager' in the section marked 'Profession' and you'll never catch me dancing on a manager's grave.
I suffered relegation in my last season, after 28 years as a manager, and the humiliation and the blow to my pride brought forward my retirement by two years. I was also sacked – by Leeds in 1974 – and I do think that getting sacked helps to remove some fears when you're a manager.
Time does heal the bitterness of getting up in the morning, with nothing to do, wondering where you cocked it all up. But when you get through that experience, you're less frightened of what life has to offer you outside football.
I used to send flowers to the wives of managers who had just been sacked, and I still do when it's someone I know – but there are times when a manager has to go. Not when there are just two games left, as Crystal Palace did to Alan Smith recently, but when there's time enough to sort something out.
Giving someone enough time is the essence of being fair to a manager, but you don't expect fairness from directors, do you? I always believed that if you can solve a problem, then sort it out straight away, rather than bugger about – but that makes me sound like a dictator. And I was never that...
Brian Clough was talking to BBC Radio 5 Live's Pat Murphy
Quizzes, features and footballing fun
Get the best features, fun and footballing frolics straight to your inbox every week.