Club legend or below the best: why Wayne Rooney leaves Manchester United with a divided legacy
As Rooney bids farewell to Old Trafford and returns to Everton, Amit Katwala examines how Man United's all-time top-scorer departs still splitting opinion among the club's fans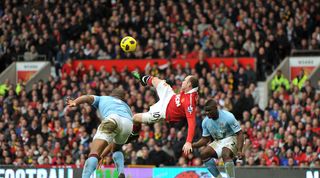 You wonder what emotions will be bouncing around under those expensive hair implants as he leaves Old Trafford for a return to Everton this summer.
Thirteen years after joining Manchester United, Wayne Rooney leaves as his club and country's all-time leading goalscorer. He's won everything there is to win at club level, and is one of the most decorated footballers to play the game in this country.
There were times when he was also the best player in the country – particularly the 34-goal seasons of 2009/10 and 2011/12. And yet there's something unsatisfying about how it's all turned out – a sense that Rooney could, and maybe should, have been so much more.
Protracted contract sagas and flirtations with Manchester City have soured his relationship with United fans somewhat. In 30 years time, will he be mentioned alongside the likes of George Best and Bobby Charlton?
You suspect that Rooney's overriding sense as he drove out of United's training ground for the last time might have been one of relief. For the last few years, Rooney has played with a weariness. He's seemed weighed down - maybe worn down by the sheer amount of football he's played since bursting onto the scene as a 16-year-old.
Old versus new
Looking back to those early appearances for Everton is like watching a different player. Take that first Premier League goal, against Arsenal - the curling drive crashing in off David Seaman's crossbar that made Rooney the division's youngest ever goalscorer (it's worth a watch for the commentary, and to see David Moyes wearing an expression other than 'haunted'). There's a lightness and spontaneity to his play. Compared to now, the movements are quick, the touch is sure, and there's no hesitation whatsoever.
That's the attitude that propelled Rooney to the Premier League.
As a boy, he'd play for hours on his own until it got dark - kicking a ball around on the asphalt five-a-side pitch behind his house until it burst, then swapping it for a rolled-up pair of socks. He kicked balls over passing cars to hit a road sign on the other side of the street, and wrecked the pebbledash walls of his grandmother's house in Croxteth with repeated shots and passes.
At 10, Rooney made his Goodison Park debut as a mascot. Neville Southall rolled the ball out to him, expecting the slight young boy with the prominent ears to pass it gently back like the other kids. Instead Rooney - who'd scored 99 goals for his junior club the previous year - chipped the ball over Big Nev and into the net.
"To be a top footballer you need to have a bit of arrogance, a bit of swagger about you," said Rooney in an interview with David Winner for ESPN from 2012. But is that swagger still there now in the way it was with a latter-day Luis Figo, or someone like Zlatan Ibrahimovic (still performing at the age of 35)?
Rooney is 31, yet his career has seemed to fizzle out. His career at Manchester United, at least, ended with a whimper rather than a bang. Perhaps he would have been better served without a big arrival.
If he hadn't worked wonders for Everton, for England at Euro 2004 or scored a hat-trick on his Champions League debut for Manchester United, perhaps expectations would have been set at a more realistic level. Then we'd applauding him on a stunning career.
It's hard to know whether the malaise is physical or psychological. Until recently, even during a bad run, Rooney was able to produce the spectacular. He'd only scored one goal in 18 games before that stunning overhead kick against Manchester City in February 2011. Indeed, just a few seconds earlier, a leaden-footed pass had almost cost his side possession.
At his best, Rooney had an ability that all great players share: he seemed to have more time than everyone else. His advantage was never in his pace or physique, it was in his speed of thought.
Mental cost
"What people don't realise is that it's obviously a physical game, but after the game, mentally, you're tired as well," he's said "Your mind has been through so much. There's so many decisions you have to make through your head. And then you're trying to calculate other people's decisions as well. It's probably more mentally tiring than physically."
Of course, it isn't just the stuff that happens on the pitch that must be mentally exhausting. If he'd been born in Spain or Italy, Rooney would have been a talent, for sure, but not the generation-defining centre-of-attention that he's been ever since that hopeful shot thundered in off the bar against Arsenal. He's never seemed to relish the celebrity side of football in the way that someone like David Beckham did, for example.
When thinking about Rooney's legacy, there's perhaps one moment from his time at United that sums it all up. It isn't the overhead kick against City, although it was voted the best goal of the Premier League's first two decades (shinned it). It's not the goals, the outbursts, or the ROO-diculous parade of tabloid headlines.
The thing I'll always remember about Wayne Rooney didn't happen on the pitch at all. It's from an advert for a mid-priced bottle of red called Casillero del Diablo (United's official wine partner, of course).
As well as including what's probably the worst piece of acting in the history of film, this short clip offers an insight into Rooney's psyche. As a fireball flies through the Manchester sky to land on the Old Trafford pitch, Rooney looks out from a corporate box with dead eyes.
It's symbolic of the gilded cage he's found himself in. The game he loved has given him everything - he's rich, successful and world famous. But it's also taken a lot. Perhaps the the years of travelling, tabloid headlines and constant attention have ground him down.
He will eventually be remembered as one of Manchester United's greatest ever players, but for the last few years he's played like someone with the weight of that label pressing down on him. Perhaps a return to Everton will provide him with a release.
"They say he is a legend," says Rooney at the end of that terrible advert, with all the verve and eloquence of a lobotomy patient. You certainly can't argue with that, but maybe modern football - the excess, the scandal, the hyperbole - gives us the legends that we deserve.
Quizzes, features and footballing fun
Get the best features, fun and footballing frolics straight to your inbox every week.
Thank you for signing up to Four Four Two. You will receive a verification email shortly.
There was a problem. Please refresh the page and try again.