Rooney reminds Everton fans of brevity of youth
The return of Wayne Rooney has made wistful Evertonians reflect that youth is sweet but fleeting, Back of the Net report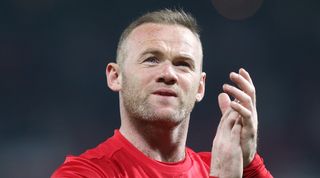 The grizzled veteran striker moving back to Goodison Park has provoked feelings of pensive melancholia among fans who remember him as a teenage prodigy, albeit one who looked about 50.

Season ticket holder Tom Clark said: "When Rooney left in 2004, the world was a very different place. I was about to go to university, I was in a band, and I still thought Claire from college was my soulmate, possibly because she wore a padded bra and had low standards.

"Now I work at an accountancy firm in Luton, Claire hasn't spoken to me since 2005, and I haven't picked up my guitar in years except to consider selling it. Makes you think.

"I suppose great things were expected of both of us, and yet we both fell short. We are brothers, in a way, me and the multimillionaire athlete who scored more goals for England than any player in history. Two peas in a pod." 

Fellow Everton fan Mike Soutter said: "He left in the spring of his youth and returns in the autumn of his dotage, his scars a visible reminder of the passage of time that condemns us all to wither and fade.

"I was a young and virile man 13 years ago, but look at me now, stooping into middle age with bad posture and halitosis.

"I've lost all my hair, and unlike certain other people, I can't just pay a doctor thousands of pounds to make me some new hair.

"It all seems like yesterday, and yet also a lifetime ago. When I see Rooney running out in a blue shirt next season, will I be struck with the Proustian recollection of a simpler, purer time? Or will I just call him a traitorous wanker who should f*** off back to Manchester?

"I suppose that as with so many things, only time will tell."
Please note: This satirical news story is not real. Like, clearly.
Quizzes, features and footballing fun
Get the best features, fun and footballing frolics straight to your inbox every week.
Thank you for signing up to Four Four Two. You will receive a verification email shortly.
There was a problem. Please refresh the page and try again.