David Beckham, You Ask The Questions: "I was angry to leave Man United... gutted"
By FourFourTwo Staff published
"Have I ever eaten bulls' testicles? No. But I have eaten bulls' ears..."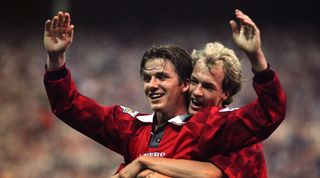 David Beckham screws up his face, grits his teeth and flexes – or tries to flex – his biceps like a muscleman, before falling about laughing. He's just finished a two-hour photo shoot at an enormous studio tucked away in eastern Madrid, the sleeves have been torn off his shirt, and the serious poses and mean stares have given way to broad smiles.
The England captain is in a chirpy mood as he settles in to a leather chair alongside FourFourTwo on the same stage where the flashbulbs have been going off all afternoon, still in football kit, his socks a few sizes too big, heels halfway up his achilles.
This must be what it's like being Parkinson: two chairs, countless spotlights and an audience listening in, eager to hear what the world's most famous footballer has to say. One on one? There are few more than that, with photographers and crew, their day's work now done, gathering round as Beckham eyes up the questions – your questions. "People don't half ask some weird things," he grins, and he has a point. Starting with...
FACT FILE
Born: 2 May, 1975
Place of birth: Leytonstone, London
Height: 6ft
Position: Midfielder
Clubs played for: 1992-2003 Manchester United 265(62); 1994-95 Preston North End (loan) 5(2); 2003-present Real Madrid 93(10)
International: 1996- England 94(17)
Honours: Premier League 1995-96, 1996-97, 1998-99, 1999-00, 2000-01, 2002-03; FA Cup 1995-96, 1998-99; FA Community Shield 1996, 1997; UEFA Champions League 1998-99; Intercontinental Cup 1999; Supercopa de Espana 2003
Ever fancied walking Waltham Forest council's 'Beckham Trail', including where your grandparents lived and where you went on cub camp?
Mosh, Clapham
When I'm in England, maybe, if I have time. I suppose it could be quite interesting and I'm sure I'll remember all the places. [FFT: Did you know you can get instructions in Spanish and Japanese?] Oh can you? Well, that's nice for the Spanish and Japanese, isn't it? Think I'll stick to the English ones, though.
Why were you a Man United fan if you're an Essex boy? What's up with the Hammers?
Iron Mike, via e-mail
There was only one club I was interested in because my dad was a Man United fan and I wanted to be what my dad was – a Cockney Red. I've always been a United fan and I always will be. I got the piss taken out of me horrendously when I was at school, especially when either Arsenal or Tottenham beat us, which at the time they did quite a bit. Mind you, there was a memorable time when we beat Arsenal 6-2, so that went down well. I always used to wear my United shirt to school – and I made sure I did that day.
How good were Ridgeway Rovers?
Sammy Neil, Essex
The best. They would beat Real Madrid. And England. And Man United. All together. Nah, I'm joking, but that was a massive part of my life, the first team I was involved in. It was an amazing time. I had Stewart Underwood, Steve Kirby and my dad as coaches. Stewart Underwood was like a sergeant major. He scared me. In fact, I've always had managers and coaches that have scared me...
Did you change hairstyles often as a lad? I can see you in your uniform with a wedge...
Jane Simmons, via e-mail
I changed it as many times as my mum would let me, which wasn't often. I remember the first time she took me to the hairdressers'. I wanted it really short but she wouldn't let me – she gave me this spike thing. When I look back on it I can't believe she did that to me!
Young players these days seem to think they've made it as soon as they play in the first team. At what moment did you think you'd made it as a footballer?
Dave Rodgers, Bournemouth
I still look at myself and want to improve things. I've done a lot of things and won a lot in my career, I've been England captain, played for Man United, played for Real Madrid, but there wasn't any point when I sat back and thought "I've made it" because I had always had my dad telling me: "You haven't made it yet. You've played 100 games for Man United but you still haven't made it." That was the thing about being at a club like Man United: we were brought up to believe that until you retire you don't look back on your career and think of what you've done or the fact that you've made it. Until then, until you retire, you're always trying to better yourself.
Did you ever fancy copying Lee Sharpe and having a fan club at Discotheque Royale?
Steve Price, Sale
No, definitely not. I actually went to one of his events once. He invited me because I was in digs on my own. We used to hang around a bit. The event was crazy. Lee and Giggsy were The Two at the time. They were young, they'd both got into the first team, they had matching jeeps, which the manager wasn't happy about, they were the cool ones.
Do you think you'll ever score another goal from the halfway line? Have you thought about trying it again? When you did it, how long did the buzz last?
Abdul, via e-mail
I'd try it every game if it was on. If I saw the opportunity, I'd love to score another one like that. That buzz lasted a long time after. The buzz is still with me now to tell the truth; I still get goosebumps when I see it. I've got a picture in my house that was sent to me, taken from behind where I kicked it, and the ball is in the air and the Selhurst Park crowd is in the background and you can see my mum, my dad and my sister in the photo as the ball drops towards the goal. That's one to cherish.
What was it like to inherit the United No.7 shirt from a total legend like Cantona? Nerve-wracking?
Shaun Cooper, Wilmslow
The No.7 was the shirt at Manchester United for me. It has always been worn by amazing players and players who I've really looked up to – like George Best, like Eric Cantona, like Bryan Robson who I always wanted to emulate. I wore No.7 when I was young and to be given it at the time was very special, but nerve-wracking? No, I didn't find it nerve-wracking.
When you look back at the way you were treated by fans around the country after the 1998 World Cup, how do you feel? Shocked? Upset? Can you laugh about it now, or does it still piss you off?
Stuart Roberts, via e-mail
It hurt at the time, but what I really think about when I look back to that time is the way Man United fans were to me. Every time I took a corner for two years – two years! – the United fans were on their feet, clapping me, cheering me, singing my name. All I had to do was step towards the corner flag and they'd be doing that. That support was amazing. On the pitch, it made everything a lot easier. Being at a club that supported me the way it did after what had happened, and having the support of the fans, meant the world to me.
Which was better: scoring the last-minute free-kick against Greece to reach the World Cup or United's last-gasp European Cup Final victory in 1999?
Simon Kirk, Orpington
[Puffs out his cheeks] I don't think I could decide between the two. They were both such emotional moments. Winning the European Cup like that was incredible. There had been so many twists and turns all year and to win all three trophies after such an emotional season, topping it off like we did in the last three minutes, was amazing.
Scoring the goal against Greece was one of the best feelings I've had personally in football. Emotionally, it was incredible. But it was so personal with United as well because we'd all grown up together, we all wanted to win the biggest trophy in club football. We'd done it together... but the England thing was huge too.
You come across as quite patriotic: you sing God Save The Queen with enthusiasm, refer to the nation in interviews and are clearly proud to be captain of your country. But at the same time you seem very loyal to Sven. Would you prefer it if Sven was English?
Richard, London
I don't care. As long as he looks after the players and does what he does for us. For me, he's one of the best managers around and that's what the team needs. It doesn't matter if he's English or Swedish or whatever, so long as he's good for the team and the country.
Have you ever seen Sven angry? On a Fergie hair dryer-scale of 1 to 10, where does he feature?
Vince Larkin, via e-mail
On the scale? Sven is nowhere near Sir Alex Ferguson, that's for sure. He's very different. Of course you see him react, but he's different to other managers. Some managers react in a way that people seem to want Sven to do, but that's his personality, the way he is.
How fit were you at the 2002 World Cup? Before you broke your metatarsal, you were in the form of your life. Do you think England would have won the World Cup if you hadn't got injured?
Patrick Jackson, via e-mail
Hindsight is a wonderful thing. Who's to say what might have happened? I wasn't as fit as I would have liked to have been going into a World Cup but I'm not sure what difference that made. Even now, people still look back on the Brazil game and say I jumped out of the way of a tackle and that maybe I did that because of the foot. But that's not true: I thought the ball was going out – that's why I jumped, I wasn't avoiding the tackle. Who knows what might have happened if my fitness had been better? At times it might have affected my performance because I was nowhere near as fit as I would have been if I hadn't broken my foot. Coming back from an injury like that, I was always going to be some pain.
Three days after the final game of the 2002/03 season, you were offered a new four-year contract. If, as you publicly said, you wanted to stay, why didn't you sign it? Can you appreciate why you lost the respect of United fans because you made out you were being forced out?
Barney Stanton, Castleford
No. A year before, I'd signed a new four-year contract. I was on the pitch with the manager, cuddling. In front of everybody. It was just before the World Cup and there I was saying: this is where I want to stay. I'd signed for four years so I didn't see why anyone would not respect me or not believe that I wanted to stay at United. Then after that it all changed. I don't know what happened to be honest. [FFT: So why didn't you sign that contract?] I signed, I signed. [FFT: No, the subsequent year, immediately before leaving for Madrid?] Because I still had three years left on my contract and three years is a long time.
How annoyed were you to be used as a political pawn in the Barcelona presidential election? Have you spoken to Joan Laporta about it?
Scott Morris, via e-mail
I've never spoken to anyone from Barcelona. When I found out that Man United wanted to sell me, I was annoyed. They wanted to make the decision for me and I wanted to make my own decision. Barcelona is a great club, it was obviously an honour to be mentioned by them and Laporta is a nice person, a good guy, but I'd always said that if I ever had to leave United – which I never thought I would do – then I would be going to Real Madrid. And I would decide my future. I was angry that I was leaving Man United: it's the club I've always supported, the club I started my career at and I thought I'd end my career at. I found out while I was on holiday, which wasn't nice.
What went wrong in your relationship with Fergie? You were so close for so long and then it seemed to fall apart... If you had your time again, would you do anything differently?
Sally Hawkes, Wilmslow
There's not one thing I would change because I had an amazing time there with the fans, with the club, with the manager. Without them I wouldn't be where I am today. They gave me the chance to fulfil my dream by playing for Man United. I respect that and I'm grateful to the manager for that. There are always going to be ups and downs with managers and team-mates and that happened with the manager. It was well documented, more documented with me and the manager than between anyone else, and it got blown out of proportion. When the club said they wanted me to leave, I was gutted.
I can remember the last game at Old Trafford when I was supposed to have said "I've had talks" [he was filmed on the pitch at Old Trafford talking to Gary Neville]. What I said was, "They've had talks". I hadn't spoken to anyone – I had no reason to. I'd just won the league with Man United and I was assuming everything was fine. I had not had one set of talks, not even when we played Real Madrid and I was dropped for that game. People were saying it then but I had never, ever spoken to anyone. Even the players at Real Madrid say to me now: "The deal was already done for ages wasn't it? Because we got told." And I say [exasperated laugh]: "No, no, it wasn't."
What's the weirdest thing you've ever heard or read about yourself?
Paul Walsh, via e-mail [Rolls his eyes]
Oh, God! There's a different one every day. Every single day people are making things up, lying, trying to publicise their business. It is literally every day. One of the things that always bugged me was that when I was still at United, people said I was living in London and travelling up. That annoyed me because even the manager ended up questioning me about it. I had a house in London, but I lived in Manchester. People used to say "why do you do so much travelling?" but I really didn't. What else? God, there are so many things. People said I bought my son a £25,000 diamond earring for his fifth birthday, which... Was. Not. True.
Have you ever eaten bull's testicles?
Gary Rawlings, via e-mail
No. But I have eaten bull's ears. Grim? No – lovely, actually.
Is it true that Ronaldo has turtles swimming in his pool at home?
Matt Husband, Norwich
No. Not true. [Starts giggling] Definitely not true. Trust me, I'd notice. I've swum in his pool.
Neither Madrid nor United have managed to win the championship since you switched clubs – does this prove that United would be better off with you and Madrid without you?
Adrian Bailey, via e-mail
I don't know. I'm happy playing at Real Madrid. I haven't won anything but it's been a great experience.
Real Madrid have vastly under-achieved in recent years. Why?
Chris Rowles, Bishop's Stortford
Because we have not been good enough. Valencia beat us the first year and Barcelona the second year – the best team won at the end of the season. That's what happens in football. Real Madrid are expected to win every trophy, every year. That's the mentality here, but it hasn't happened because we haven't been good enough.
Eric Cantona or Zinedine Zidane?
Billy Moore, via e-mail
Tough choice but I'd have to say Zidane. Eric Cantona was special, he had an aura about him, he is the king of Old Trafford and that's the way he should always be remembered. Eric is a great guy, a great player, one of the best players I have ever played with, but I still think Zidane.
Who decides on your hairstyles: you or Victoria? Looking back, are there any you regret?
Andy Watts, via e-mail
[Immediately] Me. There's none that I regret because at the time I felt it looked good. Sometimes I wake up and I'm bored of my hair so I shave it all off. Today I've got long hair; tomorrow it could be short again. It depends on my mood. [FFT: there isn't one you look back on and think: Jesus Christ, what was I thinking?] The Mohican. That's probably one of the ones that I look back on and… or the spike when my mum did it! That's possibly the one. The worst one I've had wasn't even my fault; it was my mum's fault, so we'll blame her [laughs].
What was the last thing that went through your mind when you took that penalty against Portugal in Euro 2004? And the first thing that went through it when you missed?
Sarah Hendrie, Leeds
The first thing that went through my mind as I hit it was: "What happened?" Because, even when I kicked it, you could see the ground lift up considerably and I never strike balls as badly as that. For the ground to move like that was unfortunate. What went through my mind when I realised I'd missed was probably how I was going to get caned. [FFT: And what about when you heard that a fan had caught the ball and was selling it on eBay?] It went for about £32,000 in the end. It's one of those things that happens to me. Nothing amazes me anymore. I wasn't at all tempted to buy it myself though – it could have been any ball. It might have been a snide!
Is it true that you travel separately from the rest of the England team and stay in different hotels? If so, how do you think that contributes to team spirit?
Adrian Ely, Luton
Yeah, when the team are in the dodgy hotels I'm in the Four Seasons! Of course not. We stay as a team. If it was offered to me I wouldn't want it. I might be England captain but it doesn't mean that I get treated any differently. It does irritate me a bit when I see that story being written because people believe it – hence me getting asked the question – but that's part of life these days. People read things and believe them: that's another one of those myths.
Are you the most famous person you know?
Georgie, via e-mail
Erm... no. Tom Cruise. He's a lot more famous than me.
Do you understand why England fans want you to play on the right?
Jonathan Ward, via e-mail
Yeah, of course, because crossing the ball is a major part of my game. If I get the ball on the right and I'm in a good position I'll find a player, so of course I can understand that.
What did Wayne Rooney say to you when you told him to calm down in the Northern Ireland match?
Ian Kemp, via e-mail
I think the papers got it pretty right, actually. It started with f and ended with… [laughs]. He'd done the same to Rio and then did it to me. It was a frustrating time for the team but it's not a problem. That happens in football and I'm not complaining. I would rather he reacted like that than not react at all. What did I say to him? Just "Play football", I think. Wayne is a strong personality, one of the best young players in the world. His personality is what makes him a great player, so I would rather he reacted like that to me than not react at all. It's not a sign of disrespect; it's a sign of passion and that's great to see.
Paraguay, Trinidad & Tobago, Sweden... Has the draw for Germany 2006 made you even more confident that this is England's year to win the World Cup?
Andrew Harrison, via email
We're just as confident about our chances as we were before the draw. If we work hard and play to our potential we can beat anyone on the day. We'll always respect our opponents but we don't fear anyone.
England always seem to have bad luck at major finals, but you make your own luck in football. What will we be doing differently in Germany to get the rub of the green?
Stan Andersen, Ormskirk
Working hard and playing well. You can make your own luck but at the last couple of tournaments we've had goals disallowed at big moments - and they have been goals. If we get that sort of luck on our side this time, if we play good football and if everyone is fit, who knows what can happen?
You've retired from taking England penalties, but what if Lampard's injured or there's a penalty shoot-out? Would you step up?
Andy Moore, Solihull
Yeah, I don't mind having another go. It doesn't bother me. Frank takes penalties regularly for Chelsea and it's better for the team to have regular penalty takers but if I needed to take one it wouldn't be a problem.
Why should players get £300,000 for winning the World Cup? Shouldn't pride be enough? If we win, the players will be set up for life anyway…
Geordie Gav, via e-mail
For a start, we're not getting £300,000. We're getting a lot less and we're getting less than we did for the 2002 World Cup. But there is money in football and players get given bonuses. That's the way it is. I'm England captain and I know for a fact that every single player in that team would play for England for nothing. The bonuses are, well, a bonus for us. Every one of these players would play in the World Cup for their country for no money whatsoever. [FFT: Were you involved in negotiations?] Yes, because that's part of being captain; you're part of discussions about bonuses, about other things that go on within the group. But it's not just me – there are a few of the other senior players involved too.
Who do you think is the best player in the world? And who's been your toughest opponent ever?
Tom Robinson, Richmond
I've always said that Roberto Carlos is the toughest player I've ever come up against and the best player I've ever played with is probably Zidane. He's just the best. Now, there's Ronaldinho - at the moment he's the best in the world.
Doesn't all the adulation, the autographs, the screaming girls and so on, freak you out? What's the maddest thing you've done to shake a paparazzo off your tail?
Rachel Gallagher, Hull
It doesn't freak me out. People turn round to me and say: "Don't you hate it?" How can you hate it? People want your picture, your autograph and it's an honour to have that, to have the ability to make people happy. It doesn't freak me out. [Smiles] Unless they come up and start crying, and they want a hug and a cuddle – that happens quite a bit. [FFT: So, what do you do if a 10-year-old girl is crying and wants a hug?] You give her a hug because you never like to see kids crying. As for the paparazzi: lots of things. I try to get out of my house every day without being followed, and it's pretty hard.
You're said to have back problems because of your kicking style. Will this curtail your career by a couple of years?
Will Harrison, Brentford
No. I have got a bit of aching in my back. It's there but it's not going to stop me playing football.
If Malcolm Glazer gave Alex Ferguson the money to buy you back, would you come? We'll chuck in Carlos Queiroz in part-exchange...
Si Wilson, Leyland
Ha ha ha! Ooh, that's a tough one! I don't know. I'm happy at Madrid but I've always said that if I had to go back to England the only club I'd want to go back to is Man United. I'm happy here but you never know what could happen in the future.
If you could do it all again, what would you do differently in your career? And of all the highs, which bit would you most enjoy doing again?
Anthony Christoforou, Indiana, USA
There's not one thing I'd change because it's all been part of my life and every situation has changed me as a person. Of course 1998 was a tough time and in a way I wish that hadn't happened, but if it hadn't have happened, maybe I wouldn't be as strong as I am. I'd like to play the 1999 season again because the end of it was so special. And of course scoring the Greece goal. That's what I mean about not changing anything: 1999 was made more special because of '98, for coming through it. Mind you, I was still getting the abuse for three or four years after that.
What role in professional football, if any, do you envisage for yourself after you retire as a player? Are you taking your coaching badges? And if not football, what do you plan to do?
Daniel Mann, via e-mail
I definitely won't be a manager. What interests me more than anything is my soccer academy. I've got one in London and one in LA and there are plans for others in different countries. That's what interests me: coaching kids, teaching them about football and life. My academy is different because of the classrooms where the kids can learn about football, about their bodies, about different aspects of the game. The kids learn about respect – for players, referees, supporters and in everyday life. So, that's one thing, and being a Unicef ambassador is another. Those are going to be big parts of my life and I'll also spend as much time as I can with my kids.
I'm a PE teacher and girls are really starting to get into football. If a girl was good enough, would you be in favour of her playing alongside you for England?
Jennie Bowmer, Alsager
Absolutely. I wouldn't have any problems at all if she was good enough. For example, my academy is for girls and boys – that was one of the things I was adamant about. I've always backed women's football and we've already had girls coming down to the academy who have been very, very good. That shows the standard of women's football in England. We'd need two dressing rooms of course but, hey, people think I have my own anyway!
From the February 2006 issue of FourFourTwo. Subscribe!
New features every day on FourFourTwo.com • Exclusive interviews
Thank you for reading 5 articles this month* Join now for unlimited access
Enjoy your first month for just £1 / $1 / €1
*Read 5 free articles per month without a subscription
Join now for unlimited access
Try first month for just £1 / $1 / €1
Quizzes, features and footballing fun
Get the best features, fun and footballing frolics straight to your inbox every week.