An Englishman in New York: Lloyd Sam won't be rushing back to League One
As Frank Lampard and Steven Gerrard fly west to join the MLS revolution, FourFourTwo has spoken to six Blighty-born ballers who've already made their mark Stateside. Here, New York Red Bulls' winger Lloyd Sam explains how he eventually wound up on the East Coast of the US...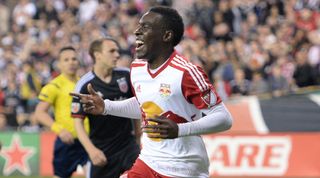 When their planes touch down this summer – at JFK and LAX respectively – Frank Lampard and Steven Gerrard will hardly be treading on virgin territory for British footballers. Since David Beckham's five seasons with LA Galaxy, Major League Soccer has been an increasingly popular destination for Premier League alumni, in particular for those seeking a little sunshine in the late afternoon of their careers, whether that's Shaun Maloney or Robert Earnshaw, Liam Ridgewell or Nigel Reo-Coker.
Lloyd Sam is a little different. The winger arrived in MLS back in 2012 at 27, an age where most players should be reaching their career-defining peak performances. However, during his time with Charlton Athletic and Leeds United, on several occasions Sam found himself loaned out to clubs lower down the pyramid.
It was following one such short-term deal – with League One Notts County – that MLS, in the form of New York Red Bulls, opened its arms. "I'd played 10 games at Notts County, scoring five goals and making a few assists. I thought I'd be coming straight back to Leeds and the Championship.
"But Neil Warnock said he wanted to bring some of his own guys in. Fair enough. I still wanted another season in the Championship, but some of the offers that were coming in weren't what I wanted. I was on holiday in Dubai when I got the call about the Red Bulls. It sounded interesting; it was the first time I'd thought about leaving the country."
So how had Sam arrived on Red Bulls' radar? "There was a guy there called David Lee who used to work for Exeter City. We played against them in League One when I was at Charlton. Red Bulls were looking for a guy who played in my position and David remembered me and put me forward." If the possible switch from loanee to overseas star seemed unlikely, the recruitment process wasn't exactly rigorous. "They took David's word, from him having seen me a couple of years before. They said: 'We want to see you quickly. It's not really a trial.' I think they just wanted to see me out there. I trained for a week and and then signed."
There were a couple of familiar faces at Red Bulls Stadium to welcome Sam into the fold – Tim Cahill, who'd signed just a week before him, and one Thierry Daniel Henry. But, despite the stellar cast around him, Sam was handed the team's number 10 shirt. "The guy who'd been wearing it had just left and all the other good numbers had gone. I would normally take a 7 or an 11, but 10 was available, so I snatched it up quickly and I've kept it ever since. Obviously it's not the thing that makes your mind up, but it was a nice little bonus.
"I had no idea what to think about MLS," Sam admits, "but it turned out to be lot tougher than I had expected. And it's got more difficult with every season that I've been out here."
Despite the increasingly tough nature of the league, he's made himself a regular in the side over the past couple of seasons; his goals and assists a key part of Red Bulls' attacking play, especially now that playmaker Henry has hung up his boots. With the Frenchman ensconced on the pundits' sofa, Sam's partnership with the free-scoring Bradley Wright-Phillips (the league's Golden Boot winner last season) is crucial to maintaining the Red Bulls' impressive start to this year's campaign.
Sam has assimilated well into the American game, acclimatising to the differences between English football and MLS. "You can't just drive to the game," he sighs. "You've got to fly. When you've got a game in LA, it's just so far away. It's like going to another country. It's nearly the same distance to London!"
There's a significant consequence of this gruelling travel – "a complete absence of away fans, especially for the matches further away. But it's always a good feeling to score away from home and silence the crowd." The vastness of the country also offers markedly different weather climates. November in New York is a somewhat different proposition to November in Los Angeles. "It can be brutal," Sam agrees.
Lampard and Gerrard might be on their way, but Sam – a man more familiar with the likes of Roots Hall and Meadow Lane than Stamford Bridge and Anfield – won't be over-awed. After all, this is a league that already boasts the players of the calibre of Kaka and David Villa. "Nothing fazes me when it comes to names," he defiantly announces. He also believes the incoming midfielders will be an unqualified success in MLS. "If they take it as seriously as they've taken their whole career, nothing is going to surprise them. I don't think they're going to approach it as an easy ride. If they do, they'll soon find out. Ask Thierry!"
At the age of 30, does Sam think he'll regret not giving the top tiers of English football one last go if he stays Stateside? "If a team came in for me and it was something that all parties wanted to do, I'd possibly go back. But it would depend at what level. With respect, I won't be rushing back to League One. MLS is going up and up and I'm in no rush to leave. The team's doing well and I'm scoring goals. I'm happy how things have panned out. I've had so many calls from England from players – some of whom I don't know – who want to come over and have asked me to help them."
For this new lease of life and its attendant glamorous lifestyle, Lloyd Sam is still in debt to that bloke at Exeter City who made a mental note about him all those seasons ago. "It just shows that you've got to always try your best," he concludes. "You never know who's watching."
To hear from five more MLS Brits, check out the July 2015 issue of FourFourTwo (opens in new tab) - available now.
Thank you for reading 5 articles this month* Join now for unlimited access
Enjoy your first month for just £1 / $1 / €1
*Read 5 free articles per month without a subscription
Join now for unlimited access
Try first month for just £1 / $1 / €1