Everything you need to know about... Ciro Immobile
Adam Digby lifts the lid on the young Torino striker looking to gatecrash Italy's World Cup squad...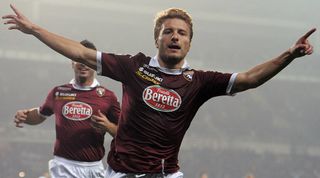 The 60-second story
Born at the foot of Mount Vesuvius in tiny Torre Annunziata, it's somewhat apt that Immobile is thriving at Torino, a club living in the shadow of illustrious neighbours Juventus. Having joined local club Sorrento at 12, Immobile was signed by the Bianconeri six years later. He enjoyed two successful campaigns with the Primavera (U20 side), and finished top scorer at the prestigious Viareggio Tournament in 2010.
His prowess in front of goal earned him a first-team debut at 19, before he was twice sent on loan, first with Siena – at the time coached by Antonio Conte – and then Grosseto. A switch to Pescara for the 2011/12 campaign saw him play under Zdenek Zeman, perhaps the ideal coach to mould this young striker. He took Serie B by storm, helping Pescara win the title and promotion to the top flight with 28 goals, in a team which also launched Marco Verratti and Lorenzo Insigne to stardom. As their leading scorer, Immobile was catapulted to nationwide attention, but the following year he would once again suffer from an ill-advised move to Genoa, where he played second fiddle to Marco Borriello.
Ending the season with just five goals and three assists, it seemed he was out of his depth in the top flight – that is until last summer, when Torino came calling. Sent across town as part of the deal which took Angelo Ogbonna to the Bianconeri, Immobile has been key in the excellent season enjoyed by the Granata. With 17 goals already, the 24-year-old trails only Carlos Tevez in the race for Serie A's Capocannoniere.
FACT FILE
Date of birth: February 20, 1990
Place of birth: Torre Annunziata, Italy
Height: 6ft 1in
Position: Striker
Club: Torino; 29 apps (25 starts), 19 goals
Former clubs: Juventus, Siena, Grosseto, Pescara, Genoa
Country: Italy; 1 app, 0 goals
Why you need to know him
Immobile is now being discussed as a player with an outside of making Italy's World Cup squad. His presence among the peninsula's more recognisable front men is as surprising as the journey which took him to his current club. He made his Italy debut in the friendly against Spain in March – and could keep his place if his prolific strike rate continues.
His goals this season have come from just 75 shots, an average of 2.8 per game significantly lower than that of Tevez (3.8 per game) and Giuseppe Rossi (3.3). With half of his contract still owned by Juventus – and clubs like Borussia Dortmund interested in signing him – Immobile is sure to be a major story this summer.
Strengths
Finishing. It sounds obvious, but Immobile is something of an old-fashioned striker, one who sees scoring goals as his sole reason for being on the pitch. Indeed, he's netted all 17 of his goals this term from open play. Despite showing at Pescara that he was capable of playing a pressing game, with Torino he is asked to do little else, and concentrates simply on being in the right place at the right time. Often profiting from the excellent play of Alessio Cerci behind him, the speed at which he has built an understanding with the team's playmaker has also been a major factor in his success.
Weaknesses
His tendency to be caught offside has perhaps prevented him from scoring even more than he already has, having been flagged an average of 1.4 times per game. That's the second-highest number among all players in Serie A, and is certainly something he needs to improve going forward. His distribution is also quite poor, having completed just 70.8% of his passes this season and averaged fewer than 19 per game.
They said...
Carlos Tevez, when asked about rumours Immobile could return to Juventus this summer, told La Stampa: "He is proving to be a great player, it is not easy to score 17 goals in Italy. He is doing very well, it is clear that he deserves to wear this shirt." It's hard to argue with the only man who has scored more often than the Torino striker this season.
Did you know?
His Juventus debut came as a late substitute for Alessandro Del Piero in March 2009, which became an almost obligatory rite of passage for the club's young attackers. With 14 goals over two years at the Viareggio Tournament (four in 2009, 10 in 2010) he also broke Renzo Cappellaro's 50-year-old scoring record.
What happens next?
The co-ownership deal between the two Torinese clubs needs resolving in the coming months, but the 24-year-old sees no reason to leave the Granata. In a recent interview with La Stampa, Immobile said: "Torino is the right club for me, regardless of the talks relating to my future. I do not see why I should say that I will leave, I'm very grateful to those who have believed in me. I just needed confidence and a peaceful atmosphere to make me feel important. I found the perfect place here, with Torino."
Talentspotter ratings
Shooting 9 • Heading 6 • Passing 5 • Tackling 4 • Pace 7 • Dribbling 6 • Creativity 7 • Work-rate 6
Thank you for reading 5 articles this month* Join now for unlimited access
Enjoy your first month for just £1 / $1 / €1
*Read 5 free articles per month without a subscription
Join now for unlimited access
Try first month for just £1 / $1 / €1