Four big reasons Frank de Boer is the man to take Spurs to the next level
With Ajax boss Frank de Boer now heavily linked with the Tottenham manager's job, Dutch football expert Elko Born explains why he may be the right fit for the North London club...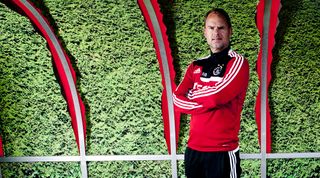 Having failed to convince pretty much anybody that he is the man to take Tottenham Hotspur forward after the December dismissal of Andres Villas-Boas, Tim Sherwood will most likely be replaced in the White Hart Lane hotseat this summer. Although the identity of Sherwood's replacement is unclear, what is clear is that Ajax coach Frank de Boer is one of the prime candidates.
Yesterday, the former Dutch international told local media that he was considering an approach from the North London club. Seeing as De Boer has already achieved so much which managing Ajax, the fear in the Netherlands is that the bright young manager just might take up on Spurs on their offer.
Ajax's young and talented players regularly leave the Amsterdam ArenA for the bright lights of the Premier League - think Thomas Vermaelen, Jan Vertonghen, Luis Suarez and Christian Eriksen. In that regard, it isn't unimaginable that Ajax's upcoming manager could do the same.
As a player, Frank de Boer played with distinction for clubs like Ajax, Barcelona, Galatasary and Rangers. But what kind of manager did he become, and how would he fit in at Spurs?
A track record of success
Frank de Boer - not to be confused with his twin brother Ronald - started his managerial career with the Dutch national team, where he was an assistant to manager Bert van Marwijk during the World Cup in 2010. The Netherlands did well during that tournament, reaching the final before losing to Spain in extra time.
After the World Cup, De Boer became a youth coach at Ajax. Even then, people knew he wouldn't stay in that job for long. De Boer's talents as a manager were obvious, and as a true Ajax man, he was already being touted for a job as first team manager.
In December 2010, Ajax sacked their manager Martin Jol. De Boer was immediately pushed forward as the new boss. He wasted no time, immediately making drastic changes to the regular first XI, and got off to a flying start, with his team beating AC Milan 2-0 in a Champions League group match.
Ajax had struggled under Jol, but De Boer immediately turned things around and won their first league title in seven years - ending a disastrously bad spell by their high standards. The next year, Ajax did it again, and the year after… and the year after that.
The Amsterdam club have not only reclaimed Dutch pre-eminence, they have won the league four times in succession under De Boer - more consecutive titles than were won by Rinus Michels, Johan Cruyff or Louis van Gaal. What's more, Ajax have achieved a string of decent results in the Champions League; although De Boer never succeeded in leading his side beyond the group stage, he did mastermind victories over the likes of Manchester City and Barcelona, while Manchester United were also defeated at Old Trafford in the Europa League.
A knack for player development
De Boer's appointment at Ajax largely coincided with the start of the so called 'velvet revolution': a movement of former Ajax players who want to revolutionise proceedings at the Amsterdam club.
Under the leadership of the legendary Johan Cruyff, former Arsenal stars Marc Overmars and Dennis Bergkamp - the latter being De Boer's assistant manager - work to prevent Ajax from overspending on expensive transfers, and focus instead on what they've always been famous for: their excellent youth academy.
Judging by De Boer's succes so far, this policy has worked out well. Ajax's four-in-a-row Eredivisie titles were all won by squads consisting largely of academy graduates and other young players bought for relatively low transfer fees.
This way, the club has given its young players every chance to develop while simultaneously saving money. This money can then be invested in better facilities at the youth academy. The ultimate goal is, of course, to become a sort of talent-factory, constantly producing the world's most gifted young players.
That may be just as well, as since Daniel Levy arrived at Tottenham, the club have been no strangers to buying low and selling high (see Michael Carrick, Dimitar Berbatov, Luka Modric and Gareth Bale). And Levy will welcome a first-team coach who doesn't expect a huge spending spree - or sole control of transfer matters.
The Vertonghen and Eriksen connection
Most significantly, perhaps, De Boer would relish the chance to be reunited with his former Ajax pupils Jan Vertonghen and Christian Eriksen - who were both constitutive players in De Boer's title-winning Ajax teams.
In the case of Vertonghen, De Boer would certainly make an attempt to convince the sulky-looking Belgian to stay at Spurs. Seeing as it's clear that the two have a good understanding - at Ajax, De Boer even made Vertonghen captain - De Boer's appointment could hugely influence Vertonghen's perspective and mood.
Of course, it's likely Christian Eriksen woud love to see De Boer come as well. The Dane was the main creative hub of the Ajax team that beat Manchester City and Manchester United in the Champions League and Europa League. At Ajax, De Boer looked at Eriksen to lead attacks and create chances in front of goal.
It seems like a given that De Boer would base his Spurs side around both Vertonghen and Eriksen, who were arguably the best players he managed at Ajax. Both players suit De Boer's preferred style of play perfectly: Vertonghen because he's a defender who can pass the ball, and Eriksen because he's the ideal playmaker.
It's obvious that in many ways, De Boer would be a good fit for Spurs. The question is: is Daniel Levy prepared to take the chance with the young Dutch manager?
A clear tactical vision
Tottenham's next manager will be expected to finally put the group of players signed at great expense last summer to good use. In that regard, De Boer would be a perfect fit. As his CV shows, he's excellent at taking a group of young, talented individuals and turning them into a well-functioning team.
In order to achieve this, De Boer would most likely export the philosophy he developed at Ajax to North London. The Dutchman, who often cites Louis van Gaal as his main managerial influence, is a proponent of a possession-based, dominant style of play. In true Dutch tradition, that means a 4-3-3 formation that focuses on intelligent and technical players.
In De Boer's system, every player is assigned a certain task. Should a player neglect to fulfil his task, De Boer is unforgiving. The Dutchman is often seen storming out of the Ajax dugout to give one of his players a verbal thrashing.
At Spurs, then, De Boer would have various decisions to make. Since there's only space for one striker in De Boer's system, what does that mean for players like Roberto Soldado and Emmanuel Adebayor?
One thing seems certain, though: the Dutchman would surely be excited about the chance to work with young and talented players like Erik Lamela - the Argentinian record signing who has so far failed to impress at White Hart Lane.
Quizzes, features and footballing fun
Get the best features, fun and footballing frolics straight to your inbox every week.
Thank you for signing up to Four Four Two. You will receive a verification email shortly.
There was a problem. Please refresh the page and try again.