FourFourTwo's 50 Best Football Managers in the World 2015: No.2
Lee Roden gives the rundown on the Spanish genius who finishes runner-up in our list of the best managers in world football...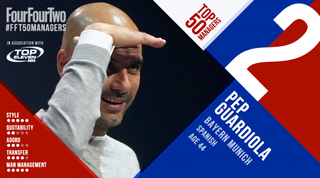 It's a measure of the heady standards by which Pep Guardiola is judged that a season of domestic success and a lengthy European campaign is viewed as a relative failure in some sectors, when other coaches would be lauded for the same achievements in less-than-ideal circumstances.
Bayern Munich won the Bundesliga by 10 points, reached the semi-finals of the DFB-Pokal, and finished among the four best teams in Europe – and they did it against a backdrop of absurd injury problems.
The Bavarians not only lost a large volume of players over the course of the year, but they lost important ones too, with figures vital to Guardiola's football like David Alaba, Arjen Robben, Franck Ribery, Thiago Alcantara and Javi Martínez often unavailable when they were most needed.
Daring domination
Because of those fitness problems, we rarely got to see what Guardiola's side were truly capable of, but on the occasions where it was possible they were nothing short of spectacular.
The first half of their 7-1 hounding of Roma at the Stadio Olimpico in October was genuinely breathtaking, a masterclass on how to achieve numerical superiority through intelligent movement and switching play, as well as a dazzling demonstration of one-touch football the Bavarians can deliver when their finest are fit (or rather, most of their finest, given Thiago wasn't even available for that game).
That match, rather than later performances with a depleted squad, was a better reflection of how much success Guardiola has had in trying to improve the collective play of this team, though even in the darker days there were a few bright spots.
In the 6-1 hammering of Porto at the Allianz Arena it wasn't one-touch football that caused damage but their overloading of the flanks and expertly timed midfield running. Thiago's reappearance after getting the medical green light was key. Bayern killed the Portuguese side in a different manner to the way they killed Roma, but they slaughtered them nonetheless.
At their fleeting fittest and best in 2014/15, Guardiola's team were the most versatile and most complex in Europe, capable of shifting systems and focus mid-game according to their Catalan conductor's gestures on the sidelines. To pull that off you need the brightest footballers available, and it's inevitable that their effectiveness diminished when injury forced increased usage of lesser players. The same would be the case in any side.
Barça blues
ALSO ON FFT.COM
Take Lionel Messi, Neymar and Gerard Pique out of Luis Enrique's Barcelona for example – three players whose relative importance in Catalonia is on a par with Alaba, Robben and Ribery in Munich – and there would certainly be a significant lowering in the overall standard of the Blaugrana's play. Yet for some reason, Bayern's inability to call upon those three stalwarts was rarely taken into account when analysing their failure to better Barça in May.
So what about that tie? The Barcelona leg seems to have shaped evaluations of Guardiola's year for those who didn't follow Bayern's Bundesliga campaign, and it now seems to be remembered as a one-sided affair. In truth, however, the pendulum swung back and forth throughout, Barcelona starting the first half better, then Bayern coming out the sharper in the second.
An outstanding individual – who also happens to be the best player in the world – ultimately resolved the tie in 13 minutes, but comparisons with the humiliation at the hands of Real Madrid from the season before are unmerited.
Problems at Bayern
The biggest criticism that can be levelled at Guardiola from the Barcelona games is the confirmation that without Robben and Ribery, his system falls apart against the best, and that other players are incapable of delivering the change of pace necessary in the final third.
It would be a huge shock if he doesn't look to address that issue in the summer. Yet buried among all the misery, there was also a positive to be drawn. The quality of some of Bayern's midfield play over the two legs was excellent, contradicting the square pegs, round holes theory often lazily levelled at Guardiola in regards to the football he is trying to implement in Bavaria.
With Xabi Alonso, Thiago and Philipp Lahm together in the middle, Bayern really do have a midfield capable of proactive dominance on the ball, even against the might of Barcelona. For that, the coach deserves credit.
Guardiola's year has not been faultless – only Luis Enrique can claim that accolade – but pay close enough attention and there were clear signs of evolution in Bavaria. He remains the bravest and most demanding coach around at the top level. With a second successive freak season of injury problems unlikely in 2015/16, we should get a better idea of what his Bayern can really do in the coming year.
Tactics corner (by Michael Cox (opens in new tab))
Pep Guardiola's spell at Bayern Munich has shown him to be more of a pragmatist than was considered during his spell at Barcelona, where he concentrated on ball possession to an incredible extent.
Bayern still retain possession for long periods, of course, but Guardiola hasn't attempted to make Bayern into Barça Lite. Instead, he's attempted to maximise the dribbling skills of his two wingers, Franck Ribery and Arjen Robben, and generally played a traditional striker too, first Mario Mandzukic and then Robert Lewandowski.
Whatever he does at Bayern, it will always be for Barcelona that Guardiola is best remembered. What started as a standard 4-3-3 constantly evolved into systems that could variously be termed 3-4-3, 4-6-0, 3-1-4-2 and even 3-3-4 at times. Guardiola seemed on a personal quest to use the most extravagant formations available, although it usually involved overloading the midfield with an extra man.
Although his approach is heavily based around his desire to control possession – which means short passing and heavy pressing to win the ball quickly – Guardiola also looks at the opposition more than many believe, personally watching hours of video to find individual weaknesses and changing his plans accordingly. In that respect, he's a hybrid of two different schools of coaching: he's both proactive and reactive.
FFT's 50 Best Football Managers: 50-46 • 45-41 • 40-36 • 35-31 • 30-26 • 25-21 • 20-16 • 15-11 • 10 • 9 • 8 • 7 • 6 • 5 • 4 • 3 • 2 • 1
#FFT50MANAGERS See our full list of top 50 managers in the world and features on them here
Check out FourFourTwo Polls and Contests on LockerDomeon LockerDome
Thank you for reading 5 articles this month* Join now for unlimited access
Enjoy your first month for just £1 / $1 / €1
*Read 5 free articles per month without a subscription
Join now for unlimited access
Try first month for just £1 / $1 / €1