FourFourTwo's 50 Best Football Managers in the World 2015: No.1
Without further ado, the best manager in world football profiled by Nick Ames...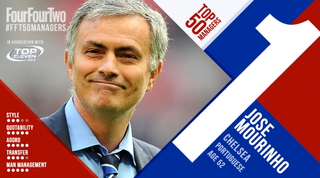 They say never go back, but it's as if Jose Mourinho was never away. Since returning to Stamford Bridge two summers ago, the Portuguese has proved that he is forged from everything that makes the Premier League such a compelling spectacle both on the pitch and beyond it.
Nobody, perhaps with the exception of Sir Alex Ferguson, has matched Mourinho's ability to hold opponents in his thrall regardless of the circumstances. The 52-year-old is a master of calling the tune, whether through the way he sets out his team or how he goads even the mildest-mannered of opponents – witness Manuel Pellegrini during the last campaign – into losing any psychological battle. Last season was the perfect example of his gifts.
Master of the procession
Chelsea began the season playing arguably the best football of any side Mourinho has managed. The Portuguese has sometimes been chided for his pragmatism, his willingness to win three points via the most straightforward route possible. But the summer signing of Cesc Fabregas pointed at a new direction and the team set a blistering pace, its dazzling midfield combinations invariably being finished off by another new signing, striker Diego Costa.
As injuries and suspensions began to bite in winter, Mourinho changed tack. A 5-3 defeat at Tottenham Hotspur seemed to sting him: Chelsea were noticeably more cautious after the turn of the year, with Costa struggling for fitness and Fabregas tiring, but their results remained by and large the same.
Mourinho's side always did enough, even if it wasn't pretty, but then Mourinho's sides always do – and perhaps the flagship game for that approach was the 1-0 home win over Manchester United on April 18 that virtually guaranteed them the title. "This is a game we will never lose. Never," he told Eden Hazard in the build-up, and so it proved as Chelsea, despite seeing just 30% of the ball, executed their gameplan perfectly.
Chelsea's apparent conservatism drew criticism in the season's final weeks but it seemed patently unfair. In fact, it was simply evidence of Mourinho's remarkable ability to adapt to circumstances and secure results – something that he has done throughout his career. Witness his Champions League title with Inter Milan in 2010, when Mourinho decided that his team would be more dangerous without the ball than with it against Guardiola-era Barcelona, and promptly walked away with an against-all-odds semi-final victory.
Euro sceptics
Chelsea will be overwhelming favourites to push on and make others bend to Mourinho's will again in the 2015/16 campaign, although there are question marks beyond the debate about style. Mourinho's relationship with Roman Abramovich, which decayed to the point of his departure from his first stint at Chelsea in 2008, has looked healthier than ever but there will be those who wonder what the owner's decision to let long-serving goalkeeper Petr Cech join Arsenal – clearly against the manager's will – might do if the Gunners put a challenge together.
ALSO ON FFT.COM
There's also the thorny issue of Europe: if a run to the semi-finals of the Champions League in 2013/14 was fine, defeat to 10-man Paris Saint-Germain two rounds earlier last season was not and vast improvement will be expected this time.
If Mourinho finds his back against the wall, there are always those duels against other managers to win. The usually calm Pellegrini, whose job Mourinho effectively took when he was appointed at Real Madrid in 2010, could be found grumbling about him well after last season ended, accusing him of wanting "to take credit for everything" when Chelsea win and professing to "differ from him on all fronts". Pellegrini had accused Chelsea of playing like a "small team" in a 1-1 draw at the Etihad in September but it felt, and still feels, as if he had fallen into Mourinho's favourite trap.
Nobody plays the relentless, 24/7 Premier League soap opera like Mourinho, who has a habit of provoking fury in his rivals with a few well-chosen words that set media bandwagons rolling while he remains impervious. He is his own best spin doctor, too, as an appearance on Sky Sports' Goals on Sunday programme the day after Nemanja Matic's red card against Burnley showed in February. Every motion is calculated for maximum effect.
You win some, you win some
None of that will change next season and perhaps Mourinho will even find himself in a closer battle, in the league and in the newspapers, against Arsene Wenger, who has never defeated him and with whom there is no love lost.
Regardless of the match-up, it is impossible to bet against a manager who has won eight league titles with four different clubs in the last 12 years. For all that 'philosophies' are deemed desirable in up-and-coming managers today, Mourinho lives by the one that really counts. His philosophy is purely to win – and he has rarely done anything else.
Tactics corner (by Michael Cox)
Jose Mourinho always trains his side primarily in two different systems, allowing him to switch quickly and easily for specific purposes. At Porto and in his first spell with Chelsea it was 4-3-1-2 and 4-3-3, then with Inter it was 4-3-1-2 and 4-2-3-1, before 4-2-3-1 and 4-3-3 at Real Madrid and upon his return to Stamford Bridge.
That summarises Mourinho's approach: he's flexible and reacts according to the demands of individual matches, but he's also highly organised and there's little doubt his teams will be well prepared for the task in hand.
Mourinho has often faced accusations of being defensive, and he's generally cautious in big games. However, some of his sides – particularly Real Madrid – have been rampant against weaker opposition. Perhaps a more accurate criticism is that his teams rely too much upon direct, counter-attacking play.
Mourinho hasn't revolutionised football in a stylistic sense. Instead, he's simply a master of carrying out standard tactics with devastating efficiency at exactly the right times – and, in that sense, he's a very astute tactician.
FFT's 50 Best Football Managers: 50-46 • 45-41 • 40-36 • 35-31 • 30-26 • 25-21 • 20-16 • 15-11 • 10 • 9 • 8 • 7 • 6 • 5 • 4 • 3 • 2 • 1
#FFT50MANAGERS See our full list of top 50 managers in the world and features on them here
Check out FourFourTwo Polls and Contests on LockerDomeon LockerDome
Thank you for reading 5 articles this month* Join now for unlimited access
Enjoy your first month for just £1 / $1 / €1
*Read 5 free articles per month without a subscription
Join now for unlimited access
Try first month for just £1 / $1 / €1