FourFourTwo's 50 Best Football Managers in the World 2015: No.10
Into the big boys' list – beginning with the Frenchman who's well on the way to becoming a managerial great as well as a playing one...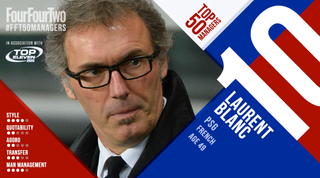 Despite starting his managerial career just eight years ago, Laurent Blanc is already well on his way to boasting an honours list at least as glittering as the one he has from his playing days.
After leading Paris Saint-Germain to their first-ever domestic clean sweep last season, the 49-year-old is the capital club's most successful tactician in history with seven titles to his name at present.
Blanc, a 1998 World Cup and 2000 European Championship winner with France as a player, has already won Ligue 1 twice, a pair of Coupe de la Ligue trophies, one Coupe de France and hoisted the Trophée des Champions twice with PSG alone.
Added to another Ligue 1 title and one more Coupe de la Ligue trophy that he won in his three-year spell with Bordeaux between 2007 and 2010, the man known as le President is building up an impressive personal haul of silverware.
Domestic dominance is arguably expected at nouveau riche PSG, though, and Blanc finds himself judged on the French giants' European performances as much, if not more, than the domestic.
The man from Alès has satisfied les Parisiens' ambitious Qatari owners on that front with back-to-back Champions League quarter-final appearances, his third after a 2010 foray into the last eight with Bordeaux before being eliminated by fellow French side Lyon.
Blanc spell
Blanc has not had it all his own way during his short but successful managerial stint so far, though.
His spell as France national team coach between 2010 and 2012 came to an ignominious end after les Bleus exited the 2012 European Championship in controversial fashion. Egos once again got the better of a talented group of players in Poland and Ukraine, just two years after the public shame of Knysna at the 2010 World Cup in South Africa.
Blanc was also at the centre of a race row just one year into his time in charge of the French when he reportedly discussed putting a quota on the number of black and Arab players representing French youth teams.
He was eventually cleared of race discrimination by France's sports minister and said that his comments were taken out of context. However, that unsavoury episode and his inability to control the player power that ultimately engulfed his squad at the Euros tainted an otherwise decent international record.
Before a 2-0 defeat to Sweden in the last group game of Euro 2012, France had enjoyed a 23-match unbeaten run in qualifying, as well as seeing off teams like England, Brazil and Germany in friendlies. They entered the tournament as one of the favourites before imploding ahead of their quarter-final exit to Spain.
Feeling Bleus
In his two seasons in charge at the Parc des Princes so far, Blanc has had to fend off plenty more unwanted media attention, but of a different variety to that of his time in charge of the national team.
The Frenchman has had to endure constant criticism and speculation over his future as PSG boss because of media and fan claims that he is not a prestigious enough name to lead such an ambitious project and garner the respect of the club's stars.
Some claim that the French capital outfit don't always play with the style expected of a team assembled at great expense, particularly after some of last season's unimaginative league and cup performances.
However, Blanc's men set a Ligue 1 points total record in 2013/14 and the Frenchman immediately led the team to a domestic double when predecessor Carlo Ancelotti could only manage a solitary Ligue 1 title in his 18 months in charge.
PSG are the first team in French football history to have won a major domestic treble consisting of Ligue 1, Coupe de la Ligue and Coupe de France, making Blanc the first manager to achieve it. He also completed a personal full set of French trophies with his first Coupe de France title in May, and scooped Ligue 1's Coach of the Year award – making him the first PSG boss to ever win it outright after Ancelotti shared the prize with Saint-Étienne's Christophe Galtier.
If he continues to accumulate silverware at his current impressive rate, then le President could go down as an all-time French great as both player and manager.
He keeps setting the bar higher and higher for himself in Paris, however, and short of leading les Parisiens to at least a Champions League semi-final next season, then it's difficult to see him continuing to please PSG's Qatari paymasters much longer.
Blanc has spoken of his passion for Spanish football in the past, notably Barcelona, expressing interest in trying his hand at managing in La Liga in the future.
ALSO ON FFT.COM
Considering his past as a Blaugrana player alongside the likes of current Barça manager Luis Enrique, Bayern Munich tactician Pep Guardiola and Porto boss Julen Lopetegui, Blanc's list of accolades could put him in the reckoning for a spell in the Camp Nou hot seat at some point in the future.
Tactics corner (with Michael Cox (opens in new tab))
"PSG have such a financial advantage in France that it's become difficult to positively assess a manager as a success: anything other than a comfortable title victory is a huge failure. Blanc, though, has overachieved by supplementing two league titles with three further cups, and the victory over Chelsea in the second round of this year's European Cup felt pivotal in taking PSG to the next level.
"Besides, Blanc had succeeded in Ligue 1 by winning the title with Bordeaux in 2008/09. That season was most notable for Yoann Gourcuff turning in some outstanding displays in his attacking midfield role, and Javier Pastore's resurgence under Blanc suggests that flair players tend to appreciate his guidance.
"Blanc is flexible in terms of formations and rarely makes any controversial selection decisions. It's difficult to truly get a feel for Blanc's tactical style: sometimes he'll drop an attacker for a more defensive option against strong opposition, but that's rare considering he's always coached strong teams. However, the performance against Chelsea at Stamford Bridge – when PSG outplayed their opposition despite being down to 10 men for the most part – was largely because of Blanc's tactical acumen, getting Blaise Matuidi to play two roles simultaneously to compensate for the disadvantage.
"Still, we'll need to see Blanc in a better European league to judge his skill – and after two years of success, he might now be able to land a top job outside France."
FFT's 50 Best Football Managers: 50-46 • 45-41 • 40-36 • 35-31 • 30-26 • 25-21 • 20-16 • 15-11 • 10 • 9 • 8 • 7 • 6 • 5 • 4 • 3 • 2 • 1
#FFT50MANAGERS See our full list of top 50 managers in the world and features on them here
Check out FourFourTwo Polls and Contests on LockerDomeon LockerDome
Thank you for reading 5 articles this month* Join now for unlimited access
Enjoy your first month for just £1 / $1 / €1
*Read 5 free articles per month without a subscription
Join now for unlimited access
Try first month for just £1 / $1 / €1