FourFourTwo's 50 Best Football Managers in the World 2015: No.3
Lee Roden analyses the triple-winning coach setting new standards at Barcelona...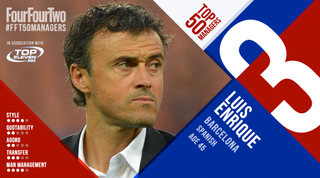 Luis Enrique made a few pundits eat their words last season. Perhaps most of them. Just when it looked like the Barça manager's stubbornness would be the sword upon which he fell, the Asturian revealed a hidden flexibility and ability to be reasoned with which challenged our preconceptions of him.
From the brink of the sack in January, to matching the greatest-ever season in Barcelona history by June, when backed into a corner the Blaugrana boss came out swinging – and he won.
Difficult decisions
This is not a man who shirks responsibility. From the moment he took charge, the coach wasn't afraid to dispense with ideas that had previously seemed set in stone, taking plenty of flack along the way from supporters, press, and even players.
The first big decision is almost forgotten now after the league, cup and Champions League successes, but it was important in establishing the law of the land under the Camp Nou's new sheriff. A sign that everyone had to fall in line, no matter their talent.
Gerard Deulofeu was billed as the homegrown poster boy for a new era of optimism when he returned to Barça from Everton last summer, hyped up as a 'signing' in an effort to dampen the bad PR of FIFA's transfer ban.
Enrique had already worked with him at Barça B, and by all accounts, they worked well together. Any assumptions that the youngster would have a golden ticket to the first team as a consequence were soon dispelled, however. In pre-season, Enrique quickly noted the player's unwillingness to track back, called him into his office and said "no thanks", sending him out to Sevilla on loan.
It was controversial, and the local media erupted in outrage. A year later, those critics are conspicuously quiet: Deulofeu spent a year picking his nose on the bench in Andalucia while Barça demolished all in their path.
Problems and solutions
Not every call was correct at the first time of asking, of course, and when it mattered, Enrique didn't let pride hinder his judgement. When his big tactical idea of playing with narrow forwards failed, he quickly replaced them with width. When asking Ivan Rakitic to focus on covering the space behind Dani Alves hampered both players, he pulled Alves back into midfield and instead asked the Croatian to push forward into the hole more often.
Problems popped up, solutions were found. The sign of a good coach.
Barcelona's results improved over the course of the year, and more importantly, in the build-up to the toughest games the quality of their play improved too. Before the New Year they abused the direct option too often, lacking the maturity as a team to create the sustained periods of control necessary against the finest opponents.
From February onwards they found their feet. Their spectacular opening 45 minutes against Manchester City at the Etihad Stadium was perhaps the first clear piece of evidence that the Blaugrana could once again play high-octane, passing football against top opponents, but at the same time mixing it up with a few new weapons along the way.
To make his team more effective, Enrique looked to his coaching roots, the dawn of 2015 seeing Barça move further away from the direct game he'd adopted at Celta, and mixing in more of the traditional Cruyffian values he'd most strictly adhered to at the club's B team.
Rotation and hard work on fitness played its part too: at the time of the year when other teams tired and the quality of their play reduced, Barça's improved. Quite often, they were overwhelming.
Close call
Ironically enough, Enrique himself was almost overwhelmed in the wake of a 1-0 loss to Real Sociedad in January. Barcelona may deny it now, but they sounded out replacements and were ready to make the call.
The manager's response was to deliver three wins over Atlético Madrid in three games – no small feat considering the same club had stopped Barça from winning in their previous six encounters. Outgoing president Josep Maria Bartomeu must be glad he didn't pull the trigger when he was most tempted. His hopes of re-election this summer rest entirely on the team's treble success.
ALSO ON FFT.COM
Perhaps the chaos was ultimately necessary to bring out the best in Enrique. As a player he was a warrior, someone who lived through the rough, often shambolic post-Cruyff era, and also someone who retired before seeing the best days of Frank Rijkaard's. Yet he still managed to make himself a club legend with guts, goals, and more than a decent dose of quality.
Barcelona, after winning everything in their path this year, turmoil is now back to a minimal level at the Camp Nou. It's an unfamiliar but welcome scenario for Enrique, who will now focus on trying to retain the Champions League.
Tactics corner (by Michael Cox (opens in new tab))
A season deemed doomed in January turned into a treble triumph by May – which underlines quite how changeable modern football can be. Still, Luis Enrique deserves great credit for his first year at Barcelona.
He was always likely to take the Barcelona job at some point, and prepared in perfect fashion. He succeeded Pep Guardiola as coach of the B team, before moving to Roma to get top-level managerial experience under his belt. He effectively viewed this project as further preparation for getting the Barcelona job, recreating Guardiola's 4-3-3 with a false nine, demanding heavy pressing, a high defensive line and all the other ingredients you'd expect.
When Enrique got the Barcelona job, after a spell at Celta Vigo, his approach was arguably more classic Barcelona than Guardiola Barcelona. The team was less extreme in terms of possession and pressing, and more compartmentalised. Xavi Hernandez was phased out, and there was more of a defined structure to the team in midfield.
Up front, meanwhile, Leo Messi, Luis Suarez and Neymar were given freedom to stay high up the pitch and attack. Forwards scored an incredible 90% of Barça's Liga goals last season, because those three were all capable of both scoring and assisting. Simple, but highly effective – like Enrique's approach in general.
FFT's 50 Best Football Managers: 50-46 • 45-41 • 40-36 • 35-31 • 30-26 • 25-21 • 20-16 • 15-11 • 10 • 9 • 8 • 7 • 6 • 5 • 4 • 3 • 2 • 1
#FFT50MANAGERS See our full list of top 50 managers in the world and features on them here
Check out FourFourTwo Polls and Contests on LockerDomeon LockerDome
Thank you for reading 5 articles this month* Join now for unlimited access
Enjoy your first month for just £1 / $1 / €1
*Read 5 free articles per month without a subscription
Join now for unlimited access
Try first month for just £1 / $1 / €1