FourFourTwo's 50 Best Football Managers in the World 2015: No.9
He may have been ditched by Real Madrid after a trophyless season, but Carlo Ancelotti has proved himself a winning coach who's well-liked by all around him...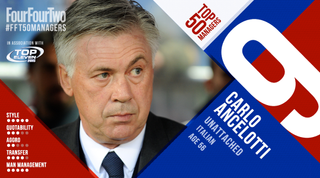 "At Milan, it's not enough to win to stay on," Carlo Ancelotti wrote in his 2013 autobiography Il mio albero di Natale – 'My Christmas Tree'.
The quote perhaps sums up his career in the same succinct manner its title encapsulated his tactical approach, a nod towards the 4-3-2-1 formation which the 56-year-old has used regularly throughout his managerial career.
A serial winner of nine major honours, even league titles and Champions League victories have not been enough to prevent him from losing jobs with Chelsea and Real Madrid.
Life is precious
Yet there has always been so much more to football for Ancelotti than what happens on the pitch, and a closer look at his previous book offers an insight into what makes him such a unique coach. Entitled 'The Beautiful Games of an Ordinary Genius,' the Italian offers a self-deprecating and humorous reflection on his life, but rather than use it as an attempt to line his own pockets, all profits were donated to a foundation created in the name of his former team-mate Stefano Borgonovo.
The striker starred alongside Ancelotti at Milan in the late 1980s but was struck down by ALS – Lou Gehrig's disease – in 2008, and passed away five years later. Ancelotti encouraged David Beckham to visit Borgonovo during his time in Milan, to give the English midfielder a lesson in how he should prioritise the important things in life.
It's advice that would likely be wasted on Real Madrid president Florentino Pérez, who instead looked at his coach this summer with only one thought on his mind: what have you done for me lately?
Just 12 months on from delivering a hallowed 10th European Cup to the Santiago Bernabéu, Ancelotti had – despite a raft of injuries – steered the side to second place in La Liga and to the Champions League semi-final.
They were eliminated by a goal from Alvaro Morata, a striker deemed surplus to requirements by Pérez, but even this latest setback won't dent the legacy of a coach who has built his reputation almost exclusively upon success in Europe's elite competition.
European dreamer
After finishing second in Serie A three times in four years with Parma and Juventus respectively, Ancelotti arrived at Milan in November 2001 and lifted Ol' Big Ears the following season.
He'd already won the trophy twice as a player, back-to-back in 1989 and 1990, and reached two more finals during his time in the Rossoneri hotseat, famously losing to Liverpool in Istanbul before gaining revenge over the same opponent in Athens in 2007.
From there Ancelotti joined Chelsea, winning the Premier League in his first season before being discarded late in his second, before moving onto Paris Saint-Germain where he scooped the Ligue 1 crown at the second attempt and further demonstrated his ability to work in difficult circumstances with the continent's biggest sides.
Each of those clubs has seen Ancelotti show he can craft a team from a mismatched collection of players. Whether blending the likes of Kaka, Rui Costa and Clarence Seedorf into a cohesive unit or convincing James Rodriguez, Toni Kroos and Luka Modric to become ball winners, the Italian has shown a unique ability to engage with the most gifted stars. "There is not a team in existence that Carlo cannot coach," Paolo Maldini declared, an assessment gleaned from watching his former boss succeed in four different countries.
Whether in England, France, Spain or Italy, Ancelotti's teams are always a joy to watch; players fluidly moving around the pitch, keeping the ball on the ground with neat, incisive passing to create an attacking style that combined skill, flair and efficiency. Despite seeing important players sold against his wishes – and often then being handed unsuitable replacements – Ancelotti never publicly complained, instead taking everything in his stride with the understanding that some decisions were beyond his control.
Players' man
"Nobody can imagine how much it taxes you, in terms of nervous and physical energy, to manage Real Madrid," he told Il Giornale recently. But despite that immense pressure, Ancelotti always appeared calm and comfortable, displaying both a professionalism and lack of ego that escapes many of his peers. "People say I am a club man," he said of a common criticism last year. "Well, of course: I work for the club, not the players."
Yet, as he told La Gazzetta dello Sport earlier this year: "The most important thing for a manager is the relationship he has with his squad." Those fortunate enough to work under him clearly regard 'Carletto' with the utmost respect.
Indeed, as he sat in Lisbon reflecting on successfully ending Real Madrid's decade-long pursuit of La Decima, his players burst into the press conference and jumped on Ancelotti as they sang "How could I not love you?"
Perhaps now, with the man Cristiano Ronaldo described as "a great coach and an amazing person" replaced by Rafael Benitez, they should now be asking their president the same question. How can you not love Carlo Ancelotti?
Tactics corner (with Michael Cox (opens in new tab))
"To understand Carlo Ancelotti, it's worth remembering how he got the Milan job, back in 2001. his predecessor Fatih Terim had been struggling to adjust to the demands of the Italian giants, and Silvio Berlusconi was encouraged to appoint Ancelotti, despite his underwhelming performance as Juventus manager, by his senior players.
"That's the key: Ancelotti gets on with players. A top-class midfielder himself, Ancelotti seems to understand world-class footballers better than any other coach around. It's difficult to recall a major disagreement with a star man – compare his period at Real Madrid with that of Jose Mourinho, for example – and he seems popular amongst presidents, journalists and supporters too.
"Perhaps his charming personality hides the fact results aren't always great. While highly successful in European competition, and a title winner in three different countries, Ancelotti has never truly overachieved at a major club. One league title in seven seasons at Milan was underwhelming; one in two with Chelsea par for the course; one in 1.5 with PSG disappointing, considering he took over with the club top of the Ligue 1 and guided them to second place; and no league titles with Madrid is a failure.
"Tactically, Ancelotti usually attempts to cram as many star players into his side as he can, often creating beautiful attacking football but leaving the side unbalanced. More pragmatism might be required to rediscover his winning touch, especially football has simply become more tactical over the last decade."
FFT's 50 Best Football Managers: 50-46 • 45-41 • 40-36 • 35-31 • 30-26 • 25-21 • 20-16 • 15-11 • 10 • 9 • 8 • 7 • 6 • 5 • 4 • 3 • 2 • 1
#FFT50MANAGERS See our full list of top 50 managers in the world and features on them here
Check out FourFourTwo Polls and Contests on LockerDomeon LockerDome
Thank you for reading 5 articles this month* Join now for unlimited access
Enjoy your first month for just £1 / $1 / €1
*Read 5 free articles per month without a subscription
Join now for unlimited access
Try first month for just £1 / $1 / €1