FourFourTwo's 50 Most Memorable Euros Goals
We're counting down the most unforgettable goals from the European Championships. How many of these gems do you remember?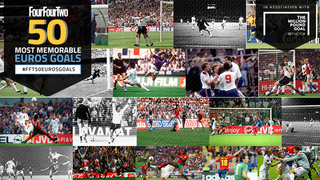 It's almost here! Four days to go before the next European Championships is upon us. I don't know about you but for this writer, these have been some of the most adored football tournaments of all.
From Brolin lighting up 1992, to Arshavin and Pavlyuchenko bursting onto the European stage in England-less 2008, there have been many unforgettable moments, and that's before we even dip into England's forays, 1996 and all that jazz…
So here's our selection of the best goals from the tournament. Get stuck in. We'll be releasing them across this week, so pop back for the next chapter and read our selection of the best goals from Europe's biggest tournament.
And feel free to let us know what you think of the selection: what have we missed, or do we have it spot on? Find us on Twitter or Facebook.
Check out these videos, quizzes, goal recreations and much more:
The best Euros video games ever made
Words: Louis Massarella, Greg Lea and Gregor MacGregor
Goals: they're beautiful aren't they? This article is part of FourFourTwo's partnership with BetVictor and their Million Pound Goal campaign. Find out how to enter and more here.
Thank you for reading 5 articles this month* Join now for unlimited access
Enjoy your first month for just £1 / $1 / €1
*Read 5 free articles per month without a subscription
Join now for unlimited access
Try first month for just £1 / $1 / €1