FourFourTwo's Best Football Managers in the World, 2016: No.11, Joachim Low
Euro 2016 semi-final defeat was no reflection on the unfortunate World Cup-winning boss, says Jonathan Harding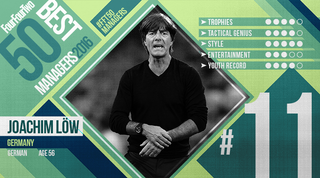 Joachim Low's year will effectively be remembered for a Euro 2016 semi-final defeat to France. Germany came into the tournament with expectations of succeeding Spain as the new football powerhouse, but left merely as World Cup winners from two years prior.
Yet, in the history of Low's time in charge of Germany, he's probably never been less to blame for a defeat than this one. Granted, his squad selection might have been missing a few in-form players, but the players he had to face France were good enough to win.
Germany had more possession and controlled the majority of the game. They were playing well, but individuals, injuries and misfortune combined against them. In the end for Low, it was more a case of disappointment at having lost a game rather than frustration at having played it poorly.
Looking a little deeper though, the foundation of Germany's tournament issues was there long before the summer of 2016.
Post-Brazil blues
Germany's qualifying record wasn't as clean as usual, with a notable blemish coming in Dublin. Overturned by the crowd and a special finish from Shane Long, Low had reason to worry. Germany's lack of composure in front of goal was still a problem. Thomas Muller wasn't working in attack. Who could deliver?
Low's desire to not be restricted by positions means that Germany have more often than not suffered from creative-overload syndrome in attack – everyone is brainstorming, but no one is making the final decision to pull the trigger when it matters. The recall of Mario Gomez proved a masterstroke, though: the Besiktas striker resurrected Germany's structure and proved more than just a backup plan.
Friendlies under Low, though, are always to be taken with a pinch of salt. His willingness to experiment is both refreshing and infuriating at the same time. He's never afraid to try new players or tactics, but his emphasis on the right characters has sometimes left him without the best players in their given position.
Germany spluttered against England and suffered against Slovakia, but Low learned from those defeats. Most notably, he must have clocked then how important having a No.9 was. If there were any lingering concerns about Muller, this was the time to act. He didn't, as the final 23 showed.
Scaring ghosts
But those 23 stepped up the moment Euro 2016 started, as is Germany's wont.
Individuals excelled, but there were signs against Poland and Northern Ireland that composure could be an issue – especially for Muller. But Germany delivered their finest performance of the year against Slovakia, scoring three goals and exquisitely dismantling opposition that England toiled against. It was the performance of champions, the peak of what Low wanted.
That was far from the case against Italy. He tried a back three against a weakened Azzurri side ahead of Euro 2016 and it worked wonderfully, but implementing it against them in the tournament was risky.
Banishing Italian ghosts in France was pivotal for both Germany and Low, though, after eight winless matches against them in major competitions. The semi-final defeat in 2012, when Germany were vanquished by Mario Balotelli's brace, affected Low personally. In Bordeaux, some of those wounds must have been healed.
The post-mortem
After the semi-final defeat to hosts France, there was ample dissection of both Germany and Low's tournament. One questions continually asked was whether he'd taken enough strikers.
Low couldn't have expected Gomez to become such an important player, nor for his absence to prove so costly, but perhaps he could have accounted for Muller's form black hole. There were signs before the tournament that the Bayern man wasn't as effective as usual, but Low was hesitant to move back to a false nine system. That indecision could be the one criticism levelled at his handling of the tournament.
Germany also had to deal with far more issues than Low's indecision, though. A once-in-a-season mistake from Manuel Neuer, and a decisive injury to leader and defensive pivot Jerome Boateng didn't help Die Mannschaft's cause.
Although losing the semi-final was an obvious disappointment for Germany, it was not a failure for Low. He has now been embedded in the Germany setup for a decade, but even with the final pillars of his revolution likely to depart soon (Lukas Podolski and Bastian Schweinsteiger), it appears as though he's up for the challenge of helping defend his country's crown at Russia 2018. The German Football Association wouldn't want anyone to do so.
50-46 • 45-41 • 40-36 • 35-31 • 30-26 • 25-21 • 20 • 19 • 18 • 17 • 16 • 15 • 14 • 13 • 12 • 11
FourFourTwo's 50 Best Football Managers in the World 2016
Thank you for reading 5 articles this month* Join now for unlimited access
Enjoy your first month for just £1 / $1 / €1
*Read 5 free articles per month without a subscription
Join now for unlimited access
Try first month for just £1 / $1 / €1
Get the FourFourTwo Newsletter
The best features, fun and footballing quizzes, straight to your inbox every week.