FourFourTwo's 50 Best Football Managers in the World 2016: No.16, Thomas Tuchel
Twice now, the 42-year-old has enriched the fruits left to him by Jurgen Klopp. But this is a man who puts his own stamp on things, says Michael Yokhin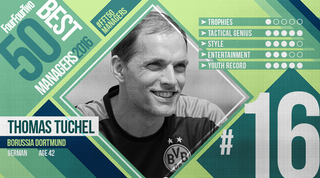 It's a huge task to arrive at a club where all of the fans are deeply in love with Jurgen Klopp, and make them feel that their idol is not really missed. Thomas Tuchel managed to achieve that not once, but twice.
Granted, that was a bit easier at Mainz, because Klopp left when the team was in the second division in 2008, and Tuchel only got the job a year later, directly replacing Jorn Andersen just two days before the Bundesliga season started.
And yet, his impact was phenomenal, and the club mentality changed significantly. Mainz were bold and positive enough in the seven seasons under local legend Klopp, but Tuchel made them even bolder. In his second season in charge, the young coach led Mainz's modest outfit to seven successive wins to kick off the campaign, including a 2-1 triumph at Bayern Munich.
During his five years at Mainz, Tuchel constantly rebuilt the squad, as the club was forced to sell the talents he nurtured. Eventually, in 2014, he decided that he could no longer do it, and took a sabbatical. When Klopp resigned at Borussia Dortmund in 2015, there simply was no better candidate to succeed him.
Style points
Die Schwarzgelben knew that they were getting a top specialist, but there were still significant doubts because the shoes to fill were huge.
Remarkably, it turned out that Tuchel managed to improve the team. During the 2015/16 season, Dortmund became more tactically flexible, basing their game both on ball possession and swift movement.
Tuchel is known as a Pep Guardiola fan, but he is not obsessed with possession football and found an original mix between the Catalan style and that of his predecessor. Borussia scored 140 goals in all competitions in 2015/16, and were simply a joy to watch. With 78 points in the Bundesliga, they were the best runners-up ever.
Element of surprise
Tuchel believes that unorthodox thinking makes players better. Therefore, he constantly surprises his stars in training sessions – at times the pitches are too narrow, sometimes they are too wide, and he even made the players train on a pitch in the shape of a diamond.
In order to prevent defenders from pulling shirts in the area, he instructed them to train while holding tennis balls in their hands. It might be exhausting at times, and the coach is obsessed with minor details, but in the end it prepares the team better for the real games. Most of the time, the matches are easier than training.
Tuchel's mediocre playing career was cut short by injury, but he understands his troops very well, and at the age of 42 is something of a big brother to them. His down-to-earth attitude and boundless enthusiasm helped him to prevent most of Dortmund's stars from leaving a year ago, and players like Pierre-Emerick Aubameyang and Henrikh Mkhitaryan experienced their best seasons under him.
This summer, however, Mkhitaryan, Mats Hummels and Ilkay Gundogan have left, and Tuchel might be getting that Mainz feeling – he is having to rebuild the team.
The chances are that he will be up to the task, and then – who knows – might even be celebrating the first trophy in his career. That is the only thing missing from his CV.
50-46 • 45-41 • 40-36 • 35-31 • 30-26 • 25-21 • 20 • 19 • 18 • 17 • 16
FourFourTwo's 50 Best Football Managers in the World 2016
Thank you for reading 5 articles this month* Join now for unlimited access
Enjoy your first month for just £1 / $1 / €1
*Read 5 free articles per month without a subscription
Join now for unlimited access
Try first month for just £1 / $1 / €1