FourFourTwo's 50 Best Football Managers in the World 2016: No.17, Antonio Conte
The Italian's Euro 2016 adventure ended in penalty shootout heartache, but his unfancied Azzurri side defied all expectations to make it that far. Now he's tasked with turning the ship around at Stamford Bridge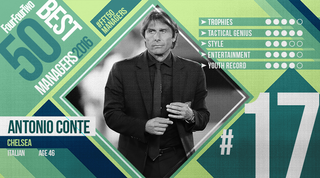 No coach enhanced their reputation more this summer than Antonio Conte, the Italy boss using Euro 2016 as a personal showcase of his tactical acumen.
The new Chelsea supremo was widely lauded after wins over heavily favoured Belgium and Spain sides which both came as a direct result of his meticulous planning and intelligent approach. On each occasion the Azzurri played as if they knew exactly what to expect, unsurprised by anything their opponents tried.
The players executed Conte's gameplan diligently, hiding their weaknesses while exposing those of the teams lining up against them. Regulars at Stamford Bridge will have watched their new boss in awe as he patrolled the sidelines in a constant state of fury, yet transmitting his ideas clearly to his players.
If Conte can instil that kind of tactical awareness and discipline in his new side before 2016/17 gets under way, then Chelsea may be a force to be reckoned with once again.
Been here before
His arrival in London has much in common with his 2011 appointment at Juventus. Back then, the Bianconeri had finished seventh; this time he arrives with Chelsea having made the worst-ever defence of a Premier League title by slumping to 10th.
Once again, then, Conte inherits an underperforming but talented squad that won't be competing in Europe, and therefore he will be able to focus solely on domestic matters.
One of the key factors will be his choice of formation, and it's difficult to know what to expect from the 46-year-old in this regard.
Before arriving at Juventus, Conte had always deployed a four-man defence. That continued during his early days in Turin, before he eventually switched to his famed back three. Having Andrea Barzagli, Leonardo Bonucci and Giorgio Chiellini made that option viable, of course, something that carried over into his time with the Italian national team where he continued to employ his 3-5-2 framework.
From tinker to tailor
Now he can no longer rely on that high-quality trio it will be interesting to see if the coach can move away from a setup which brought him such success, although the man himself insists it won't be an issue.
"When I was in Italy I liked to say the manager is like a tailor who must build the best dress for the team – you have to respect their characteristics, their talents, and then you decide," Conte said at his first press conference as Chelsea manager.
"In the past I started other seasons with one idea of football and then I changed it, because I saw that the system for these players was not good. Three at the back, four at the back, it's not important for us – what's important is the spirit of the team if we want to compete again for the title."
That desire for silverware is above all what burns inside a fiery character like Conte, who was dubbed 'Il Martello' – The Hammer – for his relentless approach to coaching.
"The most important message is that I'm a worker," he explained to reporters. "I know only this road to winning – to go back for this club very soon to compete, to go back to play in the Champions League, to go back to winning the title. I know only this verb – work, work work."
Chelsea's players will have no doubt learned that already.
50-46 • 45-41 • 40-36 • 35-31 • 30-26 • 25-21 • 20 • 19 • 18 • 17
FourFourTwo's 50 Best Football Managers in the World 2016
Thank you for reading 5 articles this month* Join now for unlimited access
Enjoy your first month for just £1 / $1 / €1
*Read 5 free articles per month without a subscription
Join now for unlimited access
Try first month for just £1 / $1 / €1