FourFourTwo's 50 Best Football Managers in the World 2016: No.12, Phillip Cocu
The ex-Barcelona midfielder's second Eredivisie title on the bounce was arguably more impressive than his first, writes Priya Ramesh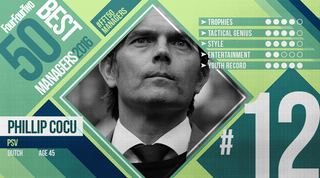 In March, just after PSV had lost a crucial game at home to Ajax, Phillip Cocu refused to concede. "If we win the final six matches, we will be champions," he reiterated in the following weeks.
Last season was one of the closest Eredivisie title fights – the closest, in fact, since Cocu's last Eredivisie title as a player in 2006/07 – as contenders went into their last game on equal number of points and separated merely by goal difference.
In 2007, PSV were third behind Ajax and AZ but eventually managed to clinch the title with a +50 goal difference, compared to Ajax's +49. Going into the final weekend of 2015/16, PSV were second, behind Ajax on goal difference.
Ice cold
Before the match, Cocu tapped into his own experience of 2006/07, and relayed what winning meant for him, as pictures of the exuberant PSV celebrations were passed among the players.
The two minutes after the final whistle of PSV's win over PEC were fraught with tension, but Cocu remained above it, unflustered. PSV had won their final six matches, and as news of Ajax's draw trickled into the stadium, it was confirmed that they had won the league for a second year running.
Skip to 5:15 for that nervy wait
Cocu said of his six-win mantra: "If I had no faith myself, I wouldn't preach it. I'm not acting – I can't do that at all. But as long as we could realistically be champions, we had to go for it. Today we have shown that, together."
If people attributed his first Eredivisie title to standout players like Georginio Wijnaldum and Memphis Depay, then surely Cocu has earned more credit with his second.
Money isn't everything
He preaches the kind of football that resonates with winners; victory in style, but equally open to tactical flexibility. That PSV, who have a turnover of €63 million compared to Manchester United's €600 million, could beat the Red Devils was largely down to Cocu's tactical nous, and testament to Johan Cruyff's quote that bags of money do not play football.
PSV were also impressive in the Champions League last season – they went out in the last 16 after a shootout defeat to Atletico Madrid – and still managed to stay focused till the Eredivisie was won, which is a nod to Cocu's management.
The Dutchman, with his side-swept hair and emerald eyes, is a reserved man who dislikes press conferences and often has a flat expression of concentration on the touchline. His fire burns exclusively in the vicinity of his team – in training and in the dressing room.
PSV play the most entertaining football in the Eredivisie, with nearly every outfielder creatively and technically adept. The midfield triumvirate of Propper-Guardado-Van Ginkel was relentlessly effective, switching play and driving the team forward.
Out to impresss
Defensive organisation over the long run remains an area of improvement for the 45-year-old coach. The heroics of Bruma, Moreno and Zoet in the Champions League warranted plaudits, and where Frank de Boer failed in implementing a three-man backline, Cocu found relative success. But over the course of the season, PSV seemed more likely to win by attacking rather than protecting.
That Cocu is intelligent is beyond doubt: he was one of the most technically astute all-round footballers of his time and understood the game intuitively – so much so that Barcelona considered him the ideal replacement of Pep Guardiola for the B team.
If the Dutchman can – and he is on course to – expand his tactical arsenal a bit further, there is little doubt he can reach illustrious heights.
50-46 • 45-41 • 40-36 • 35-31 • 30-26 • 25-21 • 20 • 19 • 18 • 17 • 16 • 15 • 14 • 13 • 12
FourFourTwo's 50 Best Football Managers in the World 2016
Thank you for reading 5 articles this month* Join now for unlimited access
Enjoy your first month for just £1 / $1 / €1
*Read 5 free articles per month without a subscription
Join now for unlimited access
Try first month for just £1 / $1 / €1