FourFourTwo's 50 Best Football Managers in the World 2016: No.18, Lars Lagerback
Sweden didn't know what they'd got until he was gone. After some unappreciated international achievements, the late bloomer duly took Iceland to new heights and helped create Europe's feel-good story of 2016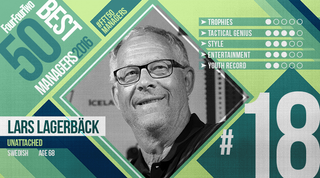 Lars Lagerback is truly unique – he must be the only successful national team coach in history who never played football professionally and never managed a professional club.
Son of a forester, he grew up in a northern part of Sweden and spent a few years on the bench at tiny Gimonas before taking on an administrative job at the club and working in the youth sector.
Roy Hodgson and Bob Houghton, who arrived in Sweden in the 1970s and brought revolutionary tactical ideas, had an immense influence on Lagerback while he undertook coaching studies in Stockholm, but he had to wait a long decade at lower-division teams like Arbra and Hudiksvalls – few Swedish fans even know much about them – before receiving a call from the FA.
Two's better than one
Lagerback was 42 already when he started his career with Sweden's under-21 team, and his progress was slow but steady. He made scouting reports on Sweden's rivals for coach Tommy Svensson ahead of Euro 92 and the 1994 World Cup, thus playing an important part behind the scenes in two of the biggest successes in national team history – Sweden reached the semi-finals on both occasions.
Good interpersonal skills and a readiness to work in a team were crucial for everything he did. Lagerback was named Tommy Soderberg's assistant for the national team in 1998, but soon became a joint-coach in a tandem – and that's the way he liked it.
After Soderberg resigned in 2004, Lagerback named his long-time friend Roland Andersson as a joint-coach, even though he was technically an assistant. "It doesn't matter, Roland just wants it to be that way," Lagerback explained.
The same system worked perfectly with Iceland as well, as Heimir Hallgrimsson joined the Swede.
"A team of Zlatans won't win anything"
Lagerback may be a great listener and open to new ideas, but he is also a very strict disciplinarian. He once sent Zlatan Ibrahimovic and Olof Mellberg home from the national team for partying late at night ahead of a game against Liechtenstein, and needs everyone to pull in the same direction. "A team of eleven Zlatans won't win anything," he once said.
"It's very important that every player follows the gameplan. They should know what to do in different situations. The more organised the team is, the better its chances are of winning the game." That there is Lagerback's strongest message. He knows his team's strengths and weaknesses, and comes up with a plan that gives them the best opportunity to overcome opposition sides.
The results speak for themselves. Under Lagerback, Sweden qualified for five major tournaments in a row, between 2000 and 2008. At the 2002 World Cup, they finished top of the 'group of death' ahead of England, Argentina and Nigeria. At Euro 2004, they qualified for the quarter-finals at the expense of Italy, and only lost to Holland on penalties.
Sweden's loss, Iceland's gain
Lagerback was considered a bit boring at times in his homeland, but he has been missed very much after leaving his post in 2009. Under his successor Erik Hamren, Sweden didn't qualify for either World Cups in 2010 and 2014, and didn't make it out of their groups at Euros 2012 and 2016.
He became a hero in Iceland instead, proving the perfect man for their romantic mission. After narrowly missing out on the qualification for the 2014 World Cup, they made it to Euro 2016 and became the sensation of the tournament, beating Hodgson's England in the last 16.
With that win, Lagerback had come full circle.
Now that he has left the post at the age of 68, could the Swede possibly be tempted to join a top-division club for the first time in his life?
50-46 • 45-41 • 40-36 • 35-31 • 30-26 • 25-21 • 20 • 19 • 18
FourFourTwo's 50 Best Football Managers in the World 2016
Thank you for reading 5 articles this month* Join now for unlimited access
Enjoy your first month for just £1 / $1 / €1
*Read 5 free articles per month without a subscription
Join now for unlimited access
Try first month for just £1 / $1 / €1