Gary Lineker: The Games That Changed My Life
The former Leicester, Tottenham, Barcelona and England striker picks out his six most memorable matches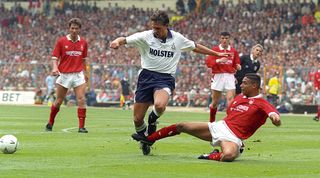 April 24, 1979: Notts County 0-1 Leicester
My debut for Leicester was pretty hopeless; I scored my first goal about seven games into my career on a cold, dark night at Meadow Lane. Leicester were near the bottom of the old Second Division, but I managed to get on the end of a Mick Duffy cross to get us a win.
I'd had no trouble scoring goals before then but I was worried I'd be found out in the first team, so it was a relief to prove I could do it. Everything else followed from that night.
June 11, 1986: England 3-0 Poland
We had to win, and we were getting hammered back home after losing to Portugal and drawing with Morocco, so Bobby Robson made some changes. I could have easily been dropped, but instead he brought in Peter Beardsley for Mark Hateley.
It was the first time two little centre-forwards had played together, and it worked. I scored a hat-trick in the first 34 minutes and we scraped out of the group. I went from trying to find my way to being joint-leading scorer in the World Cup, before finishing top. That game helped earn me a move to Barcelona.
January 31, 1987: Barcelona 3-2 Real Madrid
The first time I played Real Madrid, and I scored a hat-trick! It was an unbelievable game: after I'd scored twice in the first five minutes, for the first time in my career the hairs on the back of my neck stood up. There were 120,000 fans at the Nou Camp – they still had standing – and the noise was incredible.
February 18, 1987: Spain 2-4 England
At this point, I was probably the best goalscorer in the world; I wasn't a great footballer but I could certainly stick the ball away. This was a ridiculous match: everything went for me and I put four past my Barcelona team-mate, Andoni Zubizarreta.
We were coached by Terry Venables at Barça, and after the game Zubizarreta came into the England dressing room, shook me by the hand and said in a broad Cockney accent: "F***ing hell!"
July 1, 1990: England 3-2 Cameroon
That Italia 90 side is remembered fondly, but if we hadn't won this game we'd have been just another England team who lost in the quarter-finals. Instead, aside from 1966 this is the best we've ever done at a World Cup.
Before the game Bobby Robson said: "Look, I shouldn't say this but one of our scouts thinks this will be easy – you've basically got a bye." They proved to be an excellent side, and were 2-1 up with seven minutes to go when I stuck away a penalty. When I was brought down to win another one, I was pretty confident – I practised up to 50 penalties a day – so I waved away David Platt's offer to take it.
May 18, 1991: Tottenham 2-1 Nottingham Forest
I didn't actually win much in my career. I never won a league title, so to win the FA Cup was very special. I'd put Everton in front in the 1986 final but we ended up losing, so it was a relief to finally get my hands on the trophy.
While I didn't score, had a perfectly good goal disallowed and missed a penalty, it didn't matter because we won 2-1. We celebrated by visiting Gazza in hospital after he injured himself with that rash tackle!
This interview originally appeared in the December 2012 issue of FourFourTwo. Subscribe (opens in new tab)!
Thank you for reading 5 articles this month* Join now for unlimited access
Enjoy your first month for just £1 / $1 / €1
*Read 5 free articles per month without a subscription
Join now for unlimited access
Try first month for just £1 / $1 / €1