Germany's nightmare returns as Japan outperform them on and off the pitch
Japan's fans will be almost as shattered as their players following a stunning afternoon at the World Cup 2022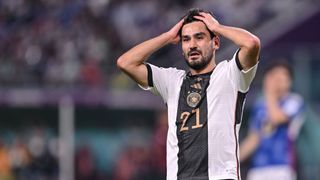 (Image credit: Getty)
If you like the rhythmic beat of a drum, you'll love the Japan fans. If you don't, hard luck.
Only one set of supporters was making all the noise inside the Khalifa International Stadium, and it wasn't the Germany fans. For 90 minutes, most of which seemed like a hopeless cause, they sung, they cheered, and mostly, they banged that drum.
Europe often regards itself as the centre of the footballing universe, but European sides have won only three matches at this tournament so far - and their fans haven't dominated it either. Instead, it's been the South Americans, the Asians, and of course the Mexicans.
FFT isn't saying that Mexicans are everywhere in Qatar, but when we headed to the left luggage area after France vs Australia last night, one man had turned up to collect... his sombrero. Staff rummaged around in the back room, emerged with the circular hat, then had to be sent back - they'd brought out someone else's sombrero by accident.
Given that the France match started just an hour after Mexico's first game against Poland finished on the other side of Doha, we can only presume that the two sombrero wearers had been unable to obtain a ticket for El Tri, and had turned up to watch Kylian Mbappe instead. Considering the sumptuous nature of the PSG man's performance, they probably weren't entirely disappointed.
Australia fans sadly were - including the supporter who sat down next to FFT on the bus back to the night's accommodation, clutching a giant inflatable kangaroo. "He's feeling a little deflated," the fan ruefully told me - although given the space the massive kangaroo was still taking up, he was probably still less deflated than most.
Everywhere you went in Doha on Tuesday, you bumped into celebrating Saudi Arabia fans, who'd travelled across the border in numbers to see their shock victory over Argentina, creating an incredible atmosphere inside the Lusail Stadium.
France versus Australia wasn't quite like that - both sides had a respectable amount of travelling supporters, but particularly Europeans haven't made the trip in quite the same numbers as fans from some other continents, perhaps put off by the general unpopularity of FIFA's decision to award the World Cup to Qatar.
Without huge amounts of travelling fans, there were quite a large amount of empty seats - with four matches a day, there are only so many local football fans to fill the gaps. Once France finally took control of the game, the atmosphere took a nosedive, descending into silence for some periods. By the final whistle, many had decided to make an early dart to catch public transport, and the stadium was less than half full.
Germany versus Japan was the fifth of 10 games FFT is attending in the space of five days this week - thankfully, we've somehow managed to miss all the 0-0s - and again it was noticeably that the dominant fanbase wasn't the Germans, as perhaps many might have expected, but the Japanese.
Outside the ground, some had come in fancy dress, many sported national flags, and another held up a Bob Marley banner. Don't ask us why. The Germans were much lower key presence, their optimism not high in any case after a not-particularly-impressive Nations League campaign - albeit a campaign that saw them still finish higher than England.
England faced Asian opposition inside the very same stadium on Monday (with only eight venues at this World Cup compared to 12 in 2018,, stadiums are being used more regularly), and the Three Lions impressively thrashed Iran 6-2. Qatar also succumbed to Ecuador, but Saudi Arabia and Japan have put the continent back on the football map this week.
The greatest day in Japan's football history 🙌You love to see it 🇯🇵 pic.twitter.com/wc1zWghZGXNovember 23, 2022
Like with Saudi Arabia, for a long period, there was no sign of the shock that was about to come. Germany led through an Ilkay Gundogan penalty, had a Kai Havertz goal disallowed for offside, and looked largely in control. Despite that, Japan's fans continued making a racket, their loyalty to their national team showing no bounds.
In the end, their coach's plan worked perfectly - keep the score down for the first 70 minutes, then attack. Inevitably, their goalscorers Ritsu Doan and Takuma Asano both play their club football in Germany - and both goals sparked rapturous scenes, as substitutes raced down the touchline to celebrate, while fans went wild with delight.
For Germany, this was their first World Cup fixture since losing to South Korea in 2018 - four years later, the nightmare had returned. This isn't a vintage German team, on paper or on the pitch, and in the end it showed. Their next game is against Spain - lose that and it could be a group-stage exit for a second successive World Cup.
As for Japan, their fans will be there in numbers again for their second match against Costa Rica. Singing, cheering, and mostly banging that drum.
Thank you for reading 5 articles this month* Join now for unlimited access
Enjoy your first month for just £1 / $1 / €1
*Read 5 free articles per month without a subscription
Join now for unlimited access
Try first month for just £1 / $1 / €1