Is this Harry Redknapp's last hurrah?
As Harry Redknapp prepares for an emotional return to Bournemouth, Nick Ames ponders whether we may be nearing the end of the road for English football's cheekiest of chappies...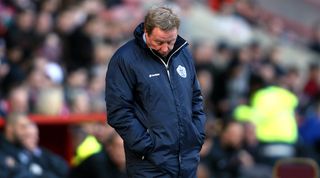 Dean Court has rotated 90 degrees since Harry Redknapp last stalked its touchline during a competitive game. Nearly 22 years have passed too, and the fact that the ex-Bournemouth manager hasn't meaningfully crossed swords with his former club during that time says plenty about the fortunes – or perhaps you might say fortune – that both have experienced in the meantime.
Redknapp finally brings a side to Dorset on Saturday, with stakes rather higher than might have been expected. Defeat to Eddie Howe's vibrant home side would probably end any argument QPR have in this season's automatic promotion race from the Championship; win, and it might just be back on. Right angles or not, you can't help but feel that Redknapp's managerial career is close to completing a full circle – the last rites being prepared, if not quite read out, back where it all began.
Is Harry's game almost up? Seven more would take Redknapp to the end of the league season, and to 1,350 in the dugout – a remarkable figure by any measure. Another three would take in all possible play-off fixtures. QPR sit nine points behind second-placed Burnley - who travel to in-form Watford on Saturday. While that margin can quickly be filed down in the Championship, and QPR might be due another run of form after a bang average spell since January, it seems a tall order. Fail to close the gap, and Redknapp will lead a side into the play-offs for the first – and surely the last – time.
Masterplan gone wrong
"I thought he was the right man to try and rescue us last season, but when that didn't happen we should have cut our losses in the summer and made an appointment focused on a long-term rebuild," says Clive Whittingham, editor of the influential QPR fan website, Loft for Words.
REDKNAPP'S PERMANENT SIGNINGS 2013/14
Danny Simpson (free)
Richard Dunne (free)
Karl Henry (undisc)
Charlie Austin (£4m)
Matt Phillips (£5m)
Gary O'Neil (free)
Oguchi Onyewu (free)
Yossi Benayoun (free)
"I got the impression that his idea 18 months ago was to sit in the Match of the Day studio waiting for a Premier League job to come up - if he kept that team up he'd have a Premier League job again, and if he didn't then he'd leave at the end of the season and begin the process again."
If the masterplan hadn't come off, perhaps Redknapp was at least expecting a more comfortable time of things. Three-and-a-half months at Southampton aside, his previous stint in the Championship culminated in a swashbuckling 2002/03 season with Portsmouth, finishing two points and three goals short of centuries with a maverick band whose tune was called by a veteran Paul Merson.
It has been harder this time in a division that yields little to anyone, even though its inequalities are greater than ever. When the chips have been down, Redknapp has lurched towards self-parody by lamenting a lack of resources. "We're really down to the bare bones," he said amid a spate of injuries in January. "People keep saying we've got a big squad, but we haven't."
Even if Redknapp was simply satisfying popular demand for his most famously trotted-out turn of phrase, his words betrayed that he is just the latest manager to have found taming QPR during Tony Fernandes' era of excess to be a near-impossible job; they also served as a reminder of the distance that he has historically been keen to place between himself and the causes of adversity.
"Don't forget, this is Don's team," he warned shortly after taking a stricken Bournemouth's reins from Don Megson back in 1983 – but this QPR squad is very much his. Nineteen senior professionals have been taken on this season, on various types of contract, with 17 being shed. With top scorer Charlie Austin injured, four strikers – Kevin Doyle, Modibo Maiga, Will Keane and obscure Brazilian Dellatorre – all pitched up in W12 before the January transfer window was done, and the lily would soon be gilded by the extravagances of Ravel Morrison.
REDKNAPP'S LOAN SIGNINGS 2013/14
Aaron Hughes (Fulham)
Benoit Assou-Ekotto (Tottenham)
Ravel Morrison (West Ham)
Tom Carroll (Tottenham)
Will Keane (Man United)
Niko Kranjcar (Dynamo Kiev)
Kevin Doyle (Wolves)
Modibo Maiga (West Ham)
Dellatorre (Paranaense)
With the likes of Niko Kranjcar, Yossi Benayoun and Aaron Hughes all arriving through the door at various stages, Redknapp was either adopting a monkeys-and-typewriters approach to building a promotion-winning squad – or simply plugging gaps caused by his previous ill-advised recruitment.
"If you insist on signing players in their thirties, long past their best, often with previous injury problems, then you can't throw your hands up and talk about how unfair it is when they all get injured again," explains Clive Whittingham.
"We've essentially chased our losses – loads of short-term moves trying to get straight back up. It may work, it may not.
"But on the other hand, Wolves had all the money, budgets and squad size going for them a year ago and dropped straight through the league. QPR were a total mess last season and could easily have gone the same way. He deserves credit for us being third."
Rolling the dice
It's a familiar song. Redknapp's propensity for rolling the dice, best documented during his spells at Portsmouth (both times) and West Ham, means his reputation tends to overshadow any more prosaic achievements. The excuses follow him around, as do the punts – he cheerfully admitted to having never seen Dellatorre, who is unlikely to ever represent QPR in a competitive fixture, play.
But it does feel slightly different this time. QPR's style has been markedly laboured, failing to capture the brio and energy their manager's sides have tended to bring to the table.
Perhaps it's little coincidence that Redknapp himself is slowing up too, hindered by a knee operation from last summer and frequently complaining that the Championship's twice-a-week schedule presents torment for bodies and minds. The end seems to be in sight, one way or another, and the urgency of his recruitment policy might just as well suggest his own desire to go out on a high.
Perhaps the showman in Redknapp would prefer a final fling at Wembley, but he might yet manage something swifter. Burnley, you see, have bare bones of their own to nurse. Injuries to Danny Ings and Sam Vokes may yet cost QPR's rivals sufficiently to prove Redknapp's theory that everything is, in the end, all about the strikers - in which case, his own quickly slung-together front line will surely have come good.
"He can almost sniff out a player and I hope he's proved right again," gushed long-standing lieutenant Kevin Bond after that quadruple swoop. If the nine-point gap has been eaten into by the time the pair make the familiar 15-minute drive from Dean Court back to Sandbanks on Saturday night then maybe, just maybe, Redknapp's methods are on the way to being vindicated one last time.
Quizzes, features and footballing fun
Get the best features, fun and footballing frolics straight to your inbox every week.
Thank you for signing up to Four Four Two. You will receive a verification email shortly.
There was a problem. Please refresh the page and try again.