How Barcelona lost Neymar – but retained their greatness
Barça suffered a humbling summer – yet now sit five points clear in La Liga and beat Juventus to top spot in their Champions League group. Kiyan Sobhani explains how they've done it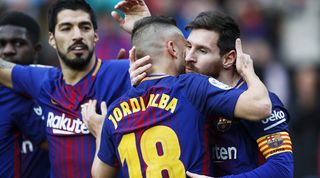 Four months have passed since Neymar said goodbye to his team-mates at the Joan Gamper training ground in Barcelona. Though officially still a Blaugrana player at the time, the Braziliam didn't train – he was excused by manager Ernesto Valverde so as to avoid an awkward session of drills with a player who had mentally checked out.
Neymar stopped in, though. He stayed for 30 minutes, made his rounds and took off. Just like that, one of the best players in the world had left Barcelona in an unthinkable manner, through an unlikely process and out of Lionel Messi's shadow for good – ready to cast his own legacy, and on his own terms. Neymar jumped on a plane to Porto to meet with PSG's sporting director and doctor. Shortly after, Messi posted his respects on Instagram.
"It was one of the most difficult decisions I've made to move," Neymar said upon his arrival in Paris. "It wasn't easy at all to leave Barcelona. I had to think, and rethink, and think again about what I wanted to do."
With both parties moving on, Barcelona were expected to take a huge hit. They may still, in the long term, but they've been surprisingly good in the immediate aftermath of Neymar's departure – even in the absence of his injured replacement Ousmane Dembele. Here's how...
1. Valverde the rallier
The massive challenge that Valverde faced was collecting together the broken pieces and getting Barça's remaining players to buy into his philosophy amid the turmoil and distractions. He's proven to be a perfect fit.
It's taken the Spaniard a little time to figure out his starting XI and find a fluid rhythm when it comes to rotations, but he's starting to hit his stride. For a large stretch of this season, Barcelona were getting results without really looking stable on the pitch. Luis Suarez and Gerard Pique were underperforming, while the team had defensive holes in transition.
Yet 14 games into the domestic calendar, the eye test has gradually started to match results. Over the years, there's been growing concern among Barcelona circles about a gradual loss of identity in the post-Pep era. Each season that passes, a layer of paint from Guardiola's project gets peeled off.
Yet people forget where Valverde's roots are. He's not a Johan Cruyff disciple in the traditional sense, but his footballing beliefs are very much in line with what Barcelona preach historically. Cruyff himself had praised Valverde's intelligence – and the great Dutchman hardly dished out such pleasantries loosely. Valverde brings calm everywhere he goes, and naturally commands respect with his coaching style. That intelligence shows on the pitch, and Barcelona are starting to see the fruits of his philosophy now.
Against Valencia at the end of November, Barcelona didn't let Marcelino's men breathe in the first half. They masked the absence of Gerard Pique with dominant possession and an efficient counter-press. Valencia are a superb counter-attacking team, but they looked frazzled escaping their own third.
In rare moments that los Che snaffled possession, they lost it almost immediately while Barcelona's players were in perfect position to swarm in numbers. It unnerved the Mestalla masses. Even when Valencia escaped on the counter, they were making bad decisions – clearly affected by Barcelona's strategy both tactically and mentally.
Earlier in the season, a similar thing happened against Atletico Madrid at the Wanda Metropolitano too – although it will be interesting to see how Valverde will deal with tougher tests in coming months. In the second half of the 1-1 draw at the Mestalla, Valencia's adrenaline forced Barcelona to make defensive mistakes. Efficient teams will punish the Catalans eventually, and those that are good enough in attack – especially in transition – will have plenty of opportunities to exploit.
2. Quality in numbers
Last year, Barcelona's depth was widely perceived to be better than it really was. Paco Alcacer wasn't trusted by Luis Enrique, while Andre Gomes was a huge drop-off from Andres Iniesta and Ivan Rakitic. When the team rotated, they suffered, and with three key players playing overseas during international breaks – Leo Messi, Luis Suarez, Neymar – Barça struggled to tread water while those players rested.
This year, the depth has pleasantly surprised Barcelona fans. Midfielder Denis Suarez has taken a leap and connects well with Lionel Messi; new full-back Nelson Semedo has generally looked strong too, despite struggling against Valencia's Portuguese sensation Goncalo Guedes at the Mestalla. Both Semedo and Denis Suarez are yet to feature consistently under Valverde, but have contributed important minutes to this season.
Meanwhile, running joke Gerard Deulofeu has given nobody any reason to chuckle this season. The ex-Toffee may never be your go-to man in a big game, but he can provide quality as a rotational piece.
Now, remember Paco Alcacer, one of Spain's most promising strikers two years ago who vanished under Luis Enrique? Valverde has resurrected him, providing the young forward with more minutes and allowing him to contribute offensively both off the bench and as a starter. Last season, Alcacer played just 849 minutes. This season he's already cracked 270, scored a couple of big goals and provided an assist.
The player benefiting most from Neymar's absence is...
3. It's Jordi Alba's flank now
You can't justify losing Neymar as a good thing; there is no silver lining. The Brazilian is elite at what he does and no matter how you spin it, losing him was... well, bad. But if you're a club such as Barcelona, you extract as much as you can in return: an influx of cash, new opportunities and a flank all to Jordi Alba. It's like when your older sibling moves out, so you no longer have to share a room.
"I've recovered my confidence. Now I have the whole flank and that's brilliant for me," Alba said of Neymar's departure and the newfound freedom he's enjoyed on the left. "I feel comfortable, I have a lot of energy and that's being shown on the pitch."
Barcelona average the fewest amount of crosses per game in La Liga (11). They also use their left flank for 33% of their attacks – the second-lowest mark in Spain. But that's more indicative of their diverse approach: they rely on Messi's roaming, but also balance their build-up through multiple channels. Despite what those statistics suggest, Alba is still instrumental. He's a constant outlet, provides darting runs and is tied with (you guessed it) Messi for the highest assists within the team.
4. Messi the manhandler
Messi almost makes every other point here superfluous in comparison. It's he who's carrying the team, and the Argentine is on a statistical rampage this season. Neymar is gone, Luis Suarez looks a shadow of himself right now, yet Messi is manhandling opponents. In 15 starts, Barcelona's star man has scored 16 goals and contributed five assists. He also leads the team in key passes and completed dribbles per game.
Barça fans will be relieved that Messi's contract was finally renewed, and his buyout clause has soared – so no ugly repeats of the Neymar fiasco, then.
"It's a new contract that we have signed today, because although the one we signed in June was up to par with his greatness as a player, the new one is more in line with the current situation in the ever-changing world of football," boss Valverde said after Messi's renewal was made official. "The buyout clause had to be modified, and it has gone from €300m to €700m."
Enough to put off even PSG or Manchester City from trying to trigger it, you might imagine.
Thank you for reading 5 articles this month* Join now for unlimited access
Enjoy your first month for just £1 / $1 / €1
*Read 5 free articles per month without a subscription
Join now for unlimited access
Try first month for just £1 / $1 / €1
Get FourFourTwo Newsletter
The best features, fun and footballing quizzes, straight to your inbox every week.