Jim White disassembled and put in storage
With the transfer window closed, Sky Sports have folded up Jim White and put him back in the cupboard, Back of the Net reports...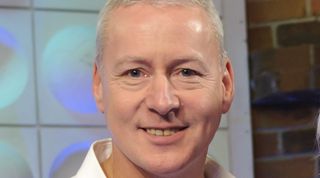 Sky Sports News presenter Jim White was switched off, boxed up and stowed safely in a cupboard in Sky's Isleworth premises after his deadline day broadcast ended.
The excitable Scot had been awake for 30 consecutive days and kept alive on a regular diet of transfer gossip and some crisps.
Producers at Sky expressed fears that White may be malfunctioning when they found he had overheated and was simply matching players and clubs arbitrarily with no clear reasoning, but they were then reminded that was the entire point of White.
At a minute past midnight on September 2, the floor manager at Sky Sports News shut White off and began the process of storing him until the January transfer window.
"It [Sky Sports presenter Jim White] was very hot to the touch and giving off a slight smell of burning, cheap perfume and poorly masked man musk," a Sky Sports staff member told FourFourTwo.
"As it [White] slowly shut down, it [White] juddered a little and linked Loic Remy to a host of Premier League clubs, then made a cursory attempt to proposition Natalie Sawyer. Its [White's] finger kept pointing, jabbing at an imaginary camera as if to indicate some kind of urgent transfer development.
"Then finally it [White] went off. It [White] folds up neatly into three and can be stashed away until the next time someone would listen to [the poorly informed speculation of a plastic Scotsman broken up by bi-minutely advert breaks].
White's storage area is next to the charging point where Jeff Stelling is hooked up to the mains from Sunday to Saturday each week.
Quizzes, features and footballing fun
Get the best features, fun and footballing frolics straight to your inbox every week.
Thank you for signing up to Four Four Two. You will receive a verification email shortly.
There was a problem. Please refresh the page and try again.