Manchester United to do pre-season training via montage
​A new fitness fad is sweeping through football, Back of the Net investigates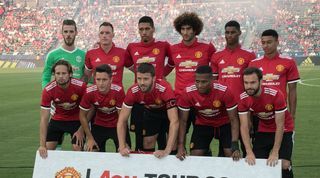 Manchester United have confirmed that the club is switching from traditional pre-season training to a three-minute montage set to inspirational music to prepare for the new season.
Over the last decade, United have embarked upon long-haul tours focused on extending the club's marketing reach, with friendly matches often being stopped at 10-minute intervals, only restarting when sufficient shirts have been sold to spectators.
United's trips have taken in Malaysia, Singapore, China, Australia, the USA and infamously, the barren surface of the Moon, which was widely berated as a marketing misfire, exacerbated by Adnan Januzaj burning up on re-entry into the earth's atmosphere.
This year, Jose Mourinho is keen to gain the upper hand on his jet-lagged Premier League rivals by planning a pre-season that can be completed in around three minutes and eight seconds within the Old Trafford dressing room.
"Manchester United prides itself on being at the cutting edge of modern training methods and we can announce that our first team will be preparing for the 2017/18 campaign by means of an uplifting training montage," a club spokesman told FourFourTwo.
"Last year we spent countless hours flying around the world, hawking shirts at street markets and doing kick-ups for shorts-full of dirty Yuan. While we suffered significantly fewer injuries through muscle wastage than we picked up on the Moon tour, we still couldn't help but feel there must be an easier, less draining way to ready ourselves for Premier League action.
Back of the Net
"And, after much research, we've decided to replace the drudgery of friendly matches with several vignettes of players chopping wood, carrying each other up steps and enjoying short periods of camaraderie while accompanied by Joe Esposito's You're The Best Around.
"Jose Mourinho will supervise, occasionally popping into shot wearing a flat-top cap and shouting 'Go, damn you, go'. The vast reduction in his workload will allow him much more time to prepare conspiracy theories for the new season and to work out exactly how United remain plucky underdogs."
At the time of publication Paul Pogba had been hilariously thwarted in his attempt to impress some passing women with his athletic prowess by his team-mates having tied his laces together while Mourinho rolled his eyes in mock despair.
Please note: This satirical news story is not real. Like, clearly.
Quizzes, features and footballing fun
Get the best features, fun and footballing frolics straight to your inbox every week.
Thank you for signing up to Four Four Two. You will receive a verification email shortly.
There was a problem. Please refresh the page and try again.