Meet Alphonso Davies, the 16-year-old Gold Cup sensation being linked to Europe
The first noughties-born player in MLS is turning heads for both club and country. Scott French delivers the inside story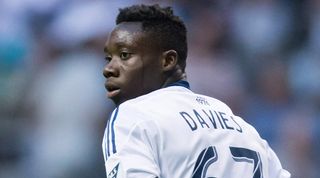 The 60-second story
Think of Alphonso Davies as Canada's version of Christian Pulisic, the 18-year-old Borussia Dortmund attacker and US international. Except Davies is only 16. The Ghana-born, Edmonton-bred winger was turning heads before signing his first pro contract, back in February 2016 with the Vancouver Whitecaps' (opens in new tab) USL-based reserve side, but there's a genuine excitement that's grown rapidly since he made his first-team debut in June 2016.
Davies, Major League Soccer's first player born in the 2000s, was an often electrifying presence in 11 games for the Whitecaps' reserves (or WC2) in 2016 before the first team swooped in with a Homegrown contract in mid-July. He's played regularly since, starting six of 13 matches in 2017. Last year, he became the second-youngest player to start an MLS game, at 15 years, 20 months, 23 days.
Davies Fact File
Born: Novevmber 2, 2000
Place of birth: Buduburam, Ghana
Height/weight: 5ft 10in, 155 pounds
Position: Winger
Current club: Vancouver Whitecaps
The youngest, of course, was Freddy Adu, who was 14 years, 10 months, 29 days when he started for DC United in San Jose on May 1, 2004. At the time, Davies was three years old, and still in Africa. His family had escaped the Liberian Civil War to Ghana, and would move to Canada - Ontario first, then Edmonton - when he was just five. He was talented enough to make it into Canada's youth national teams program as he reached his teens, and moved west to join the Whitecaps' youth academy last summer. The year which has followed has surpassed his dreams.
Why you need to know him
Davies is already among MLS' best young players, and the world is starting to take notice. He scored three times in the opening two games of the 2017 Gold Cup (opens in new tab).
He has also made a significant impact in Vancouver, settling into a regular role this year after joining the first team last July.
He has played with Canada's U15s, U18s and U20s, and, now, the senior team. There's a giddiness about him - not far different from that around Pulisic in the USA - and what he could mean for Canadian soccer. The Canucks have been to just one World Cup, in 1986, and lost all three matches.
All of that has led to reports of big European clubs tracking the teenager's progress.
Strengths and weaknesses
Davies is a left-footed winger with good speed, superb skill and strong attacking savvy. He's always looking to go forward, repeatedly gets into the box - and in good positions - and is equally comfortable taking on defenders down the flank or cutting inside to thread passes to his forwards.
He needs to bulk up a bit and become stronger physically to endure the grind of professional season. He's a lanky 5ft 10in and isn't done growing (the weight room will serve him well) and his defensive positioning will improve with experience. Not that it's a problem: for so young an attacking player, he's got good defensive instincts.
He isn't afraid to shoot - he scored twice for WC2 and hit the post after a nifty stepover move in his first start, a June 18 victory over Ottawa to win the Canadian Championship semi-final series - and is particularly adept at collecting balls in tough spots and quickly turning them into attacks.
Whitecaps coach Carl Robinson has pleaded for patience. Adu was supposed to be the next coming, and we know how that turned out, but there's a maturity to Davies's play that's rare in one so young. He certainly has star potential, perhaps something more.
They said
"He's a real, real exciting talent. He's brilliant for 15 years of age to do that. At 15, I couldn't even look people in the eye, and he's going out and taking men on and looking absolutely magnificent... He's the shining light. He's the cherry on top of the cake. I think everybody in Canada must be excited at the prospect of him playing for the national team for years and years, because with the ability he's got, he should go on to do big things, not only for Vancouver, but for the national team as well."
- Ottawa Fury coach Paul Dalglish in 2016, after Davies made his first Whitecaps start in a Canadian Championship victory.
Did you know?
Davies debuted for Canada's U15 national team when he was 13.
Thank you for reading 5 articles this month* Join now for unlimited access
Enjoy your first month for just £1 / $1 / €1
*Read 5 free articles per month without a subscription
Join now for unlimited access
Try first month for just £1 / $1 / €1