Meet Portland Timbers' Liberia-born speedster who could be Donovan's heir
Darlington Nagbe has almost jumped through every hoop necessary to earn a first call-up for the USMNT, and Jason Davis says it will be justified when it finally arrives...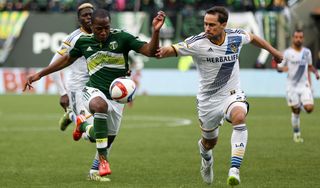 The 60-second story
FACT FILE
Date of birth: July 19, 1990
Place of birth: Monrovia, Liberia
Height: 5ft 8in
Position: Winger
Current club: Portland Timbers (141 apps, 21 goals)
Portland Timbers midfield dynamo Darlington Nagbe stopped off at every station available to him en route to professional stardom. After arriving in the United States as an 11-year-old, the son of former Liberia captain Joe Nagbe checked the usual things off a well-defined list: high school and club soccer in his schoolboy days; college soccer with summers spent playing with a team in the USL Premier Development League; and finally the MLS draft and top-level arrival after his selection by the Portland Timbers in 2011.
When his mother packed up little Darlington and his brother and fled war-torn Liberia in 1990, there was no way of knowing that this is where he'd end up.
Nagbe's path might have had the usual stops, but his story, pedigree and talent make the player himself unusual. Gifted with blazing speed and a penchant for the spectacular, he was expected to rule MLS from his earliest days in the Timbers midfield.
It hasn't gone exactly to plan, but there's no reason to think he isn't primed to push himself back into conversations about MLS's best players and a potential place in the U.S. national team.
When it comes to his international career, though, Nagbe has been stalled by the vagaries of America's citizenship process. Though he has resided in the United States for more than half of his life, Nagbe still doesn't hold the naturalised status that would allow him to suit up for Jurgen Klinsmann.
As of now, he holds a green card as a permanent resident and is on his way to acquiring his citizenship. If he completes the long journey to Official American in 2015 (as is expected) and continues the brilliant start to his season, Klinsmann won't be able to leave him out of the next squad.
Why you need to know him
In a league where ageing European stars often steal the headlines, Nagbe is a young, talented player with all of the tools necessary to eclipse any of the big names on an MLS field.
Word of a possible move abroad has been muted mostly due to his citizenship travails, but with a strong 2015 season there's little doubt he'll draw the eye of European scouts. MLS is still home to the bargain buy, and while Nagbe won't come cheap by American standards, there will be no shortage of suitors.
Then there's the international element. Nagbe's moment in the sun playing for his country has yet to come only because of the long, drawn-out process. He could line up for Liberia at any time, but that he hasn't is a clear indication that he's patiently waiting to become eligible for the United States.
It's not fair to compare Nagbe to American great Landon Donovan, but with the all-time leading scorer now retired, Nagbe might be a natural replacement.
Strengths
Most obvious of Nagbe's abilities is his speed, though it would be wrong to suggest it defines him. Yes he's fast, particularly with the ball at his feet, but as we've seen time and again with speedy players, all of that running means nothing if control is lacking. Nagbe not only possesses that, but knows how to use it to make defenders look silly and put team-mates in excellent positions.
Nagbe is a head-up player with the ball at his feet, and adept at passing while on the move. He isn't one to sit in the middle of the pitch and assess his options, and is much more comfortable leading a break or pressing space to open up channels for other Timber attackers.
Even during his 'down year' of 2014, when he scored just one league goal, Nagbe's skill in retaining the ball and starting counter-attacks served as a catalyst for most of the good things the club produced.
Not just a transition player, not just a speedster, Nagbe is a well-rounded attacking midfielder who can score goals but doesn't need to do so to be effective.
GREAT GOALS RETOLD Darlington Nagbe talks FFT through his stunner against Kansas City
Weaknesses
For all of his athletic ability, Nagbe suffers from the same criticism so often heard with young, forward-thinking midfielders: he doesn't defend.
He does defend a bit, of course, but he's not likely to provide more than a tackle or two per game, and in no way is he a ball-winner. In the air, he's a non-factor. Nagbe is relatively slight at 5ft 8in, and can be a little rattled by opponents desperate to keep him off the ball. More often than not, however, he turns this physical approach to his advantage. In 2014 he was second in fouls suffered, a result of his quick feet.
TALENTSPOTTER 10 stars who'll become household names in MLS 2015
Did you know?
Nagbe's father Joe (winner of 97 caps) followed Liberian legend George Weah to Monaco in 1990, before continuing a long career with clubs in Switzerland, Greece, UAE and Indonesia.
They said…
Named the league's best young player in 2013, Nagbe earned the praise of his former college and current professional coach Caleb Porter, who attempted to describe the midfielder's talents. "He came out of the womb with the ability to control the ball like he does," Porter said. "He has athleticism as well – extremely explosive, great balance. The other thing with him is he's become much more assertive. I think you've seen that. His production this year has been the best of his career. It's honestly the tip of the iceberg. I think he really does have the ability to be one of the most special players that this country has seen."
TALENTSPOTTER RATINGS
Shooting 8
Heading 2
Passing 8
Tackling 3
Pace 9
Dribbling 8
Creativity 8
Work-rate 7
What happens next?
It's not clear if Nagbe harbours European ambitions, though he certainly has the talent to attract attention from scouts across the Atlantic. For the time being he is 'tied down' in the States for as long as his citizenship is pending. If he hopes to play for the USMNT (or if he simply wants to get his citizenship sooner rather than later), he must maintain American residence through the process. As the father of a young child, he may also not have any interest in uprooting his family anytime soon.
That leaves the international game as Nagbe's next step. Though he's already 24, the U.S. team is lacking the sort of dynamic attacking talent that Nagbe possesses, and it's difficult to imagine that Klinsmann won't at least give him a look when the citizenship paperwork is finalised.
The first part is to simply get Nagbe into camp. Once there, the coach should be able to find a use for him.
Quizzes, features and footballing fun
Get the best features, fun and footballing frolics straight to your inbox every week.
Thank you for signing up to Four Four Two. You will receive a verification email shortly.
There was a problem. Please refresh the page and try again.