Michael Dawson: Talentspotter
By David Sandhu
"The best players I've faced? Cristiano Ronaldo is a tricky little player, but Brian Deane would definitely be up there too"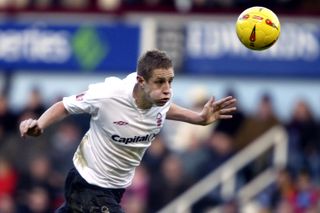 Nickname
Just Daws or The Length!
Clubs played for
I've been at Forest since I was 14, so that's six years now.
Clubs supported
Liverpool were my first love – seeing players like John Barnes and Ian Rush on the telly. After that it was Forest; I started going to matches from the age of about 10 or 11.
Strengths
People tell me I'm good in the air and have a good range of passing. They also say I'm not a bad tackler, and I got a few goals a couple of seasons ago. It's not really for me to say – I prefer others to tell me what I'm doing well or not.
Weaknesses
I've had a few bookings, but that's part of football, I guess. And the old left peg could do with a bit of work, too. There are probably a few other weaknesses as well!
I play a bit like...
I'd like to say Rio Ferdinand but we can all dream! He's really comfortable on the ball and I like to think I am too. He's someone I've watched and looked up to during his whole career. Sol Campbell and Jonathan Woodgate are also top players – in fact, there are loads of good central defenders around.
Heroes
I think David Beckham is an absolute legend to cope with all the things he has to put up with. It's mad attention, all the time, every day.
Highlights
Making my debut was a dream come true – it was during the 2000-01 season against Walsall. We lost 3-2 at home, but it's a day I'll never forget. Captaining the England under-21s a few months ago in a friendly in Sweden was nice too – leading the team out was such a great feeling.
Lowlights
Getting sent off in the Division One play-off semi-final first leg against Sheffield United [in 2003]. It was my first full season and, until then, it had been really good but it finished on a real low. I still think it was harsh – I got a straight red card and missed the second leg, which we then lost and missed out on the final.
Best player I've faced
There have been a few. Cristiano Ronaldo played for the Portuguese U21s against me just after he'd signed for Man United and he's a tricky little player. Brian Deane would definitely be up there too – he's a big, strong fella.
Best player played with
There have been several in the England U21s, from Joe Cole to Gareth Barry, but Jermain Defoe is very special indeed. At Forest during my first year, Des Walker was here; it was great to play with him because he helped me a lot.
Best advice received
My whole family have stuck by me and I've got two brothers playing at Hull [Andy, still at Hull] and Chesterfield [Kevin] so I speak to them too. Also, Paul Hart gave me my chance after I played for him at youth level. I believe you have to help yourself but Paul taught me about good discipline and, being a centre-half himself, he gave me a few real grillings too!
If I wasn't a footballer...
I've honestly never given it a thought. Ever since I was a young lad, I wanted to be a footballer. If I wasn't one, I'd probably still be thinking about what I wanted to do now. Perhaps something to do with sport, but I can't imagine anything else but playing.
Wheels
A BMW 320 convertible. I liked the look of it – it's really sporty.
Tunes
I've got a bit of Usher in the car, but I like a bit of everything, even pop. No, I'm not saying what!
Favourite TV show
I watch all the soaps – Coronation Street, EastEnders – and Bad Lad's Army was brilliant.
Hobbies
Cricket, golf, any sport really. I love going to the races, too – I occasionally have a little flutter, but nothing major! I usually go to York, Catterick or Redcar when I'm back home in North Yorkshire.
Last holiday
A week in Cyprus with the girlfriend.
Hansen or Lawrenson?
Hansen, but I'm not fussed about either of them.
Lynam or Lineker?
Lineker. He's fair and decent – and a great ex-pro.
J-Lo or Beyoncé?
Beyonce, but I'll leave it for the readers to decide why!
Tell us something we don't know about you...
I played cricket for North Yorkshire when I was a young lad – I was a decent all-rounder.
In five years I'll be...
Hopefully at a big club, playing in the Premier League, sniffing about the England team. I haven't got any ambitions to play abroad – for me, the Premier League remains my ultimate goal.
Interview: David Sandhu. From the November 2004 issue of FourFourTwo.