Moyes' nightmare now becomes dream job again for next man in line
Some might see the vacant Manchester United job as a poisoned chalice, but Neil Humphreys believes the sacked David Moyes has made it a much more appealing prospect...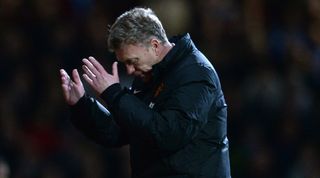 Following Sir Ian McKellen onto the boards of a Broadway stage is every actor's nightmare. Replacing the ill-equipped understudy is a much more palatable scenario. David Moyes' successor will walk into the job of his dreams.
Moyes called the Manchester United gig a flattering invitation, one that he was honoured and humbled to accept. But it really wasn't. Sir Alex Ferguson handed him the wine goblet recently passed to King Joffrey in Game of Thrones. The departing manager might be spared the bloated, bloody, eye-bulging contortions before an agonising death, but his coaching credentials were killed off the moment Ferguson made him an offer he couldn't refuse.
Still, the outgoing coach has carried out the most thankless of tasks. He portrayed the dark before the dawn, the bridge between two kingdoms; the coat across a muddy puddle. He has paved the way to a brighter place.
Moyes tried to top Superman. But no one really believed he could fly. They'll now all be clamouring to take over from Clark Kent.
MOYES AT MAN UNITED
Games in charge 51
Wins 27
Draws 9
Defeats 15
Win percentage 52.94%
Only two men were arguably qualified to succeed Ferguson when he announced his retirement: Pep Guardiola and Jose Mourinho. Guardiola has already swaggered towards the Bundesliga crown with the ease of a bikini-clad model sauntering along a beach. And Bayern Munich still contest the Champions League. Chelsea remain in the running for domestic and European honours. At Goodison Park on Sunday, Moyes made it clear he couldn't run a bath without instructions from a ring binder.
That was the moment – the actual moment – when the impossible job immediately metamorphosed into the dream vacancy. That was the moment when any semblance of reality was lost. Surrealism took over and we moved into a tar-black comedy from the Coen brothers.
Out of his depth
United were losing 2-0 to Everton and the camera panned to the club's Brains Trust. It wasn't so much Mensa as it was comedic madness. Wide-eyed as ever, Moyes turned to his hapless assistant Steve Round, who pulled out a ring binder that looked remarkably like a primary school student's portfolio, complete with neat fonts and bright colours. The ring binder was marked "set-pieces for Manchester United to try against Everton Football Club", or words to that effect.
Any remaining mystique was stripped away. They were revealed to be a couple of hopeless, but harmless, halfwits; bumbling burglars who had inadvertently been handed the keys to the biggest bank and had no idea what to do next. This was the Fargo of football. All that was missing was a jittery Steve Buscemi jumping into frame, waving a gun around and shouting something about "getting out of here quick because they're finally on to us".
And with that, Moyes fulfilled his duty. The poor man had reduced the most intimidating of sporting powerhouses into an amateurish pantomime performed on a wobbly set with disillusioned actors who recognised that the director was clueless and were mutinously refusing to learn their lines.
Who wouldn't want the job now? Moyes' successor should replace the Rocky theme on match days with Yazz's hypnotic hit The Only Way Is Up. Rock bottom was reached sometime in January. In recent weeks, United have been busy drilling their way to the earth's core. The Glazers had intended to rescue Moyes at the end of the season before calling in the lawyers. Had they left him alone with his shovel any longer, they would've called in the archaeologists.
With every fresh humiliation, face-stripping debacle and unwanted milestone, the United dugout became more appealing for the next man. Ferguson's achievements couldn't be topped in a lifetime. Moyes' achievements could be topped in a lunch time.
A shadow of themselves
Dispensing with any foolish notion of defending the title became the obvious starting point. That trophy was pretty much discarded before the Christmas stockings went up. By the time they went down again, the thought of being Moyes' replacement became an increasingly attractive proposition. An early FA Cup defeat, a shocking League Cup exit against Sunderland, unwanted doubles against Manchester City, Everton and Liverpool were swiftly added to more firsts; Swansea's first win at Old Trafford and West Brom, Stoke and Newcastle's first victories at United in decades.
Old Trafford handed out more firsts than a corrupt university examiner.
And then there was the football. Well, there wasn't any. At Carrington, lengthy training drills replaced Ferguson's favoured fast, one-touch games. According to the manager who once picked up the Second Division title with Preston, Rio Ferdinand, Nemanja Vidic, Robin van Persie, Danny Welbeck and Juan Mata all needed to brush up on their basics. Training sessions turned into outtakes from Forrest Gump. Run, Rafael, run.
Creative spontaneity was out. Stifling caution was in and Old Trafford offered as much match-day entertainment as that daft plane that flew over the stadium with the "Moyes Out" banner. The plane prank proved to be an accurate metaphor for Moyes' United. Hardly anyone inside Old Trafford saw the plane. It was off target.
United couldn't play their natural game. Everyone revolted and Moyes' artificial edifice was pulled down. It's surely only a matter of time before Carrington's canteen cooks sell their stories, bewailing the brand of tea bag Moyes wanted at breakfast.
A fresh start
After that little lot, United's next manager is guaranteed an extended honeymoon period that should last at least a couple of transfer windows; his greatest attribute being he's not David Moyes.
Whether it's Louis van Gaal, Carlo Ancelotti, Diego Simeone, Ryan Giggs or rank outsider Roberto Martínez, the new manager will arrive at Carrington like a UN peacekeeper turning up at a smoky, post-war battleground, stepping over the bodies of dying careers and asking to speak to shell-shocked survivors.
One by one, they will emerge from their makeshift boltholes, haunted and haggard from their season-long ordeal, grabbing the newcomer's hand gratefully and twittering on about "giving up hope and never being rescued".
The sick will be healed. The wounded will walk again. Injuries will vanish, along with ghost-written transfer requests and a standing ovation will suddenly break out in camp. United's footballers will applaud their new manager, convinced he's the right man by simply not being the wrong man.
Confidence will sweep the camp. Moyes' replacement will feel infallible; success and trophies guaranteed, his predecessor instantly forgotten.
The new manager will see Jonny Evans, Phil Jones and Chris Smalling bump into each other in the penalty box. And then he'll feel some sympathy for the departed Red Devil.
Neil Humphreys is the best-selling author of football novels Match Fixer and Premier Leech, which was the FourFourTwo Football Novel of the Year. You can find his website right here.
Quizzes, features and footballing fun
Get the best features, fun and footballing frolics straight to your inbox every week.
Thank you for signing up to Four Four Two. You will receive a verification email shortly.
There was a problem. Please refresh the page and try again.