The Player: How things get complicated with agents
Thanks to agents, footballers are rarely in charge of their destiny, says our man on the inside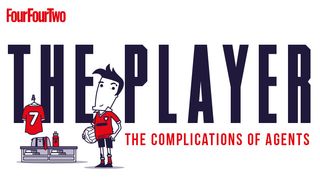 The Player has spent 15 years across all four divisions. He's played in the Premier League and for his country. (Illustration by Spencer Wilson.)
Each week we'll bring you a column from our mole... 
I don't make a habit of trying on different perfumes, but I had time to kill in duty free before flying on a pre-season tour. I planned to buy my partner a pricey bottle when a very well-known Premier League manager approached.
"Disappointed I didn't get you in the summer," he said. I looked round to make sure it was me he was talking to. It was.
"I didn't know you were in for me," I replied. 
"Spoke to your agent," he said. "Bit of a cock, isn't he?"
"He told me nothing," I replied, baffled.
We wished each other well for the season and I drifted out of the shop smelling of Dior's J'adore.
Hiding the truth
My instinct was to believe him – something hadn't been quite right about my summer move. On one level, I'd got a bigger contract with the security of three years. I was moving closer to home and staying in the same division. Financial pressure meant my old club wanted me off their wage bill as I was one of their top earners, but I couldn't understand why there was only interest from one club. I'd had a good season and been told on the grapevine that a few clubs were interested. If you have two or three clubs interested then you're in a strong position to negotiate upwards.
But my agent had said categorically that only one club was in for me. When I mentioned the media speculation linking me to others, he laughed it off as paper talk. But it wasn't, unless the manager was now lying.
Football is full of incidents like this. It's the word of one man against another. When the speculation arose, I couldn't ring the 'interested' manager. I didn't know him and I could have made a fool of myself had I said, "I've heard you're interested in me", only for him to tell me otherwise. That's why agents exist – but agents often put agents first.
I can't prove this, but I strongly suspect my agent was paid by both clubs in my transfer. That way, the buying club weren't dragged into an auction and the selling club knew they could get me off their wage bill with a tidy transfer fee, too. I never used that agent again. The trust had gone.
I never trusted any agent 100 per cent. You can't. There are too many horror stories; examples of players being moved against their will because of one reason: money.
Mind games
No player is forced to do anything – it's far more subtle than that. I was at one club where the new manager was appointed on the promise that he'd cut the wage bill. He was close to the agent of one of our players, a lad who wasn't really good enough for the top level. A team in the league below made a bid and his agent (encouraged by the manager) told him it would be a wise move.
Agents make money out of every move and I think the manager stood to take a backhander. The player said he wasn't interested in dropping down. The manager then began to make his life hell. He stopped communicating directly, only telling him that he was required to come in and train on a Sunday as he hadn't played on the Saturday.
Sunday was usually the only day off, which the player spent with his family who lived nearly two hours away. He drove to 'training' – only to find the training ground locked. He rang the first-team coach, who said he knew nothing about 'training'. The manager later fabricated an excuse. He knew it would demoralise the player. It did. The player spoke to his agent, who again told him that it would be a good idea to take the alternative offer. He did.    
Very few players choose where they play. You can if you're at the very top, but even then it's hard. Wayne Rooney wanted to join Chelsea once but Manchester United didn't want him to go to one of their main rivals – so he didn't. The club held firm.
Battles behind the scenes
That isn't the norm, though. The norm is players being frozen out before being sold and replaced by a shiny new prospect. At one club, the strong personalities of the new manager and a leading player clashed immediately. Neither was prepared to let the other get the better of him. The manager pinned a note in the dressing room, saying that anyone who wanted to see him needed to make an appointment with his secretary. The player ripped it down.
The manager asked the kitman to trawl through CCTV tapes to find evidence of what he suspected so he could fine the player for the umpteenth time. The kitman liked the player, who offered him £2,000 to destroy the evidence, which the kitman did, telling the manager the CCTV wasn't working. The player was as wily as his boss.
And he wouldn't be broken. The club ended up paying up his full contract. Now that's rare. Yes, he moved to a new club, but very much on his own terms…
Quizzes, features and footballing fun
Get the best features, fun and footballing frolics straight to your inbox every week.
Thank you for signing up to Four Four Two. You will receive a verification email shortly.
There was a problem. Please refresh the page and try again.