The problem with Flamini: a short-term patch over a long-term hole
Arsenal's two-time midfielder has filled in for a large part of the season, but Robert O'Connor says it really shouldn't have been that way…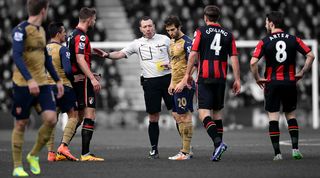 It took Arsene Wenger years to solve his problem in defensive midfield. The Patrick Vieira-shaped hole that opened up in 2005, and saw countless title challenges slip through it, looks like it has been filled now – in the medium-term at least – with the coming of age in 2015 of Francis Coquelin.
The Frenchman's absence since being injured at West Brom in November, however, left Arsenal short, with no reinforcements brought in during the summer or January windows. Wenger once again put his faith in 'internal solutions'.
Need for speed
For most of that three-month spell the solution has been Mathieu Flamini, who has been anchoring midfield while Aaron Ramsey patrols higher up, but who at 31 years old is beginning to show signs that his utility as a regular starter is on the wane. His contract is up at the season's end, and it seems unlikely that it will be renewed.
Against Bournemouth the signs were there early. Seven minutes in he was caught out in possession high up the pitch, hustled off the ball as he tried to carry it forward by three energetic Bournemouth players keen to force the tempo early on at the Vitality Stadium. Moments later he was fortunate to escape a red card for a two-footed challenge on Dan Gosling, with frustration setting in early as the pace of the game hurried away from him.
It set the tone for a difficult first half for Flamini, which bordered on the ineffective. The Frenchman made just one successful tackle during the first 45 minutes, failed to recover possession once and made just one successful interception.
It's that ability to break up play and recycle the ball in the Vieira mould that has whipped up such optimism about Coquelin as the former captain's full-time successor, but against Bournemouth, Arsenal were lacking that balance of power and precision.
Safety first
Flamini's struggles were most obvious in the moments when his midfield partner Ramsey was at his best. At one point late in the first half, with Arsenal 2-0 up and in control, Ramsey received the ball in his own half with his back to goal and spun effortlessly away from the attentions of two markers to break upfield with the ball.
It was the kind of channelling from the back four that used to spark wave after wave of Arsenal attacks, but with Flamini occupying one of the deep midfield berths those moves have slowed – the Frenchman no longer shows the ball control or physical power to receive the ball, turn and play.
He seemed reluctant to receive the ball from his back four throughout. More troubling, though, was his difficulty in turning with the ball and looking forwards. Just fewer than half of his 47 attempted passes were forwards, with his most frequently completed pass being backwards to Laurent Koscielny, which he attempted nine times.
Conversely, he received only four from his back four in the defensive half of the pitch in 90 minutes, with Nacho Monreal being the principal conduit out of defence down the left channel towards Mesut Ozil and Alexis Sanchez.
Repair kit
The left side proved a fruitful outlet for Arsenal on a day when they were far from their fluid best. For the first goal, Ozil fed the ball to Flamini from the wing, and the Frenchman kept the move going at a good pace with a slick ball inside to Hector Bellerin. In turn, the Spaniard fed Ramsey to provide Ozil's goal. It was Flamini's most effective contribution of the game, breaking free from his position as the team's anchor and floating into a position to provide enough numbers for Arsenal to tap their way through.
It was a reminder that Flamini still has a role to play at Arsenal, reminiscent of the two goals he scored in the 2-1 win at White Hart Lane in November's League Cup tie that seemed to reignite not just his season but career after a spell in the cold. That night he was on hand to sweep home a loose ball from close range and then thump in a volley from 18 yards, reminding Wenger that he can still make an effective contribution to his team's rapid transition play.
But there is a hole that needs repairing deeper in the Arsenal machine, and Flamini's powers there are weakening. On the hour mark, Gunners outcast Benik Afobe skipped past him like he wasn't there, leaving the back four exposed as they have been so often by the team's fragile midfield.
Arsenal's title rivals in recent seasons have all been heavily reliant on that kind of imposing presence in the middle of the pitch; players able to break up and generate movement almost in one movement. Yaya Toure and Nemanja Matic have been instrumental in that role for Manchester City and Chelsea respectively in the last two seasons, N'Golo Kante similarly this year for Leicester. Andrew Surman dispossessed Flamini with ease in the same position late in the game, as Arsenal continued to look underpowered in the middle.
Coquelin's return
After 70 minutes of hesitant play he miscontrolled on halfway under pressure from a Bournemouth midfield that harried to the end. He sought refuge, again, in Koscielny some 20 yards behind; a promising sequence of snappy passing broke down at his feet.
Coquelin's first Premier League appearance in nearly three months – he replaced Alex Oxlade-Chamberlain with a quarter of the game to go – will have come as a welcome sight to Arsenal fans. Those 25 minutes will have gone some way towards restoring him to fitness ahead of Leicester's visit to the Emirates Stadium on Saturday.
But it's hard to think that Flamini, a dependable lieutenant for Wenger for so many years across two spells in north London, has no part to play in the title run-in. As he showed at White Hart Lane there is still a dynamic streak to the former Milan man's game, a fuse that can burn for short spells when required to step in and provide bite higher up the pitch.
As for filling the gap vacated by his countryman a decade ago, however, the time has come for another Frenchman to assume responsibility.
Arsenal vs Leicester LIVE ANALYSIS with Stats Zone
More features every day on FFT.com • Analysis
STATS ZONE Free on iOS • Free on Android
Quizzes, features and footballing fun
Get the best features, fun and footballing frolics straight to your inbox every week.
Thank you for signing up to Four Four Two. You will receive a verification email shortly.
There was a problem. Please refresh the page and try again.