Ragnar Sigurdsson: Iceland's England-crushing hero linked with Tottenham and Leicester
For many fans, his equaliser against England will have been their first encounter with the centre-back. Michael Yokhin explains why we might be seeing a lot more of the Krasnodar defender soon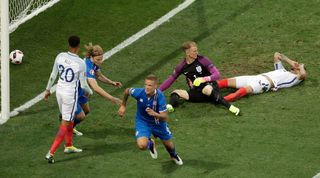 The 60-second story
Fact File
Born: June 19, 1986
Place of birth: Reykjavik, Iceland 
Position: Centre-back
Club: FK Krasnodar (83 apps, 4 goals)
International: Iceland (60 caps, 2 goals)
Gylfi Sigurdsson has been famous for quite a while, but few had heard of his namesake before Euro 2016, even though Ragnar Sigurdsson is 30 years old and very good at his job in central defence.
Now, after sensational performances for Iceland at Euro 2016, including scoring the equaliser against England, he is mentioned as a possible target for numerous Premier League teams. Tottenham, Leicester and Liverpool are all in with a shout.
Why you need to know him
Sigurdsson has always known what his dream is and been ready to make sacrifices: "I only have football, nothing else. No school or education. I fought to become a footballer. When everyone else was partying at holidays, I was at home eating oatmeal," he once said.
Ragnar started out as a midfielder at Reykjavik-based Fylkir. His technical skills are abundant and he managed to scored four goals for Iceland at youth level; however, he was converted into a centre-back at the age of 20 in order to better use his physical strength and tactical awareness.
Allsvenskan top dogs Goteborg signed Sigurdsson as a defender early in 2007, and the Icelander immediately became a key player. His impact was immense as the team won their first championship title in 11 years, conceding just 23 goals in 26 games.
Hilariously, he was then denied access to the party that took place in a bar because the bouncers didn't recognise him, and it took a few minutes to persuade them that Sigurdsson was indeed one of the stars of the team.
Goteborg's record of conceding less than a goal per game continued until Sigurdsson was sold to FC Copenhagen in the summer of 2011. He is fondly remembered in Sweden for his attacking contributions as well, though, having scored one of the most outrageous goals in Allsvenskan history when he put the ball over Djurgarden goalkeeper Pa Touray from his own half. Soon afterwards, Sigurdsson showed his sense of humour by taking the No.10 shirt vacated by the retired former-Everton man Niclas Alexandersson.
After moving to Denmark, Sigurdsson won the Danish Cup in 2012 and the Danish Superliga in 2013. Copenhagen qualified for the Champions League that year, and Sigurdsson was delighted to be playing against Real Madrid and Juventus. However, he is hardly fazed by the big names – in fact, he doesn't really like to watch football.
When Iceland faced Croatia in the 2014 World Cup qualifying play-offs, Sigurdsson admitted sincerely that he had never heard of Mario Mandzukic: "No kidding. I am not really following football these days, because it reminds me of a fashion show, where players display their stomach muscles and nice hair, and try to cheat by falling in the penalty area," he said. That is most definitely not his style.
Sigurdsson hoped that good performances for Copenhagen and the national team would earn him a move to a top league, and he eventually signed for ambitious Russian outfit Krasnodar who paid €3 million for his services in January 2014. The quality of his game has only improved since, and he earned additional experience in the Europa League last season as Krasnodar finished ahead of Borussia Dortmund in the group stage.
Sigurdsson was ever-present as Iceland secured their historic qualification for Euro 2016. The unthinkable had happened, the nation is now famous for its football, and – especially after a remarkable 90 minutes against England – everyone knows about the big Icelander.  
Strengths
Sigurdsson is your perfect Scandinavian centre-back. He can outmuscle any attacker, is mightily strong in the air, and very fast on the ground as well. His positioning is remarkably good, he makes great interceptions, and he rarely loses concentration. His down-to-earth attitude is important too, he rarely commits fouls and is tactically disciplined, always willing to listen to coaches and improve. Overall, it is obvious that he should have got his chance to shine in the Premier League a long time ago.  
Weaknesses
Ragnar has played 60 times for Iceland, but has spent his entire career in relatively low-profile leagues. He is not used to facing top-quality opposition on a weekly basis, and this lack of experience could be considered a weakness. However, it is not evident at all at Euro 2016.
Sigurdsson has also been considered a "sore loser" by some. In a curious incident in 2007, he threw his silver medal into a wall after Goteborg lost to Kalmar in the Swedish Cup final on penalties. Upon losing his place in Iceland's lineup under previous coach Olafur Johannesson, Sigurdsson considered retiring from the national team. He just hates to lose, but that could be seen as an advantage as well.
They said...
"It is really difficult to pick out weaknesses in Ragnar's game, and you'd have to be a qualified coach to do that. He really ticks all the boxes you need for a central defender," says Vidir Sigurdsson, sports editor at Icelandic newspaper Morgunbladid.
Sigurdsson finishes off an unusual team goal...
Did you know...
Sigurdsson loves Icelandic winter, and he even used to miss it in Russia. "I always go out when people think it's bad weather – raining, snowing, strong winds. In the summer the weather is way too hot, and I try to stay at home," he said. It remains to be seen if the English climate will be to his liking...
What happens next?
Sigurdsson supported Liverpool in his youth, and that is also the beloved club of both his father and brother. Moving to Anfield would be a dream come true for him, but Sigurdsson won't miss an opportunity to play for a different Premier League team either. This is his last chance to move to a top club, and he most certainly deserves it. Krasnodar won't stand in his way if a decent offer arrives.
Quizzes, features and footballing fun
Get the best features, fun and footballing frolics straight to your inbox every week.
Thank you for signing up to Four Four Two. You will receive a verification email shortly.
There was a problem. Please refresh the page and try again.