Updated: PES 2017 review – PES is back on form except online
By Ben Wilson published
After numerous false dawns, Konami's latest virtual footy effort might finally stop fans banging on about the PS2 era. Here's Ben Wilson's verdict on the new high point of a long-beloved sports series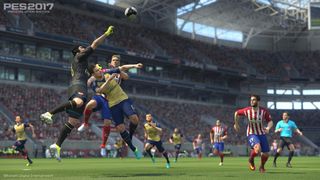 Eight years, 10 months, 20 days. That's the timespan between the release of Pro Evolution Soccer 2008 – Konami's footballing nadir, in many fans' eyes – to the day PES 2017 goes on sale. It's been a long, mostly fallow period, but finally the misery is over. Building upon foundations laid with PES 2016, this is the best football game the Japanese developer has ever made.
PES 2017's greatest achievement is the manner in which it reads what you're trying to do, and reacts accordingly. Team-mates make genuinely intelligent runs into space, and behind full backs, and across central defenders. Incidents where the game attempts to manufacture mistakes – for instance, directing a pass off the pitch when you definitely got your directional input right – are eliminated. And patiently constructed team goals are a ton more enjoyable than slotting home after dribbling 40 yards with Messi or Ronaldo (though improved defensive AI makes that approach difficult, anyway).
It all feels simple to get to grips with, but impossible to put down. New ball physics mean it's as fun to tip-toe through a packed midfield, shifting bodyweight to hold off challenges, as pegging it down the wing with your finger glued to the sprint button. There's a real zest – if you can forgive FFT for using such a word, but when you play it you'll feel what we mean – to every shot on goal. But there are no more Teflon-gloved calamities between the sticks. Keepers make mistakes, particularly as you drop down the leagues, but generally are far more adept at pushing balls out of danger, and taking sensible decisions in one-on-one or set-piece situations.
Licence woe
For those obsessed with licensing, the news isn't great. Both English top divisions are in, but only Arsenal and Liverpool are licensed, with Anfield being added in an upcoming patch. That means team names such as Lancashire Claret – representative of Burnley FC, rather than a night out in Preston. Spain's La Liga is similarly limited, with only Barcelona and Atletico Madrid kitted out properly. (Though it must be said that Camp Nou, exclusive to PES 2017, looks sensational.) If you have a PS4 these issues should be fixable with an importable 'option file', but with online access limited, none was available ahead of review. Watch this space for further news.
If strips and names do get corrected, there's plenty to keep you playing. You get Champions League campaigns in both Europe and Asia, the Europa League, MyClub (PES's answer to Ultimate Team), and Master League, which is the best it's been since those halcyon PS2 days. An incredible touch is being able to see transfer targets' in-game likenesses in their profile screen – critical if, like many, you've become fixated on only buying players with real faces. (Us too.)
Commentary is half-hearted and PES 2017's general presentation could still do with work to keep up with FIFA (which we'll review in around a fortnight's time), but where it matters – out on the park – there's very little to fault. This is a football game where you really get the sense that anything can happen, at any time, just like the real thing. Whether you're a lapsed fan wanting to rekindle the series' glory days or a FIFA die-hard seeking to expand your horizons, it's as essential to the blossoming 2016/17 campaign as Jeff Stelling on a Saturday afternoon and £50 replica shirts you'll only wear twice.
4 things we love…
1. It really feels like the beautiful game
Effortless ball control, incisive passing, snappy shooting, physical aerial challenges: all the fundamentals are present, correct, and an absolute dream to control and master.
More PES
2. There's masses of variety to the goals
Shooting is contextual, and the game does a great job of pulling off the correct animation – from 30-yard impossi-volleys, to backheels when you've rounded the keeper and need to squeeze the ball in from a tight angle.
3. Keepers really are better, at long last
Netminders aren't infallible, but for the most part push shots away from danger rather than back towards the penalty spot now. They show personality, too – for instance, Germany's Manuel Neuer really does play like a sweeper keeper.
4. Champions League will keep you hooked
Presentation is mostly of the must-do-better variety, but not in the official modes contained within – where authentic-looking menu screens and touches like the proper CL theme provide the big-match atmosphere missing in other areas.
More gaming
… and one own goal…
You say it best when you say nothing at all. Despite Peter Drury being added to the booth ahead of PES 2016, he still shows little sign of chemistry with colour man Jim Beglin. You know something's up when you pine for the era of Jon Champion and Mark Lawrenson.
Online Review
Like a Sunday league challenge, heading online is not for the faint-hearted… (writes Nathan Irvine)
Although Konami has made positive progress with PES 2017's online modes, it still has a long way to go. For starters, there's still a distinct lack of finesse in the menus. It's a jarring experience for newcomers as it's overly complicated just to get a match going.
When you finally do get out onto the pitch, PES 2017 does feel better than ever online. Lag has been drastically reduced from last season and now games play with more fluidity and less in a stop-motion fashion. However, the game changes somewhat when you're online and you have to adapt your play accordingly. See, there's a split-second delay between button presses and your player actions, so you need to pre-empt each move or lose possession over and over again. And it appears that your AI team-mates aren't as quick to respond to the action as they are offline too. It's like a whole different ball game when playing online, but you'll master it eventually and the fruits of your labour will be even sweeter when you're winning consistently.
Matches are found fairly quickly, and the connections are as stable as it's ever been. We also love the new Player Analysis option that's available pre-match. It gives you a summary of your opponent's play style based on how they usually go about their footballing business and allows you to counter their abilities with tactics of your own. However, at the time of writing, it's PES 2017's online modes are in desperate need of a patch to fix some of the fundamentals.
Missing players
First on the agenda should be balancing out the criteria for player match-ups. In Divisions - where you climb up virtual leagues - our first encounters were against seasoned veterans that were playing the type of football that left us chasing shadows for 90 minutes. These laser-accurate robots scored with pretty much every opportunity and dominated possession in what was a humbling experience. The ability to match newbies and experienced by skill is non-existent, and whilst PES veterans will take every loss as a lesson to improve, these wonky match-ups will scare off beginners in no time.
It's only in myClub pairings where we've noticed there's an even playing field, but it can often take a while before you find an opponent. And herein lies PES 2017's biggest online problem. The servers resemble Manchester City's Etihad Stadium on Champions League nights – mostly empty.
We spent a few days trying to find a Team game – where each of the eleven-man squad is controlled by a human – but had to give up due to lack of players. It's a theme that's consistent throughout all of PES 2017's online modes, and though it's still early days, and things might well improve, we do worry that PES's continued poor performance in this department over the years has put people off.
And although there have been internet murmurings about an upcoming patch that will enable online co-op play, the mode is sorely missed and sparked an online petition for its inclusion. For now, PES 2017's vast array of multiplayer modes have huge potential, but it's lacking the overall polish and players to become unmissable. The patches can't come quickly enough.
Score: 4.5 out of 5.
Thank you for reading 5 articles this month* Join now for unlimited access
Enjoy your first month for just £1 / $1 / €1
*Read 5 free articles per month without a subscription
Join now for unlimited access
Try first month for just £1 / $1 / €1
Quizzes, features and footballing fun
Get the best features, fun and footballing frolics straight to your inbox every week.
Thank you for signing up to Four Four Two. You will receive a verification email shortly.
There was a problem. Please refresh the page and try again.