Sofiane Boufal: Meet Lille's Spurs-scouted midfielder who's a throwback to Hazard
Andrew Gibney profiles the Lille trickster who's turning heads in Ligue 1 and interesting Premier League clubs...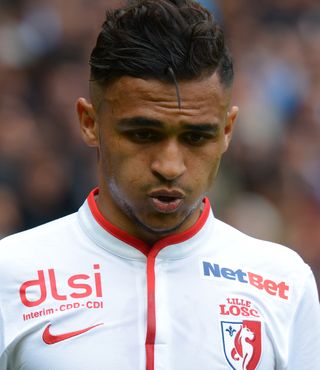 The 60-second story
FACT FILE
Date of birth: September 17, 1993
Place of birth: Paris, France
Height: 5ft 8in
Position: Attacking midfield
Current club: Lille (20 apps, 4 goals)
International: Morocco
When Lille won the Ligue 1 title at the end of the 2010/11 season, it ended a 57-year wait for domestic success. The 'War Machine' lifted two titles and five Coupe de France trophies between 1945 and 1955, and were considered the PSG of their time. On the back of that glorious history, it seems strange to label Eden Hazard as Lille's greatest-ever player, but the Belgian wizard is held in as high regard as those heroes from the 1940s and 50s. After five seasons, 194 games, 50 goals and a league and cup Double, Hazard wrote himself into Lille folklore – but when he left for Chelsea there was a huge void that proved difficult to fill.
Dimitri Payet tried, and even with 12 goals and 12 assists before his move to Marseille, it wasn't quite the same. Florian Thauvin had all the traits that should have seen him fill Hazard's boots, but he also left for Marseille without ever playing a single game. Then, in January 2015, a relatively unknown playmaker arrived from Angers in Ligue 2. Impressively, just two years after signing his first professional contract, 21-year-old Sofiane Boufal has taken the pressure on his young shoulders that suggests he can become the true heir to Hazard's northern throne.
Why you need to know him
Before he joined Lille from Angers in January, Boufal was actively scouted by both Leicester and Newcastle. His move to the top division came after just 44 games and now, with only 20 matches under his belt at Lille, the vultures are beginning to circle once again.
Tottenham were linked with a summer move but Lille have managed to hold onto their strongest creative element, who they can now set about building a team around after the sizeable departures of Adama Traore (Monaco), Idrissa Gueye (Aston Villa) and Simon Kjaer (Fenerbahce).
It's a tribute to just how far Boufal has come that England's top clubs are already taking an interest before he has even finished a full season in Ligue 1. The Paris-born Morocco international is instantly eye-catching, dazzling with his trickery, and in an age where Manchester United can pay huge money for Anthony Martial then anything is possible if Lille's creative spark can remain on the same trajectory.
Strengths
You can see what type of player Boufal is as soon as he receives the ball. With lightning quick feet and the ability to dribble through incredibly tight spaces, he is dangerous anywhere in the final third and sometimes looks as if he sees movement and opportunities in slow motion. Lille fans were rightfully depressed when they lost 6-1 to PSG at the Parc des Princes last season, but Boufal was their beacon of light. Marco Verratti (three times), Blaise Matuidi and Marquinhos tried but failed to stop the youngster's mesmerising run below – and only Salvatore Sirigu's outstretched leg stopped him making a bigger impact on his homecoming.
Weaknesses
Delightful to watch on the ball, Boufal's greatest strength is also his biggest downfall. As he is still learning his craft, especially since making his move up to Ligue 1, the 21-year-old still has a tendency to overplay situations and hold onto the ball a moment longer than fans, his team-mates and coaches would like.
There are resemblances to the style of Cristiano Ronaldo when he first arrived at Old Trafford. Following in the footsteps of Hazard and citing Ronaldinho as one of his idols, there is hope that he transforms his game into the more direct style that brought them great success. Leicester's Riyad Mahrez wouldn't be the worst example for him to follow, having been plucked from Ligue 2's Le Havre in January 2014 and matured since.
When it works, the future Morocco international's play can be breathtaking – in his 14 games last season he racked up five assists, but they came in just three separate matches. You don't want him to dilute his style, but in just his fourth professional season he is both exhilarating and frustrating in equal measure.
They said…
Rio Mavuba is one of the few players left who was around when Lille were last crowned as French champions. If anyone is in a position to judge Boufal, it's Lille's long-serving captain. "He reminds me of Eden when he was playing here," said the 31-year-old. "It is striking, he likes the ball, even if he plays too much sometimes. But he is young, you have to let him grow."
Did you know?
Two years before signing his first professional contract as a 19-year-old, Boufal was far from a blessed protégé – he measured just 4ft 9in tall. "I had a lot of growing pains. It delayed my evolution," he said. "This is fate because I could not do anything against that. Fortunately, I've grown since." He thanks the Angers medical staff for helping him get over those troubles.
What happens next?
Despite signing both Lenny Nangis from Caen and Yassine Benzia from Lyon on transfer deadline day, Lille are thankful that Boufal is still their player until January at least. The player has spoken about having a plan and wanting to play a full season at the Stade Pierre Mauroy, but money talks and that may not be the case.
TALENTSPOTTER RATINGS
Shooting 7
Heading 4
Tackling 3
Pace 8
Dribbling 8
Creativity 8
Work-rate 7
Interest from Spurs is real, with the club having identified him as a possible transfer target, although they may want to see how he performs in Ligue 1 this campaign before sanctioning a move.
Lille have entered a new era, concentrating on youth development with the goal to sell on players for a profit. Boufal cost €4 million on a four-and-a-half-year deal, and with obvious room for improvement, the potential is huge.
As Boufal continues to blossom and learns how to develop his skill and gracefulness on the ball into achieving more of a killer instinct, the vultures will increase in their numbers. It will then only be a matter of time before someone swoops for the playmaker.
Get the inside track on football's hottest prospects on FFT.com
Thank you for reading 5 articles this month* Join now for unlimited access
Enjoy your first month for just £1 / $1 / €1
*Read 5 free articles per month without a subscription
Join now for unlimited access
Try first month for just £1 / $1 / €1
Get FourFourTwo Newsletter
The best features, fun and footballing quizzes, straight to your inbox every week.