Wait, what? 9 times clubs made bizarre managerial appointments
Joey Barton has been announced as the new Fleetwood manager, taking charge of the League One side in June - but it isn't even close to the strangest managerial appointment in football history. Amit Katwala explains it all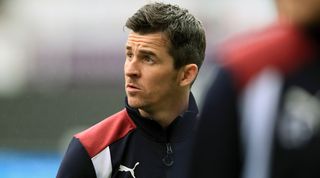 1. Gary Neville to Valencia
At first, this was a head-scratcher. But when subjected to the kind of forensic analysis Neville brought to Monday Night Football, you could see the pieces falling into place (and without the need for an oversized touchscreen).
Neville's playing career had ended in 2011, and he'd forged a reputation as one of the game's sharpest pundits, while simultaneously working alongside Roy Hodgson in the England set-up. He'd never had a job at club level, but was part-owner of Salford City alongside several members of Manchester United's class of '92 and billionaire Peter Lim.
Then, in July 2015, Gary's brother Phil joined Valencia as a coach under Nuno, before becoming assistant manager when the Portuguese resigned in November. Instead of promoting Phil to the top job, Lim took the bold step of handing his untested and untried sibling Gary a five-month contract. It didn't go well.
When Neville took over, Valencia were in ninth place - five points off the Champions League places. When he was sacked four months later - after three wins in 16 league games - they were 14th, only six points clear of relegation.
The language barrier was an issue, while others pointed to a lack of tactical clarity. There were moments of bad luck too - disallowed goals and clearances off the line. In the end, Neville lost the support of the fans and had to go.
2. Dave Hockaday to Leeds
The man that chairman Massimo Cellino plucked from obscurity to be manager of Leeds might reflect on his time at Elland Road and conclude that at least he lasted longer than Brian Clough. Hockaday was well respected as a youth coach, but he'd failed to impress in a four-year spell at Conference side Forest Green Rovers: they'd finished in the relegation places in his first season and 10th in the next two despite a healthy budget, before he was then sacked in October 2013 after seven defeats in eight games.
So what did Leeds see in him? Well, his reported salary was reportedly in the region of £90,000 a year, compared to the £750,000 they paid predecessor Brian McDermott. So that might be one clue. Perhaps Cellino felt he could exert more control over a relative unknown, especially with Leeds' director of football system, and that's certainly how it turned out - the owner reportedly told the manager to "shut the f**k up" after a disagreement before the season had even started.
Hockaday's reign lasted 70 days - he was sacked after four defeats in six games. At any other club it would be a story that's still talked about, but it was merely a blip in the ongoing chaos of the Leeds saga. Hockaday's eventual replacement, Darko Milanic, lasted just 32 days.
3. Kevin Cullis to Swansea
There are shades of Ali Dia in the seven-day managerial reign of Cullis, who took over at Swansea in 1996, lost two games and then vanished never to be seen again. Cullis had been a part-time youth coach at Cradley Town in the West Midlands League, before being handed control at Vetch Field by Michael Thompson, who was in the process of buying the club.
The newspapers splashed their back pages with the words 'Kevin Who?', while football fans - always imaginative - adapted the lyrics of Smokie hit Living Next Door to Alice.
Behind the scenes, there was chaos. Cullis didn't seem to know the names of the players, or what positions they played in. The squad were on the verge of mutiny, and the Swans - then struggling near the foot of the third tier - lost 1-0 to Swindon and 4-0 to Blackpool. In the dressing room at the Blackpool game, Cullis had told six players they were transfer listed, before adding: "You could put Terry Venables in here and the way we're playing we'd still go down."
By the next day, Thompson had pulled out of the deal. Original chairman Doug Sharpe resumed control of the club, and immediately dispensed with Cullis - although the manager himself claimed he found out by listening to Swansea's ClubCall telephone news service. Sharpe brought in Jan Molby as player-manager - the Swans' fifth manager of the season, but they were relegated to Division Three.
Cullis never managed again.
4. Tony Adams to Granada
With a managerial record as chequered as one of his elaborately tailored suits, Tony Adams seemed an extremely odd choice to take the reins at struggling Primeira Liga side Granada in April 2017. The fact that Adams was already employed at the club, as the vice-president of the company owned by Granada's president, helped explain the short-term appointment - to an extent.
Adams vowed to "kick some players' arse" in his first press conference, then showed he meant business by throwing some outstanding shapes on the training pitch.
Sadly even this combination of backside booting and jazz hands wasn't enough to inspire Granada, as they failed to earn a single point from Adams' first four games in charge, confirming the club's relegation. Yet the Arsenal man was full of praise for his players, claiming: "If the team played like this at the beginning of the season, there's no way we'd be in this situation."
Granada went on to lose their final three games, bringing their record under Adams to seven losses from seven matches and proving him entirely right: if they'd kept up a run of results like that from the start of the season, they'd have been relegated long before April. If only the club had signed Nigel Reo-Coker and Kieran Richardson, as he'd wanted. It could all have been so different.
5. Claude Anelka to Raith Rovers
Scottish First Division side Raith Rovers accepted an indecent proposal from Nicolas Anelka's older brother in 2004, and paid the price. Claude - who had mainly worked as DJ, and at times as his brother's agent - offered a £300k investment to any club who would let him be their manager. Cash-strapped Raith took the bait, and Anelka worked quickly - bringing a number of signings from the evening seven-a-side leagues in Paris.
He cited his managerial influences in an interview on the eve of his first game in charge: Johan Cruyff, Arsene Wenger and Patrice Gouty - his friend and former manager of the London nightclub China White.
Anelka wanted to challenge the Old Firm, but ended up glued to the foot of the table. He was forced to quit as manager after one draw and nine defeats from their first 10 league games. He stayed on as director of football for another month, but Raith were relegated at the end of the season with just 16 points.
"Right at the start I knew things were going wrong," said Anelka, afterwards. "I quickly realised that there was more to the game in Scotland than I thought and I also knew my knowledge of the game was not enough to fulfil my over-optimistic plans." Well, quite.
6. Edgar Davids to Barnet
The Dutch midfielder had been living in north London after initially ending his playing career with spells at Tottenham and Crystal Palace. Two years later, he signed for Barnet as a player-coach, having spent the intervening period playing 'street soccer' (whatever that is) and managing Sunday League team Brixton United, where he won two cups - "although he forgot what they were called," according to Sky Sports.
Initially, he worked alongside Mark Robson, but assumed sole control of the team in December. The Bees were already five points adrift at the foot of League Two when he joined, and Davids' uniquely apathetic management style couldn't save them.
This writer interviewed the ex-Juventus man during his ill-fated spell at The Hive, and he genuinely answered a question about why he'd taken the job with the words: "Because it's near my house." Although in fairness, Harry Redknapp has been doing the same thing for 40 years, so maybe we shouldn't judge Davids too harshly.
Barnet were relegated to the Conference and, to much surprise, Davids was retained as manager for the following season. In July, he announced his plans to wear the No.1 shirt in games - intending to set a trend which thankfully hasn't caught on.
He also reportedly refused to attend away games which required an overnight stay, leaving his assistant in charge. Throughout all this, Davids was still selecting himself - at least when he could. In a run of nine games before his resignation in January, Davids picked up six yellow cards and three reds. Not exactly leading by example.
7. Michael Knighton to Carlisle
Manchester United seemingly dodged a bullet when Michael Knighton's much-publicised £20 million takeover deal fell through in 1989. He went on to purchase Division Three side Carlisle United instead, with the goal of getting them back to the top flight of English football.
It started well, but in 1997/98 - not long after he'd been publicly mocked for claiming to have seen a UFO - Knighton decided to put himself in charge of the team, despite having no managerial experience whatsoever (before getting involved in football, he'd worked as a headteacher).
Knighton stayed in charge for an incredible amount of time - even after relegation back down to Division Three. He kept himself in the dugout for the first four months of the following season, before eventually handing over the reins to the always level-headed Nigel Pearson. It took that famous last-minute goal by goalkeeper Jimmy Glass to stop Carlisle slipping out of the Football League.
Read: Michael Knighton contacted FFT to give us his own side of the Manchester United tale
8. Steve Kean to Blackburn
Blackburn manager Sam Allardyce had plenty of reasons to be cheerful when the club were bought by Indian company Venky's in 2010 - investment, stability and lots of free chicken. Things went south quicker than you can down a pint of wine, though, and a few months into the season Allardyce was replaced by his relatively unknown assistant Steve Kean.
Kean's playing career had been limited and he had little managerial experience, although the Scot had spent time as Chris Coleman's assistant at Fulham, Real Sociedad and Coventry. Initially, he took over as caretaker manager in December 2010, but in January 2011 he was offered a two-year contract - a controversial deal, as Kean's agent had played a role in advising Venky's on the takeover. He signed another new deal in November 2011, despite a dismal record that made him Blackburn's second-worst manager of all time in terms of win percentage (still ahead of Paul Ince, though).
Blackburn finished 15th in that first season, but were relegated the following year after 11 years in the top flight. Kean left the club in 2012 and went on to steer Brunei DPMM to glory in the Singapore League Cup.
9. Avram Grant to Chelsea
Not many on these shores had heard of Avram Grant, who replaced Jose Mourinho at Chelsea looking like he'd literally been unearthed from somewhere. Lifeless pallor of a corpse aside, Grant's spell at Stamford Bridge actually went pretty well. Unlike many on this list, he actually had some managerial experience - although exclusively with Israeli clubs and the national team - and had been working as a director of football in west London until Mourinho's departure.
He was also a close personal friend of Roman Abramovich, but the players weren't particularly happy with him. Some criticised Grant's coaching methods as being "25 years behind the times".
Still, he steered the Blues to second place in the league, and to both the League Cup and the Champions League final Grant, indeed, was only a John Terry slip away from becoming the man to lead Chelsea to European club football's top prize.
In the end that honour went to Roberto Di Matteo, which just goes to show that you never can tell how a managerial appointment is going to work out. Unless the owner puts himself in charge, that is.
Quizzes, features and footballing fun
Get the best features, fun and footballing frolics straight to your inbox every week.
Thank you for signing up to Four Four Two. You will receive a verification email shortly.
There was a problem. Please refresh the page and try again.