'Which manager would make the best politician? Arsene Wenger': Keir Starmer on five-a-side, Gary Neville – and whether he'd rather be PM or Arsenal win the league
Labour leader Keir Starmer tells FourFourTwo about getting starstruck with Arsenal legends, and why Thierry Henry was like a hovercraft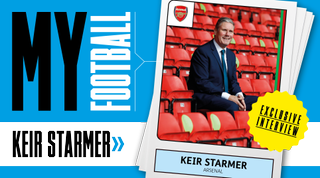 (Image credit: Getty Images / Future)
Keir Starmer is the former director of public prosecutions turned Labour leader and, he hopes, will have a new job in the next couple of years to add to the CV.
But one constant through his life has been football. As well as being a longtime Arsenal season ticket holder – he represents the nearby constituency of Holborn and St Pancras – he's been part of the same weekly five-a-side game for decades.
FourFourTwo caught up with the prime ministerial hopeful to chat Gary Neville, winning titles and, er, quite a lot about Spurs...
What was the first game that you ever attended?
My first ever game was in fact a Spurs game! I played for Boulthurst Athletic Under-11s, a local team to Hurst Green in Surrey where I grew up. Phil Beal was the local boy who played for Spurs at the time – for some reason, he adopted our club and would occasionally come along. Then one day, he got all of us in for a Tottenham evening game. It was brilliant, but quite funny for me – I was already an Arsenal fan.
What was your finest moment as a footballer?
I played for Homerton Academicals as an adult in a pan-London league. Every year we'd valiantly challenge for the cup, but not get far. One year, I think it was 1995, we had a breakthrough and finally won the title, which was a huge achievement for us. I remember us all going down to the stadium together just south of the river, and I've still got a few photographs. That was real glory, it felt like the greatest moment: when Accies won the cup.
What's your matchday routine at the Emirates Stadium?
There's a group of seven or eight of us who meet in the pub, have a drink and some pre-match banter. One of them I went to school with, one was a centre-forward in a team I played for, then there's either my son or my daughter and a few pals from work – it's a lovely mix of people. We walk to the ground together. I'm in the upper tier at the Emirates with one of my children, then everyone meets back at the pub afterwards for the debrief.
Who was your childhood hero and did you ever meet them?
Alan Ball, as someone born in 1962, then playing football a lot from 11 to 18. But I never got to meet him.
I've met Ian Wright a couple of times – he was in parliament recently. I'm not sure what he was doing there… I've met Michael Thomas, too – I wasn't at the game at Anfield in 1989, but I saw it live on television and he's a big hero. We met at parliament, as he's doing some work on footballers with money problems – he said he was excited to meet the leader of the Labour party, and I couldn't believe I was meeting him!
Paul Merson was also here with our MP Carolyn Harris, as part of her campaign on gambling addiction, and he said he wanted a selfie with me. I said, "No, no, I've been watching you from the stands all this time – I'd like a selfie with you!"
How much has football changed for you since you were a child?
Massively, although I wouldn't say since I was a child – living in Hurst Green, I didn't go to many games until I was older. But going to Arsenal pre-Premier League, football was really in the doldrums, it wasn't glamorous. If anything, it was frowned upon to go to the football. Today, everyone says, "I go to the football, I love football". Find me someone who doesn't love it. The Premier League is the best league in the world and everyone's into it now. It's transformed.
What's your favourite goal that you have seen live?
Live, it's got to be Thierry Henry against Manchester United – when he flicked the ball up and volleyed it into the top corner. My favourite of all time, which I saw live on TV, is Dennis Bergkamp at Newcastle – that amazing turn to flick the ball one way around Nikos Dabizas, while he went the other, then sliding it into the net. I love Bergkamp, as every Arsenal fan does.
Which players from the past would you bring back to star in the current Arsenal side?
Oh, Henry. He had this way of almost going up when he got to the ball, it was like a hovercraft. It was incredible to see. But Bergkamp's always there in the back of my mind. He'd be superb in the current Arsenal team.
Who's your favourite player who never played for Arsenal?
Paul Gascoigne. I know, Spurs again – your readers are going to start thinking, 'This bloke's got a Tottenham obsession…' [Laughs] Gazza was such a wonderful footballer and inspiration on the pitch. I watched him a number of times for England – it was thrilling to see his determination. He's one of the most talented players I've seen. I've always had a soft spot for him.
What's your top football book?
Fever Pitch (opens in new tab) is a brilliant read – for Arsenal especially, but for every fan football fan. Nick Hornby captures all of the routines. It's been a long time since I read it, but I think he used to walk over the same zebra crossing, dropped a crisp packet or something on the way to a game, and we won, so he repeated it for every game. It's a terrific book, about football and relationships.
Where's the best place you've ever watched a game?
Wembley during Euro 96 – I managed to get tickets for those amazing games. The quarter-final and semi-final with England were something really special.
Who would be your five-a-side team of politicians?
We believe [ex-Labour prime minister] Clement Attlee played for Fleet Town, so I've got to have Attlee in. I'm going to cheat and have Gary Neville [above] as he's a Labour party activist now. I'm putting myself in, plus I'll have Alison McGovern and Kim Leadbeater, they're useful. I reckon that's a decent mixed line-up, even if Attlee's getting on a bit.
Which player or manager would be a good politician?
I'd say Arsene Wenger. Politics is about change, and how you can bring about change. He was the 'change' manager. He changed Arsenal and he changed football, too. He brought in techniques and approach which transformed that Gunners team into one of the greatest club teams ever, but he also changed the nature of the game, probably more than any other manager.
Given the choice, would you rather Arsenal win the Premier League or Labour win the next general election?
[Very long pause] Am I allowed to say both? [FFT: No] Well, my first answer's both! But if I'm pushed to pick only one, I'll have to say Labour to win the next general election.
Thank you for reading 5 articles this month* Join now for unlimited access
Enjoy your first month for just £1 / $1 / €1
*Read 5 free articles per month without a subscription
Join now for unlimited access
Try first month for just £1 / $1 / €1
Get FourFourTwo Newsletter
The best features, fun and footballing quizzes, straight to your inbox every week.
Conor Pope is the Online Editor of FourFourTwo, overseeing all digital content, and joined the team in February 2019. He plays football regularly, both on grass and artificial surfaces, and has a large, discerning and ever-growing collection of football shirts from around the world.
He supports Blackburn Rovers and holds a season ticket with south London non-league side Dulwich Hamlet. His main football passions include Tugay, the San Siro and only using a winter ball when it snows.