A definitive list of the absolute worst popular football phrases on social media
By Tom Hancock published
You're either going to go limbs for this article, or get completely rattled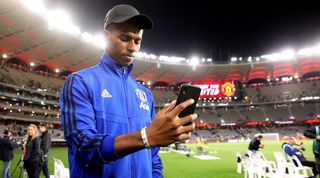 "Pitchy"
An avian Pokémon? The ex-Chelsea goalkeeper whose name sounds like it? No and no. It's not a miniature jug full of god know what that you might get in Spoons, either. It is, of course, slang – admittedly not the most commonly used – for a pitch invasion. You're not likely to hear it until the business end of the season, but it'll pop up here and there then.
"Limbs"
"It's going to be limbs [if we score]" – or something. What you mean is there's going to be the usual delirious celebratory surge. Half of those involved go arse over elbow, tripping over seats and coalescing into a powerful, real-life advert for safe-standing. Is that really what "limbs" should mean? A centipede is limbs; a greyhound is limbs; Peter Crouch playing Twister with a giraffe is limbs.
"You love to see it" (commonly seen in pie chart form)
You love to see it, do you? Do you? Do you really? Some examples of what the people seemingly love to see, based on what comes up when you whack it into the Twitter search box: Celtic fans clashing with Swedish police; Aston Villa's Anwar El Ghazi kissing the badge (never seen that before); Alisson and Virgil van Dijk winning UEFA awards; Alexis Sanchez and Romelu Lukaku leaving Manchester United; Reading's George Pușcaș celebrating a goal. Basically, there are no rules governing its usage.
"Class"
An unfortunate or sad occurence befalls team A, but team B's fans are there to express their sympathy*: class. Attacking player puts the ball into touch when the defending player is down seriously injured: class. Losing manager speaks admiringly of the winning team: class. The thing is, none of that is special or befitting of the kind of honour which "class" seems to bestow; it's just being a decent human being. Save the word for stars on the pitch.
*Remember, if responding to such news, it's imperative that end your Tweet or comment with "from a [team B] fan".
"Bottled it"
Striker misses an open goal from six yards out? Bottled it. Team chucks away a two-goal lead in stoppage time, having been absolutely on top? Bottled it. Newcastle in 1995/96? Not unfair to say they bottled it. Liverpool fall a point short of the greatest side in Premier League history as they gun it for the title? Have not bottled it. In the right context, it's perfectly apt; in the wrong context, it just sounds extreme and tribal. Lazy. Put a lid on the latter.
RECOMMENDED What the hell is 'bottle' anyway? Behind the footballing Twitter troll's favourite word...
"Fraud"
Is there an elite-level manager who hasn't had this jibe levelled at them in recent years? It seems that the higher you are in the game, the more scathingly your perceived shortcomings are called out. Could it be that individuals who don't live up to expectations have simply failed to deliver? No, they have to be purposefully, nefariously deceiving people. Even worse if you're follicly challenged (see Guardiola, P: 'bald fraud').
"Inject it into my veins"
It's not enough to enjoy things or experience schadenfreude traditionally these days; they have to administered like morphine (or something stronger). What are the footballing public injecting into their veins these days? After consulting Twitter, here are some fixes: Chelsea and Manchester United dropping points; Swansea City in general; Jordan Henderson lifting the Super Cup (that one was injected "directly" into the veins, apparently); fan vox pop meltdowns; Pepe's assist for Alexandre Lacazette ("straight" into the veins). Who knows, maybe some of them could prove to be cures for science-confounding illnesses.
"Obsessed"
Obsess (verb): Preoccupy or fill the mind of (someone) continually and to a troubling extent. There are probably plenty of fans who are, by definition, obsessed with their team's rivals, and certain players and managers they dislike. Produce just one, isolated outburst, though, and you're in danger of having an OBSESSED sticker slapped on your back. How dare any outsiders criticise your precious club with foundation.
"Tekkers"
Not the worst of the lot, admittedly. It's been around for yonks, popularised by that classic 'Unbelievable Tekkers' segment on Soccer AM. We all do it, but it does seem rather odd to give words 'pet' names – especially when you're not even shortening the original. Then again, it sounds a bit formal fervently shouting "TECHNIQUE!" in approval.
"Rattled"
Usually concerns reactions to the most trivial things. Pundits making fools of themselves when they don't understand a player's reason for moving or a promoted side's tactics, managers losing it à la Kevin Keegan, and fans of bigger clubs showing their superiority complex when losing to 'lesser' opposition (particularly common in League One) – these could all be justifiably considered rattled.
However, it loses its amusing quality when aimed at people taking quite reasonable offence to some of the toxic 'banter' of football Twitter. See also: "in meltdown".
Got any of your own to add to this list? Tell us with a description @FourFourTwo (opens in new tab) on Twitter and we'll add them in like this...
While you're here, why not take advantage of our brilliant subscribers' offer? Get 5 issues of the world's greatest football magazine for £5 (opens in new tab) – the game's greatest stories and finest journalism direct to your door for less than a pint in London. Cheers!
NOW READ…
SOCIAL MEDIA PROBLEMS Notts County's former owner Alan Hardy explains miserable fall: "I got seduced by the industry and chased success"
QUIZ Can you name every Premier League Player of the Month winner since August 2014?
GUIDE Premier League live stream 2019/20: how to watch every game from anywhere in the world
Thank you for reading 5 articles this month* Join now for unlimited access
Enjoy your first month for just £1 / $1 / €1
*Read 5 free articles per month without a subscription
Join now for unlimited access
Try first month for just £1 / $1 / €1
Tom Hancock started freelancing for FourFourTwo in April 2019 and has also written for The Analyst and When Saturday Comes, among others. He supports Wycombe Wanderers and can also occasionally be found watching Wealdstone. A self-confessed statto, he has been known to watch football with a spreadsheet (or several) open...
Quizzes, features and footballing fun
Get the best features, fun and footballing frolics straight to your inbox every week.
Thank you for signing up to Four Four Two. You will receive a verification email shortly.
There was a problem. Please refresh the page and try again.