What the hell is 'bottle' anyway? Behind the footballing Twitter troll's favourite word...
Do they have the bottle for it – or will the bottlers do a bottle job? How this weird word became a defining attribute in the beautiful game...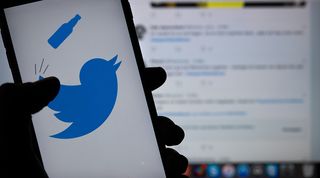 Tim Flowers' face shimmered with sweat. "Don't talk to me about bottle," he said, eyes widening. "Don't talk to me about bottling it, because that's bottle out there, that's quality players giving their all."
The goalkeeper gestured in the direction of the pitch, where a raucous Ewood Park was in full voice following Blackburn Rovers' victory over Newcastle United in the penultimate game of the 1994/95 Premier League season.
"We're going to fight to the death, cos we've got bottle," he reiterated with conviction, as he scratched his head. "All we can say is we'll give exactly what we gave today, exactly what we've given all season, and that's 100 per cent bottle."
The England goalkeeper was letting Sir Alex Ferguson know that his seed of doubt had failed to blossom. Manchester United's master of mind games had tried to unsettle the Blackburn players by questioning their mentality during a post-match press conference the night before.
Six days after defeating the Magpies, Rovers went on to lift the Premier League trophy by a single point.
In this context, bottle is defined as nerve – the mental strength to embrace the intense pressure of a title race and emerge victorious.
Here it is! Here's Tim Flowers defining the word "bottle" so definitively that it will never have to be defined by anyone ever again pic.twitter.com/096cF2PETw— Adam Hurrey (@FootballCliches) May 5, 2017
Battle of the bottle
Now, 24 years later, as another season reaches its climax, the B-word is once again at the heart of conversation. We're weeks away from crowning new champions and scrutinising vanquished contenders. This is when the best players and managers hold their nerve. This is when they show their bottle. The pitfalls of pressure await.
What causes elite players to wither in the spotlight? And what, when you boil it down, does 'bottle' really mean?
FFT scooped up the ball, took a deep breath, puffed out our cheeks and set off to find the answers...
What the hell does it mean?
Search for the definition of 'bottle' and Google will tell you that the noun has two meanings. Primarily it's a "container with a narrow neck, used for storing drinks or other liquids", also known as one of those things you drink out of. And then there's the version contrived by cockney rhyming slang; the one this feature is analysing, which means "the courage or confidence needed to do something difficult or dangerous".
According to the East End's slang word construction, "bottle" means "arse", from the phrase, "bottle and glass". Originally, you would "lose your bottle" – i.e. be so scared you shat yourself. This was then shortened to "bottle it".
The phrase gets a lot of airtime during the business end of the season, as observers try to explain why one team performs under pressure and another folds. It's the most popular notion of the term, but there are a variety of situations where one's bottom can fall out like a rotten ceiling in a dilapidated building.
A debate about bottle could be sparked by any one of these incidents: recovering from rejection; a 50-50 challenge; playing out from the back against the high press; taking a penalty.
The dressing room – a competitive environment bristling with ego and nervous energy - has an interpretation of what's required to face these challenges.
"Managers and players define bottle as character," says performance psychologist, Tom Bates (opens in new tab), who has worked with Birmingham City, West Bromwich Albion and Aston Villa. "Bottle is when you have to step out in front of a packed stadium and breath in the occasion."
Cristiano Ronaldo, like a "living football god" (as described by former Manchester United and England captain, Rio Ferdinand), inhales pressure like he's merely drawing breath – then, like a fire-breathing match-winner, incinerates the opposition with a moment of brilliance.
Take his iconic performance for Portugal against Spain at last summer's World Cup, for example. In the 88th minute, the five-time Ballon d'Or winner sent a swerving free-kick screeching into the top corner (opens in new tab) to complete his hat-trick and level the scores at 3-3.
"When the outcome of a competition doesn't really matter it's easy to perform, but when there's something riding on the performance, that's when players distinguish themselves - like Ronaldo does time and again," says Bates.
"Bottle isn't just courage in the moment – it comes from preparing. A player like Ronaldo can be confident in a high-pressure scenario because he's practised that action over and over again, and then when he's confronted with the challenge, he's able to remain emotionally stable."
Courage or skill?
But Ronaldo is a one-off. A glory-hunting cyborg, sent back through time to win trophies and show off his six-pack. He wants to win games on his own.
Then there are players who aren't blessed with the Juventus forward's innate talent; the players who have the courage to put their head above the parapet, but lose their nerve when the moment requires a cool head.
This raises an interesting question: is bottle having the courage to take a crucial penalty, or is it being able to not only step up but also deliver?
"It's both," says Bates. "Making the initial decision to take the penalty is bottle, but seeing it through - that's what defines performance at the highest level."
So what happens to the players and teams that don't see it through? What causes them to have a meltdown and lose all control of their natural gifts?
"They overthink," explains Bates, author of The Future Coach - Creating Tomorrow's Soccer Players Today (opens in new tab). "They become conscious of what they're doing, they start to analyse the minutiae of their actions, recalling previous failures, and that brings on the fear of making a mistake.
"Players start to visualise errors instead of successes, and that leads to bad decisions. What they fear, then becomes reality."
A football phenomenon
RECOMMENDED
How WhatsApp changed football (opens in new tab)
FourFourTwo Podcast, Episode #3: North London love-in (opens in new tab)
This is when they "bottle it": when an otherwise reliable professional footballer contrives to miss, slip or fumble. Consistently collapse and fans and pundits will brandish you a "bottle job" – a tag that's hard to shake.
The inference that a player is mentally fragile and therefore a liability has the power to destroy confidence, wreck reputations and taint careers. It's why more thoughtful journalists and broadcasters are hesitant about levelling this criticism against a player. But for the more impulsive, outspoken commentators, it's a phrase which fits a nice, succinct narrative.
It also seems to exist solely in football's dog-eat-dog battleground, whereas athletes from other sports haven't introduced it into their vernacular. "Bottle doesn't get mentioned as much in other sports," says Bates, who works with the Team GB swimming team.
"Phrases like, 'The team bottled it' are borne out of a desperate lack of understanding of what bottle really is – a multi-faceted psychological concept.
"'Bottle it' rolls off the tongue. It boxes someone in. 'You're a team that bottles it, you're a player who bottles it.' There's no in between."
And slap bang in the middle, as is so often the case, lies the truth. Mental fortitude is one of many factors that influences the outcome of a result along with talent, tactics, fitness, luck, injuries, organisation, team spirit and more.
Back to Blackburn's bottle...
All of which contributed to Blackburn Rovers' title win across a 42-game season in 1995. In truth, Kenny Dalglish's side 'bottled it' on the final day of the season, losing 2-1 to Liverpool at Anfield.
Luckily for them, Manchester United also happened to do the same at Upton Park. Sir Alex Ferguson's men needed to beat West Ham to claim a third successive title. With just minutes to play the score was 1-1, and two clear-cut chances fell to striker Andy Cole.
"That could have been the chance to win Manchester United the title," exclaimed the commentator after the first miss. Moments later he was presented with another opportunity. Ludek Miklosko saved again. United finished second and Rovers won the Premier League.
There's a fine line between success and failure, and isn't always about talent. Cole was hugely talented - one of the greatest goalscorers in Premier League history - but in this moment, when it mattered most, he wasn't able to perform. For want of a better expression, he bottled it.
When two teams have performed consistently across the course of a season and they're evenly matched in almost every department, the final result can often be decided in a single key moment - a moment that requires emotional stability, mental strength and courage. All of which make up the definition of bottle.
As Roy McAvoy, Kevin Costner's washed-up former golf prodigy in the 1996 film Tin Cup, says: "When a defining moment comes along, you define the moment or the moment defines you."
While you're here, why not take advantage of our brilliant new subscribers' offer? Get 5 copies of the world's greatest football magazine for just £5 (opens in new tab) – the game's greatest stories and finest journalism direct to your door for less than the cost of a London pint. Cheers!
NOW READ…
INTERVIEW Virgil van Dijk exclusive: "I'm not going to lie, I was pretty scared – I could have died" (opens in new tab)
QUIZ Can you name every PFA Player and Young Player of the Year winner since 1992/93? (opens in new tab)
More features you'll love on FourFourTwo.com (opens in new tab)
Thank you for reading 5 articles this month* Join now for unlimited access
Enjoy your first month for just £1 / $1 / €1
*Read 5 free articles per month without a subscription
Join now for unlimited access
Try first month for just £1 / $1 / €1
Get FourFourTwo Newsletter
The best features, fun and footballing quizzes, straight to your inbox every week.