Year Zero: The making of David Beckham (Manchester United, 1996/1997)
From a swing of the boot at Selhurst Park to becoming one of the most famous footballers in history. Amit Katwala revisits the season that Beckham took off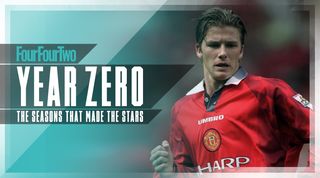 It could have been Jordi Cruyff.
Just before the goal that catapulted David Beckham into global stardom, the Dutchman - who was making his Manchester United debut - had his own shot at the spectacular. On 80 minutes and with United holding a comfortable 2-0 lead against Wimbledon on the opening day of the 1996/97 Premier League season, Cruyff spotted goalkeeper Neil Sullivan - who was really pushing his luck that day - off his line.
With the keeper stranded, Cruyff's effort drifted off target. Beckham's, 10 minutes later, did not.
So much has been written about that moment, but there are two images that stand out. The first shows David Beckham, promising talent and member of Sir Alex Ferguson's Class of 92 - looking down at the ball with his right foot pulled back ready to strike. He's wearing adidas Predator boots with 'Charlie' embroidered on the tongue. They were a prototype model that had been made for Rangers midfielder Charlie Miller. It was probably the last time Beckham had to borrow a piece of kit.
"I couldn't have known it then, but that moment was the start of it all: the attention, the press coverage, the fame," he writes in My Side, his autobiography. "When my foot struck that ball, it kicked open the door to the rest of my life."
The second image, taken moments later - after the ball had sailed 57 yards through the August sun to hit the back of Sullivan's net without bouncing - shows Beckham about to be mobbed by his teammates. He's wearing a wide, smug, grin - it's the look of someone who believes they can do anything, and has just been proven right. This is David Beckham the icon.
Beginning of a legend
Yet to fixate on that moment is perhaps doing Beckham an injustice. Undoubtedly, it helped build his appeal as a global star. Alex Ferguson said that Beckham was the only player he ever managed who actively set out to gain the trappings of fame, although when this writer spoke to Beckham in 2013 - a surreal experience, like doing an interview inside a fragrance advert - he denied that was the case.
"I never wanted to be a star," he insisted. "I never wanted to be famous. I just wanted to be a footballer. I wanted to be a professional footballer and I wanted to play for Manchester United and play for England. Obviously, though, I have been very privileged – and I am very proud of everything that has come with that."
Ferguson - perhaps with an inkling of what was to come - banned Beckham from talking to Match of the Day after the game. The goal, which lost out on goal of the season to Trevor Sinclair's stunning overhead kick (opens in new tab) - might have put Beckham on posters and on the front of magazines, but it's only a small part of his footballing journey.
As a youth player, and a member of United's famous class of '92 Beckham stood out as one of the few who didn't come from Manchester. In the 2013 documentary about the team, his teammates remember the nicknames they had for him when they were apprentices at Old Trafford. "Alright treacle?" grins Ryan Giggs, while Gary Neville chips in with 'Flash Cockney' and 'Pretty Boy', although you suspect that's what he thinks about most people.
The one thing that everyone agrees on about a young David Beckham was his work ethic. Like Cristiano Ronaldo, he transformed himself from a promising starlet into one of the best players in the world through sheer force of will. "David Beckham is Britain's finest striker of a football not because of God-given talent, but because he practises with a relentless application that the vast majority of less gifted players wouldn't contemplate," writes Ferguson in autobiography Managing my Life.
That work started to pay off towards the end of the 1995/96 season, when Beckham established himself in the United first team. There was a stroke of good fortune to his emergence, too, though. As Rob Smyth points out in The Guardian, the departure of Andrei Kanchelskis to Everton, and Keith Gillespie to Newcastle - in a swap deal for Andy Cole that Ferguson only allowed because of the soon to be abolished cap on foreign players - opened up a space for Beckham on the right-hand side.
Up until that point he'd been used mostly as a central midfielder. It was a role he'd return to later in his career, but the contrast between the two Beckham's couldn't be more different. His United appearances that season have a slightly breathless tilt to them - with Beckham surging on to loose balls with surprising pace.
There were already signs of the kind of finishing with which we were all about to become very familiar - particularly in an instant turn and finish in a crowded area against Blackburn. He played a key role in the run-in, playing the final six games, as United reeled in Newcastle to claim the Premier League and won the FA Cup.
There was still plenty to prove going into the following campaign, though. Beckham had enjoyed a summer off as England laboured to glorious failure at Euro 96, but Alex Ferguson had been busy snapping up players from the tournament. Beckham had competition from Cruyff, Ole Gunnar Solskjaer and, in particular, the Czech winger Karel Poborsky.
Yet Ferguson started with the same side that had beaten Liverpool in the FA Cup final the previous season for the Community Shield against Newcastle, and Beckham seemed keen to make his mark on the new season straight away. He set up the opening two goals of a 4-0 win - uncharacteristically winning the ball in midfield before playing in Cantona for the first, and whipping in a trademark cross for Nicky Butt to head in for the second. But it was the third goal that demonstrated the youngster's growing confidence.
Beckham played a quick give-and-go in midfield before darting forward into acres of space. With the keeper off his line he played a perfect lob on the half-volley - just a warm up for what he would do the following week.
"I'm nowhere near this"
So the goal against Wimbledon didn't come from nothing. Well, except maybe from Neil Sullivan's perspective (when asked about it in a recent radio interview, he remembers thinking, "I'm nowhere near this"). It did, however, imbue Beckham with a further level of confidence to take into what would be one of his best seasons in a United shirt. He'd also been given the Mark Hughes' number 10 shirt for the season after wearing 24 the previous year.
That was an omen for a season that would lay the foundations for everything that was to come. You could see it in the goals - there were outrageous ones, like the swerving drive into the top corner against derby, or a deft chip against West Ham with almost no back-lift. There were important ones - like the winner in a 1-0 victory over Liverpool early in the season. There was even an early free-kick, against Southampton in a 6-3 defeat.
It wasn't just the start of Beckham-mania for United fans either. The 1996/97 season also marked a first international call-up for one of England's most iconic players. He's been something of a late developer for his country, with four caps at U18 level in the 1992/93 season and just nine at U21 level. But new England manager Glenn Hoddle was an admirer. "There are enough around in football who see no further than the nearest ball," Hoddle said. "If you see the furthest, most penetrative one first, then your options are so much more creative. Beckham has got that ability. He selects his passes in a mature way, way beyond his years. And he has also got an eye for goal, which is a bonus."
Beckham found out the news of his call-up while browsing Teletext, presumably while getting in a couple of rounds of Bamboozle, at his parents house in Chingford. He made his England debut in central midfield, away in Moldova and impressed Hoddle enough to keep his place for the next game. As with United, it took a while for his international career to reach its peak, and it would be a bumpy road.
He finished the formative season with 12 goals in all competition. After his final effort of the season, a close range volley against Chelsea, crashed in off the bar, he was introduced to Victoria Adams for the first time. The woman who sports writer Brian Glanville referred to as 'relatively posh Spice' had been at the game, but had missed seeing the goal clearly because she'd wasn't wearing her contact lenses - probably quite a similar experience to watching it on a grainy YouTube video now.
United ended the year with another Premier League title, and Beckham with the individual accolade of the PFA Young Player of the Year award. It's tempting to look at the goal against Wimbledon as the moment that made it all happen - Ground Zero for Becks rather than Year Zero - but in the season that followed, Beckham would sign a new Man Utd contract and lucrative endorsement deals.
He scored early prototypes of the kind of goals that would define him as a player, and started developing into one of the deadliest crossers of a ball in the history of the game. It was also the year that he started making the decisions that would eventually end his time at Manchester United, and lead him on the star-studded trail to Madrid, Los Angeles, Milan and Paris. The 1996/97 season sowed the seeds for the storylines - both good and bad - that would run throughout Beckham's career.
David Beckham started the 1996/97 season as just another promising academy starlet - a 1990s Adnan Januzaj. He would end it as one of the most recognisable names in football. Poor Jordi.
More Year Zero...
Thank you for reading 5 articles this month* Join now for unlimited access
Enjoy your first month for just £1 / $1 / €1
*Read 5 free articles per month without a subscription
Join now for unlimited access
Try first month for just £1 / $1 / €1
Quizzes, features and footballing fun
Get daily World Cup 2022 news, updates and other football frolics to your inbox
Quizzes, features and footballing fun
Get daily World Cup 2022 news, updates and other football frolics to your inbox
Thank you for signing up to Four Four Two. You will receive a verification email shortly.
There was a problem. Please refresh the page and try again.