Act quick: There's a PS5 and FIFA 23 bundle going for Black Friday
Amazon has some PS5 consoles back in stock – and it's available with a copy of FIFA 23. But it won't last long...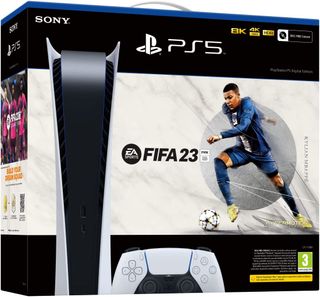 (Image credit: Amazon)
UPDATE: The PS5 physical edition is now back in stock on Amazon for £759 (opens in new tab), having been sold out earlier – this won't last long, so if you want one, get in there quickly...
Amazon has a limited number of PlayStation 5 consoles in stock for Black Friday – and they're available in a bundle with the latest FIFA 23.
While searching about for the best Black Friday football deals – including the best Black Friday FIFA 23 deals – we came across this, which isn't likely to last for long.
In fact, when we first spotted it, there were both PS5 and PS5 digital consoles available in the bundle, but the non-digital version appears to have sold out in the last few minutes. If you have your heart set on that, though, it's worth checking back throughout the day – these things often crop back up, even if only for a short while.
At the time of writing, however, the PS5 digital console is available with FIFA 23 on Amazon. Free delivery would see your new console arrive on either December 1 or 2, but paying for faster delivery would see you have it in your hands by Monday, November 28.
It's worth pointing out that this isn't a money-off Black Friday deal, it's all about availability, so while the digital console bundle will set you back £665, you're unlikely to see any cheaper options anytime soon. The latest PlayStations are still subject to stock availability, so very few retailers will put them on sale: it's a case of selling them as soon as they get them in.
PS5 + FIFA 23 bundles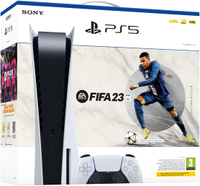 (opens in new tab)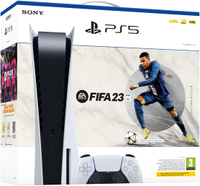 (opens in new tab)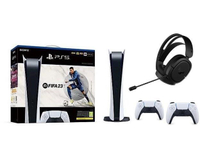 (opens in new tab)
PS5 digital console + FIFA 23 for PS5 bundle (opens in new tab)
Was £584.97 Now £569.99
UPDATE: This now appears to be out of stock
This bundle from Box comes with Asus TUF Gaming H1 Wireless Headset and DualSense controllers – and is significantly cheaper than the Amazon version.
Sadly, their PS5 non-digital console bundle (opens in new tab) is out of stock, but you can request a stock alert.
Best TVs to play FIFA 23 on
Meanwhile, some of the best TVs for watching football are also on sale for Black Friday – and they'd be perfect for playing FIFA 23 on, too.
You can see our full rundown of the best Black Friday TV deals for watching the World Cup, or get a taste of what is on offer here:
Thank you for reading 5 articles this month* Join now for unlimited access
Enjoy your first month for just £1 / $1 / €1
*Read 5 free articles per month without a subscription
Join now for unlimited access
Try first month for just £1 / $1 / €1