Andy Cole: "Man City aren't a better team than our treble-winners"
Former Red Devil Andy Cole says comparisons between City and his Manchester United side show "a lack of respect"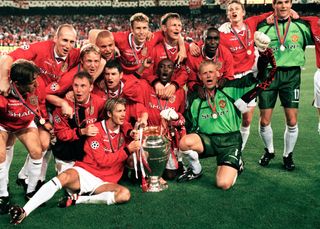 (Image credit: Getty)
With Manchester City on the verge of completing their own historic Premier League, FA Cup and Champions League treble, football fans are starting to debate whether this might be the greatest side in English football history.
Yet one member of Manchester United's 1999 treble-winning side has rubbished comparisons between his team and the nation's current dominant side.
"Already calling Manchester City the best team in Premier League history is a total lack of respect to Manchester United, especially from people who weren't in that position too," Cole has told BoyleSports about Champions League final odds. "You can tell there is a lot of hatred towards Manchester United because of their success. Fair play if Manchester City win the treble but that doesn't make them a better team than we were."
Cole also claims he wouldn't have swapped any of his own team-mates for Pep Guardiola's City squad. "I would not change a single player out of my [treble-winning] team for any of these current Manchester City players," he says. "Otherwise, that's me being disrespectful to my team-mates, and at the end of the day, we're still the only team to have won the treble so far.
"Manchester City spent a lot of money to get to this position, Manchester United had six homegrown players, that tells you everything. Ronny Johnsen was a fantastic player and he gets disrespected too. If he was such a bad player, why was he playing for Manchester United in one of the best central defending partnerships with Jaap Stam?
"People say Ruben Dias, well he wasn't playing for Manchester United at that time and he hasn't won the treble."
Thank you for reading 5 articles this month* Join now for unlimited access
Enjoy your first month for just £1 / $1 / €1
*Read 5 free articles per month without a subscription
Join now for unlimited access
Try first month for just £1 / $1 / €1