Barcelona's Camp Nou farewell 'will be emotional' ahead of Montjuic move - Xavi
The Spanish champions will play their final game at the famous old stadium on Sunday as renovations begin in earnest this summer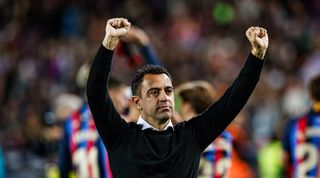 (Image credit: Getty Images)
Barcelona coach Xavi says Sunday's farewell to Camp Nou will be emotional as he anticipates a tough season at Montjuic in 2023-24.
The Spanish champions face Mallorca in the penaultimate round of LaLiga on Sunday in what will be their final fixture at the old stadium before renovations begin to remodel the 99,000-seater stadium in the summer.
"Sunday will be an emotional and sad day because we are saying goodbye to what has been our home for many years," Xavi said on Saturday.
"Camp Nou feels like my home. But it is for a good cause, to have an even better stadium where the fans will feel even better. It's for a common good."
While works progress at Camp Nou, Barça will move across town to the old Olympic Stadium at Montjuic, which was previoiusly home to their city rivals Espanyol.
Montjuic was unpopular with Espanyol fans due to its running track, more difficult access and limited eating establisments nearby.
"My feeling is it won't be easy in Montjuic," Xavi said. "We have to move to a new ground and we will need the fans with us. That atmosphere that has been generated since I have been in charge, we will need that at Montjuic.
"The fans need to know that we are going to need them a lot there."
Sunday's game will also be a last home match for club legends Sergio Busquets and Jordi Alba, who are leaving this summer.
"It has not been easy to find motivation after winning the title, but we have it on Sunday because we want to say goodbye to Camp Nou in the best possible way," Xavi said.
"We want to honour so many years of history, emotion, passion and incredible matches. And it's also a chance to say farewell to Busquets and Alba. That is all extra motivation for the game."
Thank you for reading 5 articles this month* Join now for unlimited access
Enjoy your first month for just £1 / $1 / €1
*Read 5 free articles per month without a subscription
Join now for unlimited access
Try first month for just £1 / $1 / €1