Chelsea 'need FOUR more signings', despite spending £1bn: and here's where
Chelsea have been extremely active in the transfer window in recent times, but one prominent pundit isn't convinced the squad is strong enough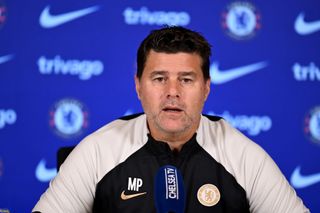 (Image credit: Getty Images)
Chelsea have been told they still need four more new signings if they are to challenge Manchester City for the Premier League title in the future, with Sky Sports pundit Jamie Carragher highlighting problem positions in the squad.
Since Toddy Boehly and Co. acquired Chelsea in May 2022, they have spent over £1bn on new players in just three transfer windows. Players such as Mosies Caicedo, Enzo Fernandez and Mykhalo Mudryk have all been added to the squad for significant fees.
Speaking on Monday Night Football, after Chelsea had beaten Fulham 2-0 away from home, however, Carragher suggested that despite spending over £1bn on new players in the last three transfer windows, the Blues still aren't any closer to challenging at the sharp end of the table.
"That is a team that is, at best, fighting for the top four," Carragher said. "If you're telling me that is Chelsea's best team after they've spent £1bn... that team would still need at least four top players if they had any chance of catching Manchester City.
"The goalkeeper is not good enough, the centre-forward is not good enough, they need a centre-back and probably another midfield player.
"To think Chelsea have spent over £1bn and they still feel like they're half a team away from competing for the Premier League title is flabbergasting."
While recognising that Mauricio Pochettino has had to contend with a lot of injuries to his players, Carragher also points out that other clubs suffer the same fate and it's not uncommon to be without stars for significant periods of time.
Still, when selecting Chelsea's likely strongest XI alongside Frank Lampard, Carragher points out that the team isn't comparable to the likes of Manchester City. Robert Sanchez is selected in goal, with Nicolas Jackson up front and Thiago Silva alongside Wesley Fofana at centre-back.
More Chelsea stories
Despite Chelsea's struggles so far this term, Mauricio Pochettino is not disappointed with how his side has been performing.
He has, however, urged patience – while curiously likening his players to... lemons.
Meanwhile, the Blues have been linked with a sensational swoop for out-of-favour Arsenal goalkeeper Aaron Ramsdale.
Thank you for reading 5 articles this month* Join now for unlimited access
Enjoy your first month for just £1 / $1 / €1
*Read 5 free articles per month without a subscription
Join now for unlimited access
Try first month for just £1 / $1 / €1