Chelsea manager Mauricio Pochettino: 'I think the team is performing well'
Chelsea boss Mauricio Pochettino says he's not frustrated with his side's displays, despite seeing the Blues' deepening crisis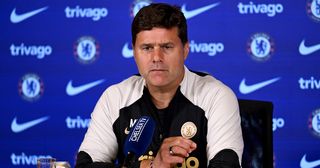 (Image credit: Darren Walsh/Chelsea FC via Getty Images)
Chelsea manager Mauricio Pochettino has insisted that his side are performing well, despite a dismal start to the season.
The Blues were beaten 1-0 at home to Aston Villa at the weekend to continue a miserable run of form which has seen them pick up just one win all season – at home to Luton Town. Chelsea have won just twice since Graham Potter left Stamford Bridge and have scored just five goals all season.
It's the west Londoners' second-worst start to a campaign since 1992 – but Pochettino now says that he is taking comfort from some of the on-pitch displays from his players, despite the results.
"I am not frustrated because I think the team is performing well," the Argentine said. "We cannot complain about the performance of the team missing many key players.
"I am disappointed because I think many teams with less score more. That is why we feel bad. The players deserve more. The only way to find what we want is to keep pushing, keep playing, keep doing the right things, replicate it again."
VIDEO: What's The Funniest Thing You've EVER Seen At A Football Match?
Despite picking up just a point from games against Bournemouth and Nottingham Forest, Pochettino affirmed that the reaction he's seen from his stars following recent disappointments has been encouraging, as the Blues are about to embark on a tough run of fixtures.
"I am so happy with how the team feel after Bournemouth and Nottingham Forest," the 51-year-old said. "They really care about the club, they really care to win the games, they really care to perform better and I think this week was good to work hard and create good moments every day to translate into competition."
Chelsea take on Brighton & Hove Albion in the League Cup before matches against Fulham and Burnley – and then things step up in a seven-fixture run that could see Pochettino sacked before Christmas.
Between October 21 and December 6, the Blues have to play Arsenal, Brentford, Tottenham Hotspur, Manchester City, Newcastle United, Brighton and Manchester United.
More Chelsea stories
Reece James has emerged as a transfer target for Real Madrid, who are seeking a long-term successor to Dani Carvajal.
Chelsea legend John Terry has urged the club's fans to "not to be too harsh" to Mason Mount after his switch to Manchester United.
And Enzo Fernandez, who only joined Chelsea in January, is already considering his future at Stamford Bridge according to one report.
Thank you for reading 5 articles this month* Join now for unlimited access
Enjoy your first month for just £1 / $1 / €1
*Read 5 free articles per month without a subscription
Join now for unlimited access
Try first month for just £1 / $1 / €1