Great Wall of Turin: Buffon surprised by clean sheet against Barcelona
Lionel Messi, Neymar and Luis Suarez were neutralised by Juventus, much to Gianluigi Buffon's delight and surprise.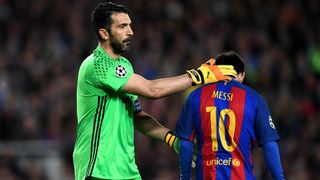 Juventus' performance against Barcelona took Gianluigi Buffon by surprise as the iconic goalkeeper did not expect to keep a clean sheet at Camp Nou en route to the Champions League semi-finals.
It was the Great Wall of Turin in Barcelona as Juventus held the Spanish champions to a goalless draw in Wednesday's return leg, which confirmed a 3-0 aggregate quarter-final loss for the hosts.
After completing a stunning comeback courtesy of a 6-1 second-leg victory over Paris Saint-Germain in the last 16, Lionel Messi, Neymar and Luis Suarez were neutralised by Juve trio Giorgio Chiellini, Leonardo Bonucci and Andrea Barzagli as captain Buffon heaped praise on the five-time reigning Serie A winners.
"Aside from the result, the belief and character of our approach was excellent and it's a good confidence booster to qualify comfortably against what remains probably the best team in the world," Buffon told Mediaset Premium and RSI.
"I did think we had a good chance of qualification after the 3-0 first leg result, but I honestly didn't believe we would come to Camp Nou and keep a clean sheet. When you face a side like this, with their attacking options, you think that one or two goals are always going to be scored.
"The fact we stopped Barcelona scoring over 180 minutes of football means we really are solid.
"Our growth process started a few years ago and needs to continue. It certainly can't just stop or plateau after this victory. It's down to us now, our destiny is in our own hands for whether we can improve. When it comes to the trophy, fate has a hand in that, too.
"Aside from our determination, which is traditionally part of the Juventus identity, we are becoming more 'European' by pressing, proving dangerous in attack and controlling the game more than we did in previous years.
"If we build on that even more, and continue to evolve, then we can become a truly great team."
Thank you for reading 5 articles this month* Join now for unlimited access
Enjoy your first month for just £1 / $1 / €1
*Read 5 free articles per month without a subscription
Join now for unlimited access
Try first month for just £1 / $1 / €1