Liverpool report: Jurgen Klopp exit plan in place, as 'dream candidate' leads Germany job contenders
Liverpool boss Jurgen Klopp is wanted by Germany, with his nation having sacked Hansi Flick over the weekend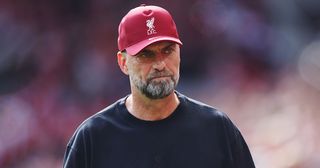 (Image credit: George Wood/Getty Images)
Liverpool boss Jurgen Klopp is the "dream candidate" for Germany, in the wake of Die Mannschaft's latest disaster.
The German national side were defeated 4-1 in a friendly against Japan at the weekend to extend their dreadful form. Flick's side have won just once since their World Cup group stage exit last year, against Peru in March.
The group stage disaster in Qatar was the second World Cup in a row that Germany had crashed out of in the groups, too. With the nation hosting Euro 2024 next summer, the side are now face an identity crisis and will have to hire a new head coach in the coming weeks.
Kicker in Germany has described Liverpool boss Klopp as the "dream candidate" for the role – though they acknowledge that an appointment would be "almost impossible" right now.
Klopp has previously stated that he would love to take the job one day – but it seems highly unlikely that he will leave Anfield right now. The 56-year-old has a contract on Merseyside until 2025 and would be unlikely to leave midseason: he could well depart following the end of the season but that would come too late for Germany. Now, it seems as if Julian Nagelsmann will be taking over, with Klopp looking to have missed his chance.
VIDEO: What's The Funniest Thing You've EVER Seen At A Football Match?
"The job of national coach is and would be a great honour - there's no question about that," Klopp told Sky Germany over the summer. "The problem that stands in the way of the whole thing is my loyalty.
"I can't just leave Liverpool now and say I'll take over Germany for a short time. That doesn't work and the request isn't even there. If I'm supposed to do that at some point, then I have to be available and I'm not currently. I have a responsibility towards the club.
"Basically, it's an interesting job. But I don't know yet whether I'll do something completely different after I leave Liverpool. I want to keep my options open."
Klopp is the longest-serving manager in the Premier League.
More Liverpool stories
Jurgen Klopp has opened up about the club's decision to launch a mega-money bid for Caicedo – but the Reds manager could be on his way out of Anfield sooner than anticipated.
Klopp has been adamant that Salah will remain despite Saudi Arabian interest, however, another bid could be just around the corner.
Thank you for reading 5 articles this month* Join now for unlimited access
Enjoy your first month for just £1 / $1 / €1
*Read 5 free articles per month without a subscription
Join now for unlimited access
Try first month for just £1 / $1 / €1