Manchester City could equal 120-year-old record in FA Cup final against Manchester United
Pep Guardiola's side are chasing even more records on top of a potential treble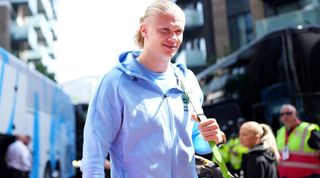 (Image credit: Getty Images)
Manchester City face Manchester United in the FA Cup final on Saturday, and while they're chasing a historic treble this season, Pep Guardiola's side has the chance to equal a 120-year-old record at Wembley.
Yet to concede a goal in their FA Cup campaign this season, City have scored 17 goals without reply in five rounds. Indeed, they beat Chelsea 4-0, Arsenal 1-0, Bristol City and Sheffield United 3-0, as well as Burnley 6-0.
If that record continues, with their captain Ilkay Gundogan lifting the trophy at Wembley by winning without conceding a goal, then Manchester City will become the first team in over 100 years to win the FA Cup without conceding a goal in any game they play in that season's competition.
Only Preston North End in 1889 and Bury in 1903 have managed to achieve that feat before, and City have a unique opportunity to join the exclusive club.
That wouldn't be the first time City have set a record in the competition this season, though. Upon reaching the FA Cup final with a 3-0 win against Sheffield United in the semi-finals, they became the first side in 57 years to do so without conceding.
The first ever major final between Manchester City and Manchester United, City are also gunning to join their rivals in becoming treble winners.
City already have won trophy in their cabinet this season, having won the Premier League trophy by five points over Arsenal. The FA Cup on Saturday is their second opportunity, with the Champions League final against Inter Milan on Saturday 10 June City's chance to secure the treble.
First, though, Manchester United stand in their way. Erik ten Hag's side has already won the League Cup this season, and are looking for the domestic trophy double under the Dutchman in his debut campaign at Old Trafford. This would add to their qualification for the Champions League.
Thank you for reading 5 articles this month* Join now for unlimited access
Enjoy your first month for just £1 / $1 / €1
*Read 5 free articles per month without a subscription
Join now for unlimited access
Try first month for just £1 / $1 / €1